These southern cities have seen more snow this winter than New York, Philadelphia and Washington
The highest snow totals so far this winter have been reported in the West while major cities like New York, Philadelphia, Baltimore and Washington have barely seen any.
If you live along the Interstate 95 corridor in the Northeast and you're wondering where all the snow has been this winter, you may want to look hundreds of miles to the south.
Up until this week, the Northeast was barren of any significant snow. But a powerful nor'easter tracked up the East Coast and dumped more than 3 feet of snow in some locations across the interior.
But areas closer to the coast, like New York City and Philadelphia, escaped any major impacts and didn't pick up significant snow totals – such has been the case all winter.
How much snow has Baltimore seen this winter?
Baltimore has barely seen any snow this winter. Powerful winter storms have moved up the East Coast several times. However, the bulk of the winter weather has been centered in the interior Northeast, northern New England and Canada.
Because of that, Baltimore has reported a measly 0.2 inches of snow while Nashville, Tennessee, has seen more – 1.2 inches.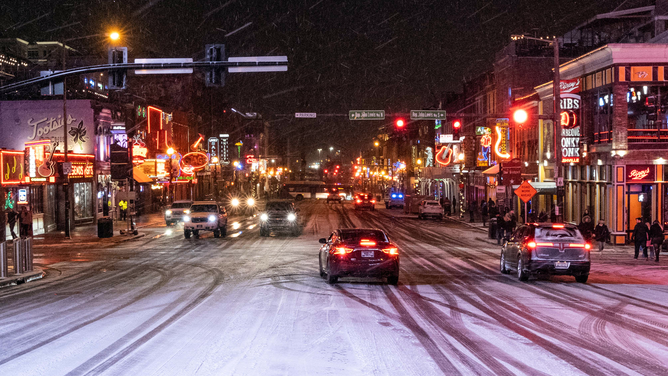 How much snow has Philadelphia seen this winter?
The City of Brotherly Love has seen a bit more snow than Baltimore – barely.
Philadelphia has picked up a whopping 0.3 inches of snow. Even Dallas has seen more snow – 1.3 inches. As the saying goes, everything is bigger in Texas.
WHEN CAN YOU EXPECT THE LAST SNOW OF THE SEASON?
How much snow has Washington seen this winter?
Washington, which is farther south than both Baltimore and Philadelphia, has seen more snow than those two northern neighbors – but not by much. Our nation's capital has received just 0.4 inches of snow this winter while some cities in the Southwest have seen more. 
Take Tucson, Arizona, for example. The city has seen 1.5 inches of snow this winter season.
How much snow has New York City seen this winter?

Like the other Northeast cities we've already discussed, the Big Apple has barely seen any snow this winter. In fact, New York City broke a record on Feb. 1, 2023, setting a new benchmark for the city's latest first measurable snowfall of the season. That ended the 328-day streak of no measurable snow.
So far, New York City has seen 2.3 inches of snow while Oklahoma City in the southern Plains has picked up 3.4 inches.
NEW YORK CITY ARGUABLY HAS THE MOST UNIQUE WEATHER OBSERVATIONS IN AMERICA
Western, northern US has seen the most snow this winter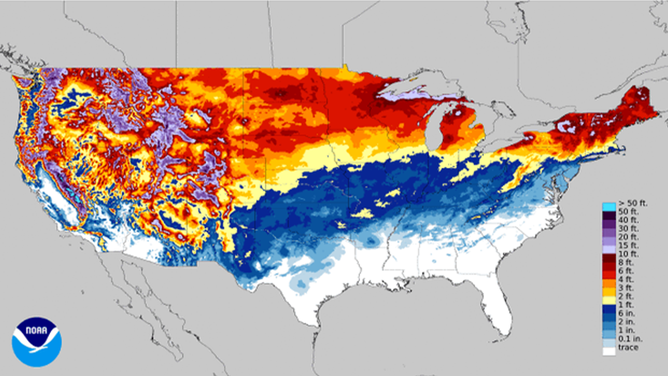 NOAA released an image showing how much snow has fallen in the U.S. between Sept. 30, 2022, and March 16, 2023.
You can see that the highest snow totals have been reported in the West, especially in the Sierra Nevada mountains in California, which has seen more than 50 feet of snow, the Cascades in the Pacific Northwest and the Rocky Mountains.
The Plains and Midwest have also seen their fair share of snow this winter, including Minneapolis-St. Paul.
The Twin Cities were reporting their eighth-snowiest winter on record as of Wednesday, and as the Upper Midwest prepares for more snow Thursday and Friday, they could climb even higher in the rankings.