Millions along I-95 in Northeast at risk of more showers
The risk for showers and thunderstorms will increase across the Northeast on Tuesday. Places like New York City, Philadelphia, Washington, upstate New York and New England could see a few rumbles of afternoon thunder.
The persistent pattern of showers and thunderstorms will continue to threaten millions of people living along the Interstate 95 corridor in the Northeast, with the strongest storms producing gusty winds and dangerous lightning.
A cold front swept through the region Tuesday, reinforcing the chill in the air and touching off thunderstorms and hail. The NWS reported golf ball-sized hail in King of Prussia, Pennsylvania. And 60 mph winds blew through Pottstown, Pennsylvania knocking downs trees and power lines.
The rain did very little to clear Canadian wildfire smoke out of the New York skyline though. 
NEW YORK CITY IN CODE RED 'UNHEALTHY' AIR QUALITY AS CANADIAN WILDFIRE SMOKE POURS INTO NORTHEAST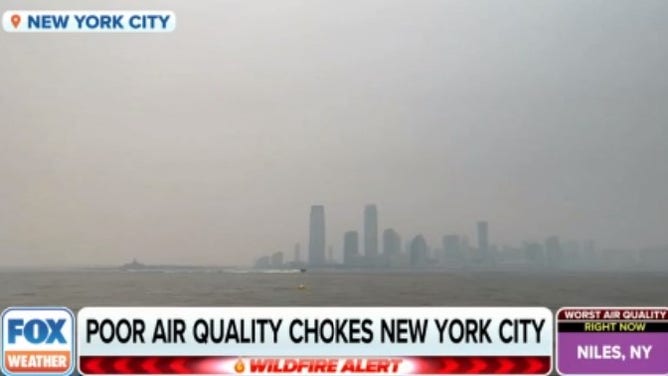 "We're kind of seeing this compilation of what's happening," meteorologist Britta Merwin said. "This ridge of high pressure that's moving in from the mid-Atlantic, and that area of low pressure that's very persistent right in the North Atlantic."
That is what's responsible for creating a division between temperatures that are more comfortable in inland areas of the Northeast and the chilly temperatures in New England.
That low is anchored over the Canadian Maritimes due to a huge high pressure system over the middle of the country. Meteorologists call this an omega block because the jet stream resembles the shape of the Greek letter omega.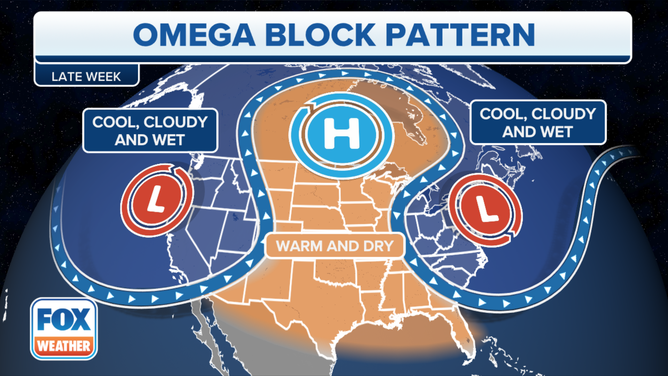 The storms ride along the jet stream and keep the East and West Coast cool cloudy and wet.
Rain, rain go away…
The chance for thunderstorms and hail goes down, but hit-and-miss showers stay in the forecast. Rain won't be heavy, about a half-inch for most, the rain will be more nuisance than a flood threat. 
Forecast for Tuesday, June 6, 2023.
(FOX Weather)
---
JUNE PACKED WITH SEASONAL WEATHER FIRSTS AS SUMMER BEGINS
High pressure builds in Saturday and Sunday finally giving the region a dry break. The break won't last too long though, the next cold front brings a chance of showers Monday and Tuesday.
Temperatures stay cooler across the Northeast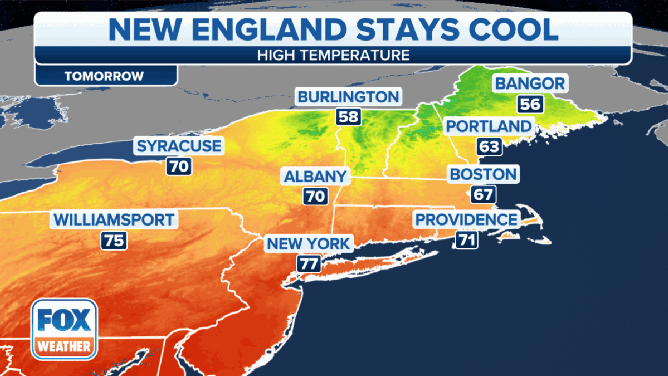 Temperatures in northern New England will remain much cooler over the next few days, while areas to the south will enjoy warmer temperatures.
Bangor, Maine, for example, will stay in the mid- to upper 50s through Thursday, while New York City will be in the 70s to near 80 degrees.