8 million in Northeast under 'critical' wildfire threat as unusual dry thunderstorm pattern looms
NOAA's Storm Prediction Center has issued a "critical" wildfire risk – a level 2 on its 3-rung scale for fire weather danger – for nearly 8 million people around the Philadelphia and southern New Jersey area. Fire Weather Warnings are also in effect for the region.
PHILADELPHIA – A highly unusual weather pattern is bringing critically dangerous wildfire conditions Tuesday amid potentially severe weather to a swath of the Northeast and mid-Atlantic, including the Philadelphia and New Jersey area.
Meanwhile, wildfire smoke from multiple blazes already burning across Canada has flooded the region's skies with renewed haze and poor air quality.
A deep and dry layer of air moved into the Great Lakes Monday night and is spreading into parts of the Northeast on Tuesday, dropping the humidity to as low as 25% and bringing a swath of breezy, gusty winds.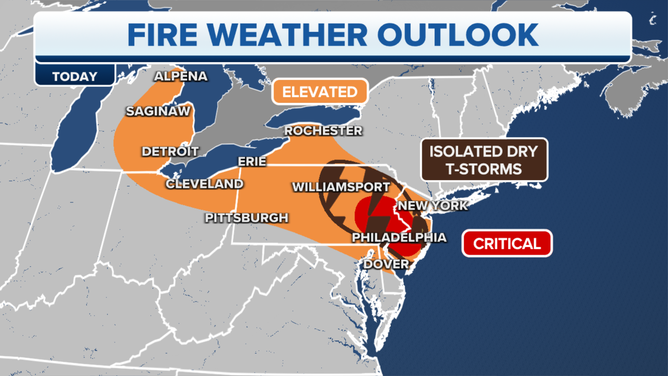 An upper-level trough of low pressure is expected to trigger a round of "dry" thunderstorms across parts of the mid-Atlantic – common in the Desert Southwest but rare in the East. And now NOAA's Storm Prediction Center says some of those thunderstorms could become severe with large hail and wind gusts over 55-60 mph.
But with the dry air in place, any rain may evaporate before reaching the ground, meaning lightning strikes may come without any wetting rainfall. With recent dry weather leaving the ground parched – it's been more than 5 weeks since a widespread, wetting rain there, according to the NWS – any lightning strike could start a fire that would have the potential for rapid spread amid the breezy and dry conditions.
WHY DRY THUNDERSTORMS POSE WILDFIRE RISKS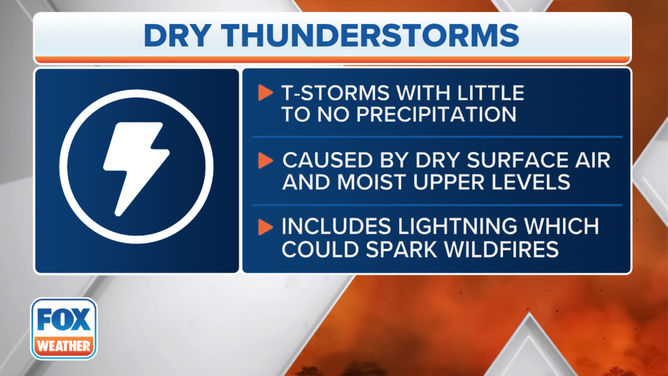 The SPC has issued a "critical" wildfire risk – a level 2 on its 3-rung scale for fire weather danger – for nearly 8 million people around the Philadelphia and southern New Jersey area. Fire Weather Warnings are also in effect for the region.
It's the first time in at least 10 years that the area has been given a risk of dry thunderstorms, according to the FOX Forecast Center. 
A level 1 "elevated" wildfire risk extends across much of the rest of Pennsylvania and into the eastern Great Lakes, including the cities of Cleveland, Detroit, Buffalo and Pittsburgh.
"Unfortunately, today's one of those days that if a fire does spark, it could spread quite quickly because it's dry, it's warm, and we also have some brisk, windy conditions in place this afternoon," said FOX Weather Meteorologist Britta Merwin. "What you con do is limit your risk. We can't do anything about thunderstorms producing lightning, but we can lower our chance of causing a spark."
An elevated risk of wildfires continues for much of the same area into Wednesday.
Northeast Severe Threat for Tuesday
(FOX Weather)
---
A Level 1 severe weather risk covers not only Philadelphia but stretches norther and east into New England, covering New York City and all of New Jersey. 
Canadian wildfire smoke pours into Northeast
Meanwhile, smoke from several wildfires already burning across multiple sections of Canada is flooding much of the northeastern U.S., turning skies from blue to a gray-orange haze and bringing unhealthy air quality to major cities, including New York City.

New York City issued a Code Red day for Air Quality as particulate measurements reached over 150 – squarely into the "unhealthy" category. At those levels, some members of the public may experience health effects, while members of sensitive groups may experience more serious effects.
NEW YORK CITY IN CODE RED 'UNHEALTHY' AIR QUALITY AS CANADIAN WILDFIRE SMOKE POURS INTO NORTHEAST
But Air Quality Alerts covered much of New England, including the Boston area, and all of Connecticut and Rhode Island.
Here, air quality officials are warning that children, older adults and those with heart or lung disease should avoid prolonged exertion and beware of increased respiratory symptoms.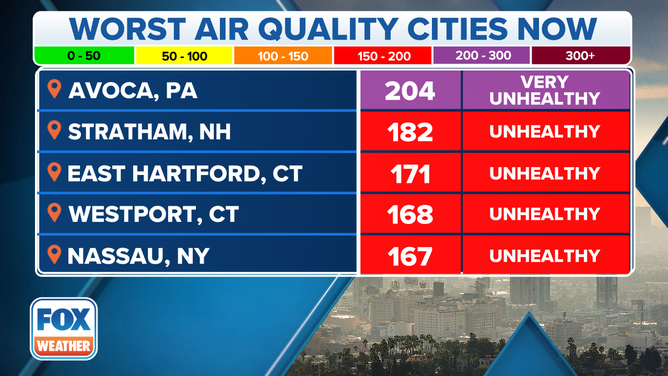 Smoke remains in forecast for Northeast
The smoke import shows no signs of letting up as massive wildfires burn in three different areas of Canada.
A new wildfire in Quebec is the source for much of New York City's smoke Tuesday morning, but additional fires are still burning in both Nova Scotia and Alberta.
'UNPRECEDENTED FIRE WEATHER SEASON' ALREADY CHARRED 9.39 MILLION ACRES ACROSS CANADA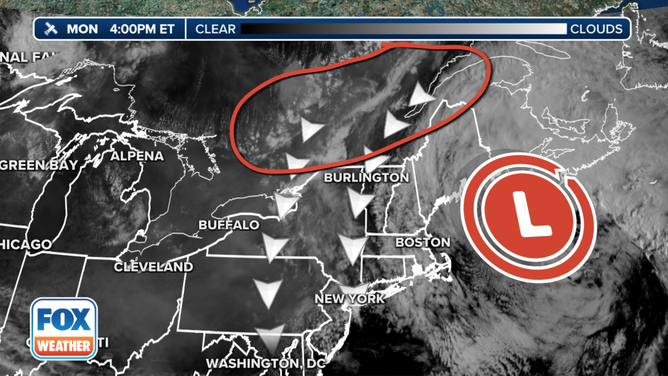 In all, over 400 fires are burning in Canada that have scorched 9.39 million acres – already 17 times the 20-year average with peak summer wildfire season still yet to come.
"We are already seeing one of the worst wildfire seasons on record, and we must prepare for a long summer," said Steven Guilbeault, Canada's Minister of Environment and Climate Change, at a press conference.