'Unprecedented fire weather season' chars 9.39 million acres across Canada
Canada's wildfire season just started March 1 but already flames charred 6.5 million acres in May alone, nearly twice the number normally seen by this date.
Canada is ablaze from coast to coast with 425 active fires, more than half are out of control, according to the Canadian Interagency Forest Fire Centre (CIFFC). So far, fires have charred 9.39 million acres, 17 times the 20-year average. That is larger than the area of Connecticut.
"We are already seeing one of the worst wildfire seasons on record, and we must prepare for a long summer," said Steven Guilbeault, Minister of Environment and Climate Change, at a press conference.
Stretched resources forced the center to reach out to other countries for help. Crews arrived from as far away as New Zealand and South Africa.
HOW TO BEST PREPARE YOUR HOMES FOR WILDFIRES
"Demand for interagency resources through CIFFC is extreme," stated the National Fire Situation Report. "Potential for emerging significant wildland fires is high to extreme and expected to remain so."
So far this year, 2,247 fires have burned in Canada. Ongoing drought and a warm forecast led Natural Resources Canada to issue a "well above normal" wildfire severity forecast for much of the country through August.
SMOKE FROM NOVA SCOTIA'S LARGEST WILDFIRE IN HISTORY CHOKES NORTHEAST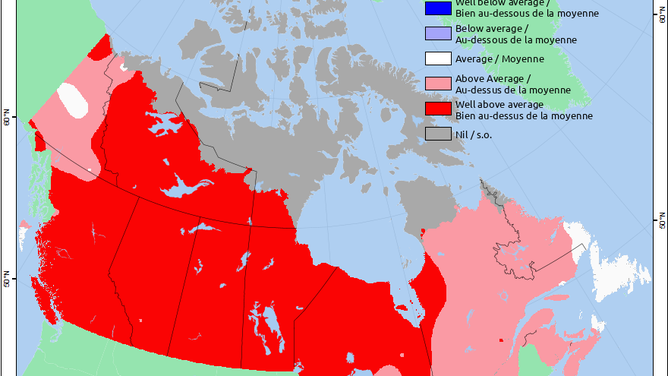 Last hurricane season and lack of winter snows contribute to volatile season
Poor conditions are forecast to persist, but this incendiary situation was months in the making. 
"Canada is facing an unprecedented fire weather season this summer, which has consistently sent wildfire smoke to the United States, impacting air quality," officials said in a news release. "The roots of this trace all the way back to this past winter, where much of Canada, like the Northeast United States, saw little to no snow compared to average."
The FOX Forecast Center also said that tree damage from Hurricane Fiona means lots of fuel, especially in eastern parts of the country.
Then, this May was one of the warmest and driest on record, according to officials. The European Centre for Medium Range Weather Forecasts showed that much of western and central Canada experienced its warmest May on record in 84 years of record-taking.  That dried out the brush and primed it for fire season.
ACTIVE FIRE SEASON FORECAST IN US FOR PACIFIC NORTHWEST, MIDWEST WHILE SOUTHWEST GETS A BREAK
Wildfires for the record books
The fires set a record in May, according to the Copernicus Atmospheric Monitoring Service. More than 6.5 million acres were charred in the month alone. 
Wildfires also produced a record amount of smoke emissions for the month of May, breaking records in British Colombia, Saskatchewan, Northwest Territories and Nova Scotia.
One of the more stark examples involves the province of Saskatchewan. CAMS said the previous record for wildfire smoke emissions for May in Saskatchewan was 2 Megatonnes, while emissions for May 2023 catapulted to 23 Megatonnes. 
People as far as New York have smelled the smoke and watched the orange, smoke-tinged sunsets. Denver was reported to have the second-worst air quality in the world on May 20 due to the wildfire smoke.
DOZENS OF ALBERTA WILDFIRES FORCE MORE THAN 24,000 TO FLEE, SEND SMOKE TO NORTHEAST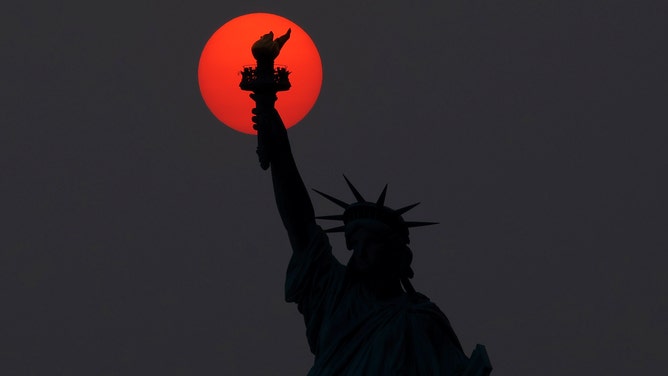 Weather systems have been directing the smoke and putting potentially dangerous amounts over parts of the Northeast and Midwest this week. The National Weather Service issued Air Quality Alerts through at least Tuesday.
WHAT SHOULD BE IN YOUR EVACUATION 'GO' BAG DURING WILDFIRE SEASON
The fires have forced over 100,000 people to evacuate, according to the BBC Canada. 
Wildfire season typically runs through September.