Multiple wildfires burning in Southern Plains
Fire weather alerts remain in effect for parts of southeastern Colorado
Crews have been working tirelessly since Wednesday to keep multiple wildfires from spreading in the Southern Plains.
Dry conditions and Wednesday's unprecedented wind event led to the National Oceanic and Atmospheric Administration's Storm Prediction Center to issue its first-ever "Extremely Critical Risk" of fire weather in December on Wednesday.
It's the highest risk level that the SPC issued on its scale of fire weather outlooks.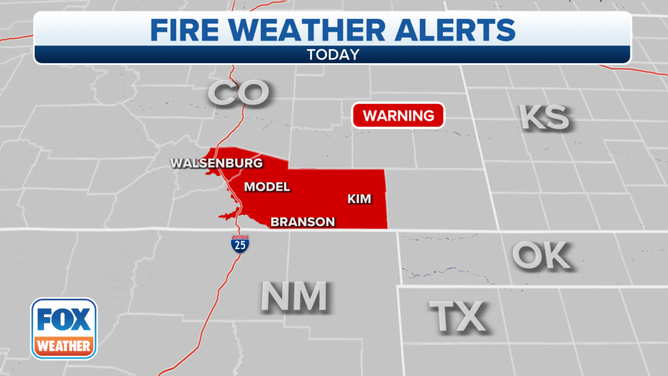 Fire weather alerts remain in effect between 10 a.m. and 7 p.m. local time for portions of southeastern Colorado, including communities in Huerfano and lower elevations of Las Animas counties.
Those alerts were issued because gusty winds up to 35 mph and low relative humidity would cause wildfires to spread quickly if any were to begin.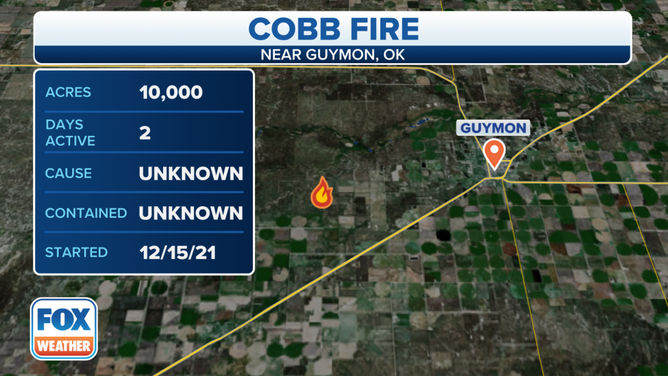 Around 1,200 people were told to evacuate in the Guymon, Oklahoma, area on Wednesday after a wildfire began to grow and quickly spread.
The Oklahoma Fire Service said about 10,000 acres had been burned, and at least one structure was lost. As of Wednesday evening, crews were successful in preventing an eastward spread of the fire toward Guymon, but work continues to fully extinguish the flames.
Luckily, no injuries have been reported as of Thursday morning.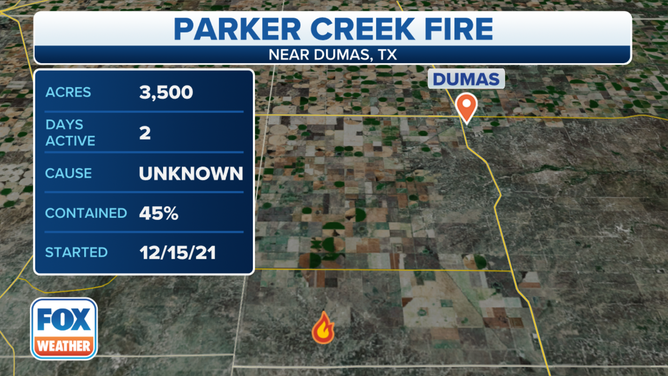 Around 3,500 acres have burned due to the Parker Creek Fire, which is burning outside of Dumas, Texas.
On Wednesday, crews from the Texas A&M Forest Service said heavy equipment had been brought in to battle the flames and build containment lines to prevent that fire from spreading.
At one point, the fire was estimated to be about 14 miles long.
It's currently unknown if any structures have been destroyed or if any injuries have been reported.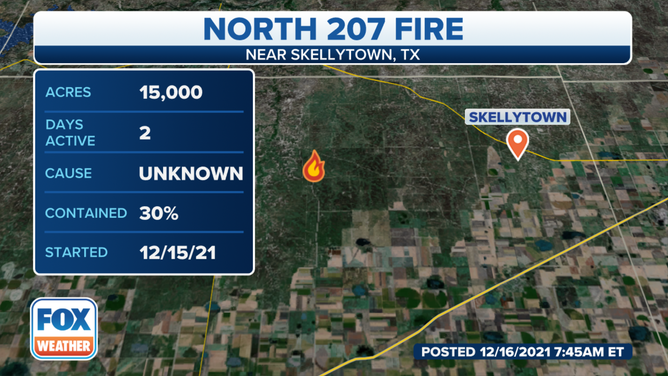 Another wildfire in Texas has also been burning since Wednesday afternoon.
The North 207 Fire, which was burning to the west of Skellytown, has burned about 15,000 acres since it first began.
It's currently 30% contained, but crews there have been working to keep the fire from continuing to spread.
The Texas A&M Forest Service said conditions had improved overnight, allowing fire crews the opportunity to make progress on containing the fire.
It's unknown what caused that fire or if any injuries were reported.
Fires have also broken out in Kansas.
Gov. Laura Kelly declared a State of Disaster Emergency on Dec. 9 due to the elevated dangers of fires.
The Kansas National Guard and Kansas Forest Service deployed aerial assets to western and central parts of the state to help with fire suppression efforts in several counties.
The Kansas National Guard is also expected to deploy UH-60 Black Hawk helicopters to expedite assistance to local responders, according to a news release. Those helicopters are equipped with collapsible buckets used to draw water from local resources to drop on areas difficult for ground crews to reach.
The Kansas Forest Service will also have air tankers on standby along with ground resources.
"The winds (Wednesday) made it difficult to get burning fires contained," Kelly said in a statement. "Prepositioning firefighting personnel and equipment in western Kansas along with those assets responding will allow our aviation assets to quickly respond and keep Kansans safe. Local responders work heroically to respond when wildland fires threaten their communities and the state stands ready to back them up if needed."