Tornadoes, 100+ mph wind, heat, snow and dust: Historic severe weather outbreak in Midwest
As of Friday morning, the National Weather Service had confirmed at least 30 tornadoes were spawned by Wednesday's derecho
A historic severe weather outbreak brought wild weather to more than a dozen states across the Midwest, spawning rare December tornadoes, triple-digit wind gusts in multiple locations, dangerous dust storms, wildfires, record heat and dangerous snow squalls as storms raced across the countryside at highway speeds.
Extreme winds spanning the central U.S.
Extreme winds pushing or exceeding hurricane strength have caused the most damage, with 100 mph gusts in Colorado, New Mexico and Kansas and 30 other reports across six states of 90 mph gusts or more. Lamar, Colorado, registered a gust of 107 mph, Red River, N.M. hit 103 mph, while the Air Force Academy hit 100 mph, matching Russell, Kansas' 100 mph gust.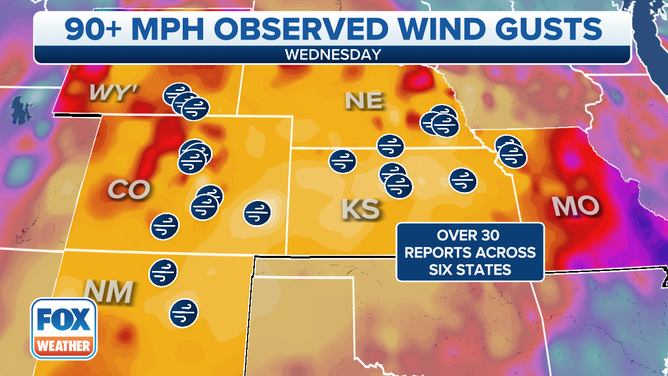 The National Weather Service had received 529 severe wind reports as of late evening.
Damaging wind first swept through New Mexico early Wednesday morning with gusts over 80 mph. In Taos, a radio tower fell, taking out power lines. Several roofs were blown off homes and businesses, and numerous trees fell.  At Santa Fe Airport, gusts to 77 mph caused damage to parked planes.
The gusts moved into Colorado, where the wind came off the Rockies and swept across the Centennial State. In addition to Lamar's 107 mph gust, Pueblo hit 98 mph, Colorado Springs reached 93 mph, while Boulder hit 92 mph. Denver peaked at 60 mph.
Firefighters with Denver Fire responded to multiple wind damage incidents across town, including a large tree that fell into a home in Englewood, Colorado.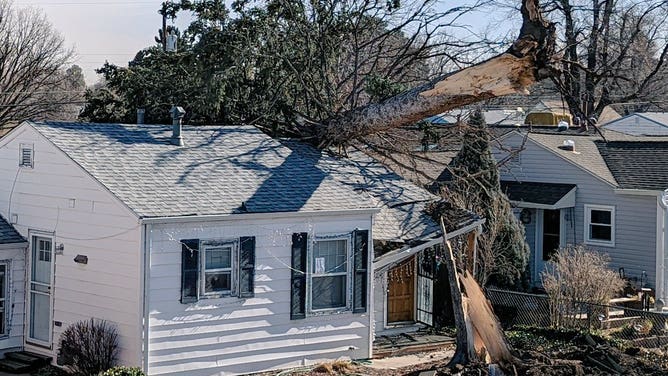 Strong winds raced into the Midwestern states. Amid the hundreds of severe wind reports with toppled trees and power lines, a high school gym roof ripped away in Caldwell, Kansas, a hangar was damaged at Kansas City's Downtown Airport, and a home was blown off the trailer as it was carried along South Dakota's Highway 44.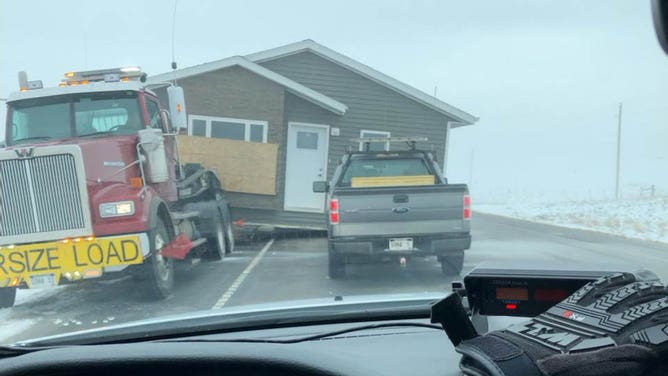 One person was injured by a falling tree in Johnson County, Kansas.
In Lincoln, Nebraska, gusts that reached 93 mph toppled a semi-truck driving ahead of a Nebraska State Patrol trooper along Interstate 80. The driver wasn't hurt.
Airport operations at Kansas City's International Airport were briefly affected when the air traffic control tower was evacuated as the storms approached. Winds gusted to 77 mph, but flight operations resumed soon after the storm passed.
Dozens of Tornado Warnings were issued Wednesday afternoon and evening, including Minnesota's first-ever recorded Tornado Warning in December, according to the National Weather Service.
"Last week we had a foot, almost two feet of snow in places that's almost completely gone already. And now we're dealing with high wind and tornadoes over those same areas," NWS Twin Cities Meteorologist in Charge Daniel Hawblitzel said Wednesday evening. 
As of Friday morning, the NWS had confirmed at least 30 tornadoes were spawned by Wednesday's derecho. At least 11 of those twisters received an EF-2 rating on the Enhanced Fujita Scale.
Among the confirmed tornadoes were the first twisters on record to ever touch down in Minnesota during the month of December.
Storm surveys were still in progress by NWS meteorologists, so the total number of tornadoes and their preliminary ratings could change.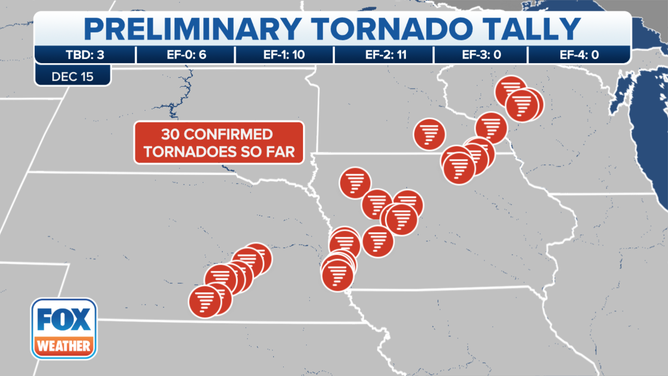 More than 300,000 people across more than a dozen states lost power, according to poweroutage.us. Iowa had nearly 125,000 in the dark, while over 100,000 lost power in Colorado at the storm peak.  Power crews estimate it will take several days to restore all power.
The strong winds carried a wall of dust in the storm's wake, sending visibilities to near zero and causing widespread travel issues across Colorado and Kansas. According to the Kansas Department of Transportation, several roads in western Kansas were closed due to blowing dust and crashes, including a large section of Interstate 70.
In Dumar, Kansas, residents reported raining mud as the dust combined with heavy rain in the area.
To the southwest, the drought, combined with the howling winds behind the storm, made for dangerous wildfire conditions.
Some 1,200 residents were evacuated in Guymon, Oklahoma, after a wildfire spread rapidly amid 70 mph gusts.
In Texas, smoke from a large fire burning near Skellytown sent smoke billowing across the horizon.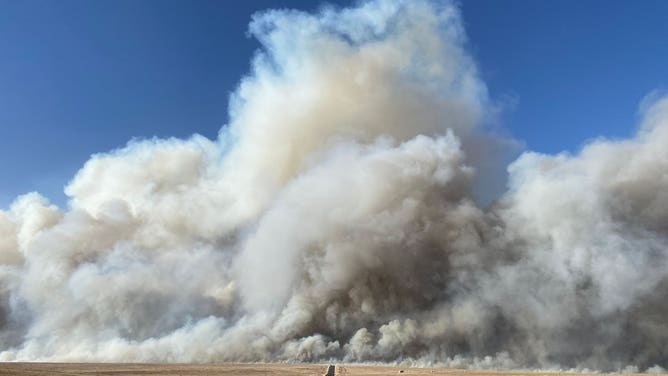 Wildfires also broke out in northwestern Kansas, spreading smoke amid the racing wind into Omaha, Lincoln, and Kansas City.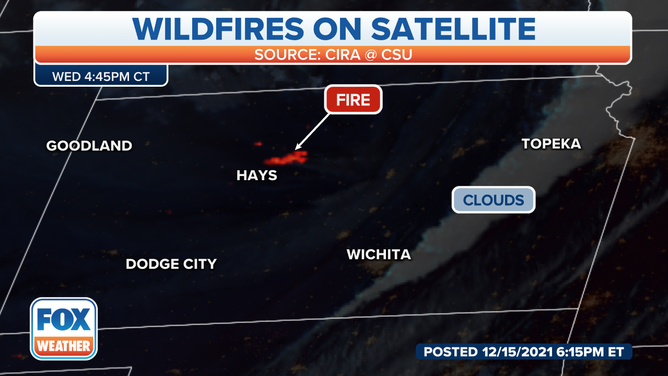 Air quality was considered hazardous due to smoke and dust in the Dodge City and Hays, Kansas area, spreading poor air quality into Wichita.
Record heat and heavy snow
Ahead of the storms, another balmy December day shattered dozens of records.
Des Moines, Iowa, set its all-time December high temperature of 74 degrees, breaking the old record of 69.
The city shattered the record high for the day, which had been 59 degrees. Waterloo, Iowa, also hit 74, breaking its daily record by 20 degrees.
Lincoln, Nebraska, too reached 74 degrees, tying its all-time December high.
Behind the storm, heavy snow was a problem across parts of western Nebraska and South Dakota and into Minnesota. Blizzard and snow squall warnings were issued in Nebraska earlier Wednesday afternoon.
The storm moves quickly to the northeast and will be exiting the country by Thursday evening, but not before leaving behind windy and snowy conditions across the Great Lakes.