Wind storm knocks out power, causes damage in Denver
60 mph wind gust reported at Denver International Airport
DENVER – A significant wind storm blew down trees, closed highways and knocked out power on Wednesday for the Denver area.
Approximately 85 million Americans are under a High Wind Warning or Wind Advisory Wednesday from the Desert Southwest into the Great Lakes during a possibly historic high wind event.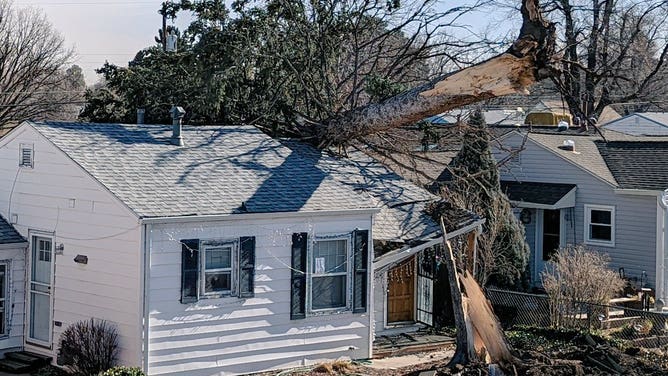 The NWS in Boulder, Colorado, said wind gusts of 55 to 70 mph were occurring across most regions, but some locations have reported gusts between 70 and 80 mph, with localized gusts of more than 100 mph.
Colorado began seeing dangerous winds from this event early in the afternoon. According to the National Weather Service in Boulder, the peak winds should let up around 5 p.m.
Lamar, Colorado, has already seen a gust of 107 mph, and the strong winds will continue into the evening. Arvada reported a gust over 80 mph. 
A ground delay at Denver International Airport led to the cancellation of more than 100 flights, and about 300 have been delayed as of Wednesday morning. Travelers should check their flight's status before heading to the airport.
Denver International reported a gust of 60 mph around 10 a.m.
The Denver Fire Department responded to a home in Englewood after a tree fell into a home and blocked traffic on South Lincoln Street.
Northwest of Denver in Westminster, a large tree was knocked down, missing several cars and homes.
LIVE: Historic wind, severe weather event across nation's midsection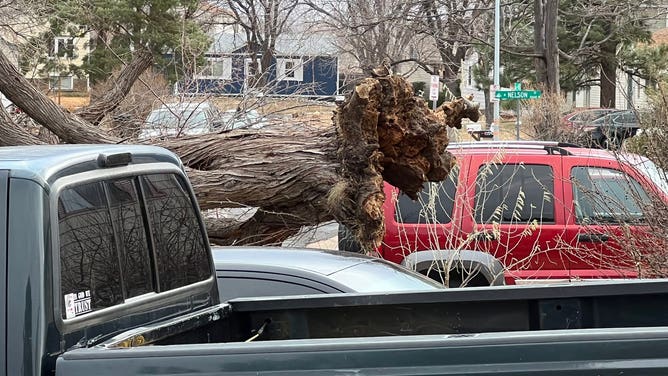 FOX 31 Denver reports authorities temporarily blocked off Highway 93, and drivers were diverted to Highway 72 as wind gusts became extremely intense.
More than 63,000 people in Colorado were without power Wednesday afternoon. Most outages were reported in Jefferson, Clear Creek, and Boulder counties.
In southern Colorado, wind damage reports were coming out of Pueblo County.
According to the NWS Office in Pueblo, winds knocked down trees and took out power to homes and streetlights. More than 6,000 in Pueblo County were without power.