Two killed from fast-moving wildfires scorching Northern California as heat wave fuels flames
The Mill Fire and the Mountain Fire have burned more than 15,000 acres combined and are threatening hundreds of homes. The fire is not far from where the state's largest blaze of the year burned more than 60,000 acres.
SISKIYOU COUNTY, Calif. – Two women have died as fast-moving wildfires in Northern California forced thousands of people from their homes as firefighters work to prevent structures from being destroyed.
Firefighters believe the Mill Fire broke out on Friday afternoon in the town of Weed, which is about 40 miles south of the California-Oregon border.
A 66-year-old woman and 73-year-old woman were found dead after flames tore through Weed, according to the Siskiyou County Sheriff's Office. Both were found in different locations, and neither victim's identity has been released.
No other residents have been reported missing, officials said. 
At last report, the blaze is estimated to have destroyed over 4,263 acres and is around 55% contained. 
The wind, paired with the wildfire's smoke, caused a fire whirl to form Friday. Firefighters warned of the windy conditions, further fueling the flames. 
CAL FIRE said multiple agencies are working to contain the fire, and hundreds of homes have been evacuated along the Interstate 5 corridor. Damage Assessment teams confirmed approximately 100 homes and buildings had been destroyed so far. 
The Mill Fire in Siskiyou County, California started on Sept. 2.
(FOX Weather)
---
Gov. Gavin Newsom declared a state of emergency for Siskiyou County on Friday and said federal assistance would help with firefighting efforts, which was authorized by FEMA on Saturday. 
Photos from the scene showed several structures ablaze from the fast-moving fire, fueled by an expansive heat wave impacting more than 55 million people across the West that is creating nearly ideal conditions for fast-moving fires.
Officials have not determined the cause, but initial reports indicate the blaze started near a lumber mill.
Mountain Fire 

Just southwest of the Mill Fire, crews are monitoring the Mountain Fire. The blaze, also located in Siskiyou County, has burned 11,690 acres at 20% containment as of Tuesday morning. 
The fire forced evacuations just after its start on Friday. 
HOW TO WATCH FOX WEATHER ON TV
More than 2,000 firefighting personnel are responding to the blaze, and four structures have been destroyed since the fire began.
The cause of the Mountain Fire is under investigation. 
Wind gusts of 15 mph increased fire behavior causing the blaze to grow Monday and Tuesday. Those dry and hot conditions are expected to continue throughout the week as much of California is experiencing a potentially record-setting heat wave.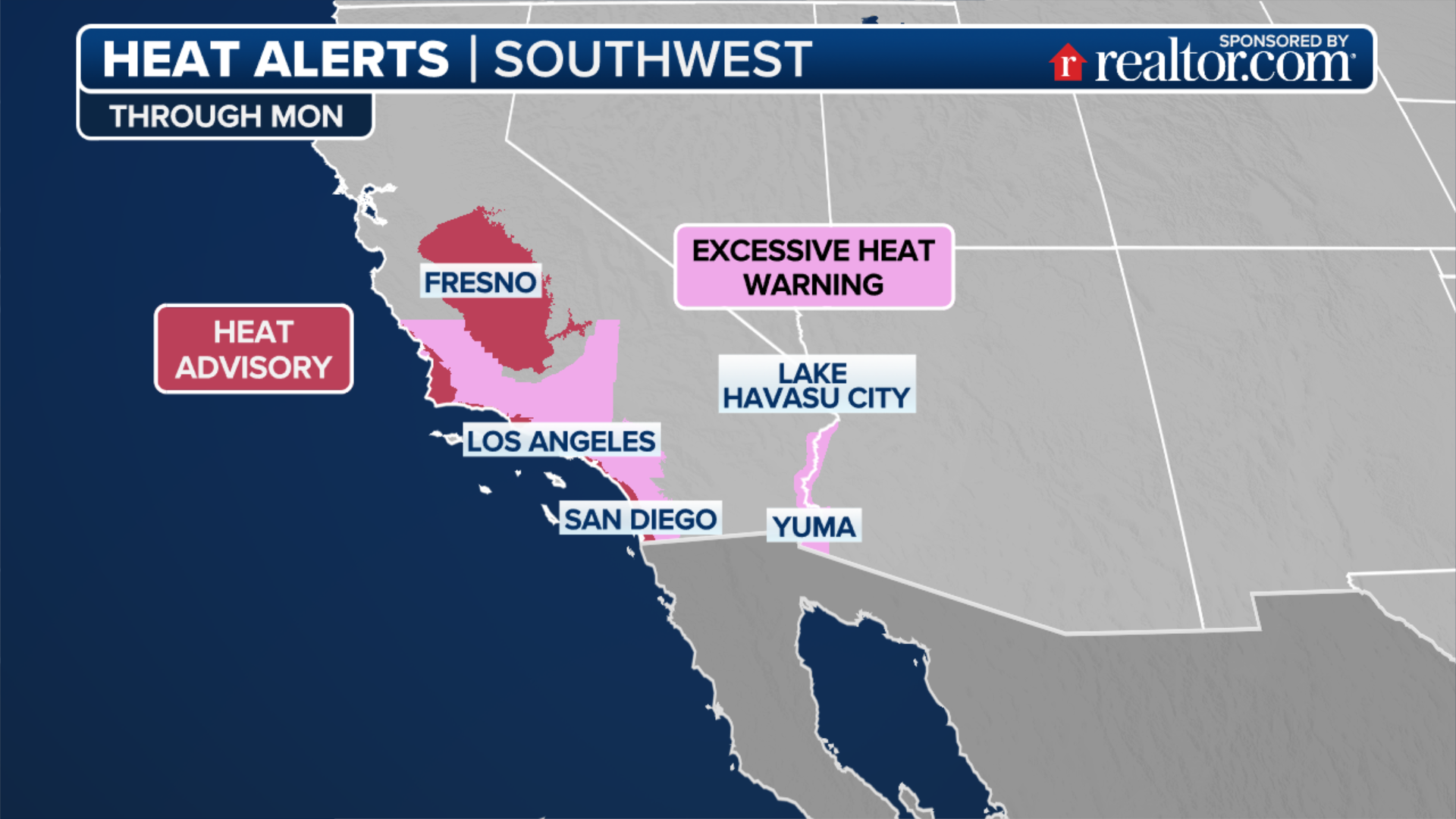 Heat Alerts
 
---
WATCH: 'FIRENADO' SWIRLS OUT FROM LARGE BRUSH FIRE IN CALIFORNIA
The wildfires are not far from Klamath National Forest where the McKinney Fire burned more than 60,000 acres over the summer.
Firefighters warned the combination of low humidity, high temperatures and drought conditions could cause any fire to quickly grow out of control.
In addition to the lack of moisture, officials are also monitoring winds to determine where smoke will impact air quality and reduce visibility.
The FOX Forecast Center said a steady breeze out of the south and southeast would likely drive the smoke and flames northward.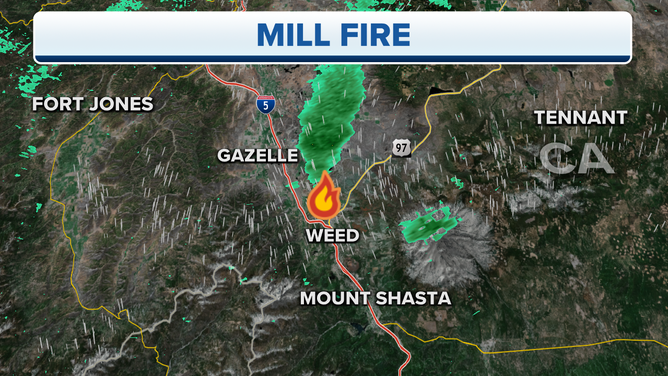 Radar showed a plume of ash and smoke working northward from Weed towards the California-Oregon border along Interstate 5.
An evacuation center has been set up in the town of Yreka for residents who have been forced out of their homes.
To check evacuation zone status, click here.