Golden State inferno: California's McKinney Fire scorches 51,000 acres inside Klamath National Forest
Crews have been relentlessly battling the McKinney Fire from both the ground and air but so far haven't had luck in slowing the fire's spread
YREKA, Calif. – Residents living near the massive McKinney Fire burning in Northern California have been forced from their homes as intense flames continue to scorch tens of thousands of acres.
The McKinney Fire is believed to have started on Friday afternoon inside the Klamath National Forest and is estimated to have so far burned more than 51,000 acres in rural Siskiyou County.
Crews have been relentlessly battling the wildfire from both the ground and air but haven't had luck in slowing the fire's spread so far.
California Gov. Gavin Newsom has declared a state of emergency, and the Siskiyou County Sheriff's Office ordered more than 2,000 residents west of Interstate 5 to evacuate.
A website has been providing live updates on current evacuation orders.
HOW TO WATCH FOX WEATHER ON TV
Videos out of the burned areas showed several structures reduced to rubble and a smoke plume that could be seen for miles.
A spokesperson for the fire response team could not confirm how many structures had been damaged or destroyed but said resources are coming from around the state to help with containment and structure protection efforts.
A public information officer with the sheriff's office shared a video of the power of the fire and its apparent erratic path of destruction through the Klamath National Forest.
"Ol' Glory and a burning propane tank are all that's left at what was the Klamath River Community Hall," Courtney Kreider posted on Twitter.
The blaze's ferocity has already propelled it to be the largest wildfire of the season in California.
CAL FIRE reported some resources were pulled from the Oak Fire in Central California to help with the fight.
National Weather Service meteorologists estimated smoke extended to an altitude of around 39,000 feet, a height usually only reached by thunderstorms and high-flying jets.
CALIFORNIA COMPANY USING ANIMALS TO REDUCE WILDFIRE DANGERS
Pyrocumulonimbus clouds developing around the blaze likely have made controlling the fire more difficult.
The NWS estimated more than 100 lightning strikes were reported in the region Friday evening and outflow wind gusts likely helped keep the flames erratic.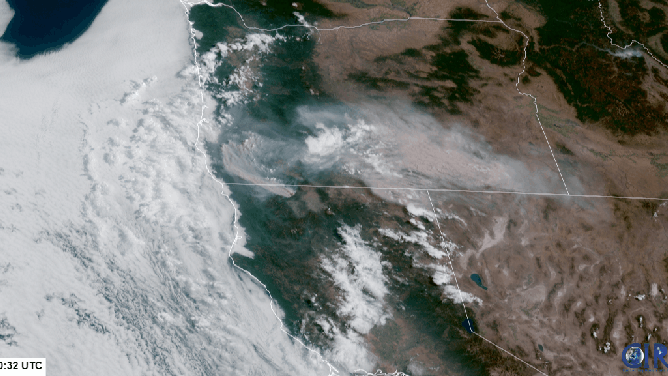 "It's the combination of the triple-digit temperatures, the erratic winds from the thunderstorms in the area and the fact that we're in a severe drought that is driving it," a McKinney Fire incident spokesperson said.
Forecast models show no long-term relief from the drought in the immediate future.
The entire Golden State is experiencing drought conditions that range from abnormally dry to exceptional.
US Drought Monitor.
 
---