More than 50 million in West at risk for prolonged heat wave
The record-breaking heat will send temperatures into the hundreds for many and will likely shut down the beneficial rains of the annual monsoon in the Desert Southwest
A ridge of high pressure over the Western U.S. means more than 50 million Americans are experiencing an extended summer-like heat wave despite meteorological fall beginning last week.
Heat alerts, including Excessive Heat Warnings, Excessive Heat Watches and Heat Advisories, have been issued as temperatures soar into the 90s and over 100 degrees for areas along the U.S.-Mexican border to the northern border with Canada, with some inland locations in California expected to reach near 110 degrees. 
The heat wave will mean temperatures could reach upwards of 30 degrees above normal and could last through the Labor Day weekend.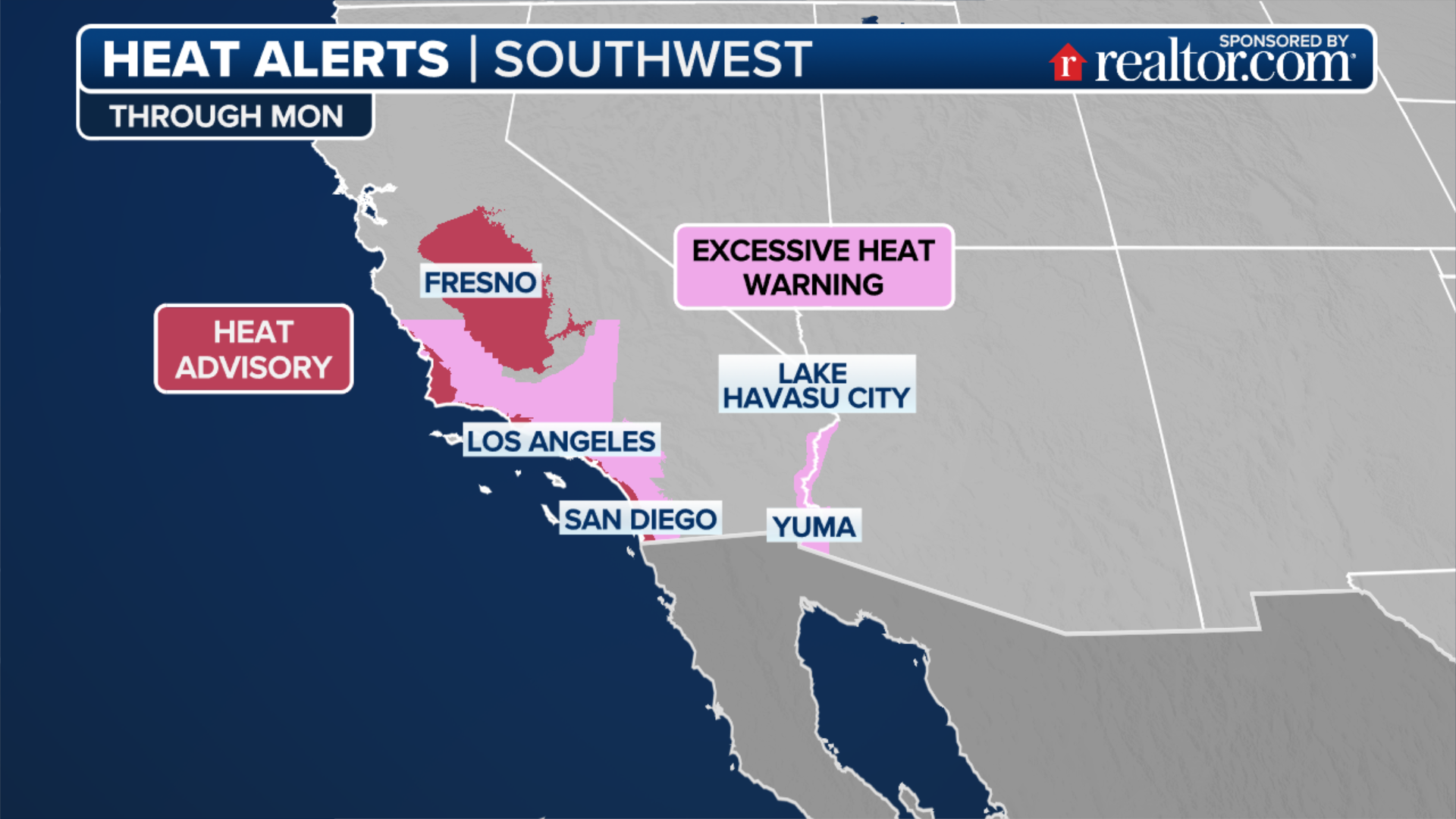 Heat Alerts
 
---
Downtown Los Angeles could reach or exceed 100 degrees by Sunday – that would be the first time reaching the century mark since the Labor Day heat wave of 2020. 
High temperatures are expected to zoom well over 100 in the inland California valleys, with Sacramento, Fresno and Redding nearing or perhaps exceeding 110 degrees by Sunday and Monday. Las Vegas could see multiple days reach 110 degrees while world heat record holder Death Valley is expected to climb over 120 degrees.
The heat will also impact the inland Pacific Northwest, where temperatures are also expected to exceed 100 degrees Friday though cooler weather is on its way there for the weekend.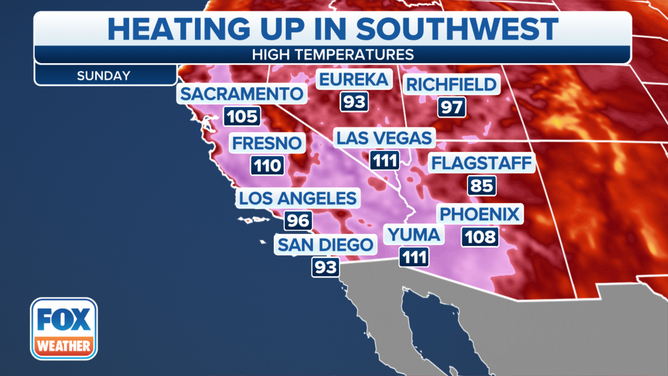 Emergency management in Los Angeles said the extreme heat could be deadly for vulnerable populations and those working outdoors.
According to the National Weather Service, heat illness is the leading weather-related killer in the U.S. every year. On average, more than 700 deaths are reported due to sweltering temperatures.
California energy grid could feel the strain
California officials also warned the record-breaking heat could put a strain on the electrical grid. 
With temperatures expected to be 10-20 degrees above average in Northern California and 10-18 degrees above average in Southern California, the state's Independent System Operator is taking measures to bring all available energy resources online, including restricting maintenance work through Tuesday.
Regulators are forecasting energy demand to exceed 48,000 megawatts on Monday which would be their highest demand of the year.  If weather or energy grid conditions worsen, the ISO will begin emergency procedures to access additional resources or prepare customers for potential brownouts or blackouts. 
Experts said power conservation is critical during the hours from 4 p.m. to 9 p.m. when demand is the highest.
Suggested actions include: setting thermostats to 78 degrees or higher, avoiding using large appliances and charging electric vehicles, and turning off unnecessary lights.
CALIFORNIA ASKS RESIDENTS TO AVOID CHARGING ELECTRIC CARS AMID INTENSE HEAT WAVE
The prolonged event will also contribute to high fire danger levels, and firefighters warn wildfires will be able to quickly spread where humidity values are low and winds are high.
The Route Fire erupted Wednesday and quickly burned more than 5,000 acres in mostly grassy areas north of Los Angeles.
Firefighters were subject to extreme heat and reports from the scene indicate that at least eight were transported to area hospitals with heat-related illnesses.
Over 87 percent of the region is dealing with drought conditions that range from abnormally dry to exceptional.
U.S. Drought Status
 
---
DRIVE INTO SUMMER PREPARED: 5 THINGS TO KNOW WHEN YOU HIT THE ROAD IN EXTREME HEAT
The ridge will likely shut down the beneficial rains of the annual monsoon in the Desert Southwest.
Parts of Arizona and New Mexico reported seeing precipitation values of more than 200 percent above normal since the beginning of summer.
Forecast models do not show a large-scale pattern change until mid-September, meaning communities in the West will likely set hundreds of new records before significant relief from the heat arrives.