Firefighters gain ground on California's deadly McKinney Fire but dangerous weather conditions remain
California's McKinney Fire is now the state's largest, burning more than 60,300 acres of land.
YREKA, Calif. – Firefighters in California continue to gain ground on the McKinney Fire, the state's most significant this season, which has already claimed four lives and destroyed dozens of homes.
Hot and dry conditions this week will cause firefighters to keep their heads on a swivel this week, according to Cal Fire. Fire Weather Warnings are in effect for sections of the massive wildfire through Tuesday evening. 
Thunderstorms could produce strong winds and lightning, increasing the risk of new fires in parts of the Pacific Northwest. 
CALIFORNIA MOTHER SPENDS DUE DATE ESCAPING MCKINNEY FIRE
Fire crews found the first two fire victims – a couple who died in a car in their driveway off Highway 96. Two other bodies were found in two homes along Highway 96 on Aug. 1, according to the Siskiyou County Sheriff's Office. 
The Klamath National Forest confirmed Monday in a Facebook post that long-time forest lookout Kathy Shoopman was among the wildfire victims. National Forest officials said Shoopman died in her home in the Klamath River community, which is located along Highway 96.
Shoopman had been a forest lookout since 1974 and most recently staffed the Buckhorn Lookout.
"Kathy was also a talented artist, gardener, and a devout animal lover," the Klamath National Forest post read. "We share this sorrow with each and every one of you and we know that individually, and as the supportive community that we are, we will find many ways to honor Kathy's life and service and keep her spirit in all of our lives."
The blaze has so far burned 60,389 acres as of Tuesday morning. Late last week, fire crews gained ground on the wildfire. By Tuesday night, containment was up to 60%, an improvement on the once uncontrolled blaze. More than 3,000 personnel across the West are working to contain the fire.
The ground gained on the fire allowed some residents within the Yreka zones to return home on Monday, according to the sheriff's office.
More than 180 structures have been destroyed by the fire, including nearly 90 homes, according to Cal Fire.
The cause of the fire is still under investigation.
Searing heat, low humidity, erratic winds continue to present challenges
Cal Fire and the U.S. Forest Service have 13 air attack planes and 10 helicopters dropping water and fire retardant overhead, while nearly 50 bulldozers clear vegetation to create fire breaks. More than 120 fire engines and 42 water tinder trucks are fighting from the ground.
WATCH: PUPPY RESCUED FROM ASHEN RUINS OF HOME BURNED BY MCKINNEY FIRE
Temperatures are expected to reach 95 to 105 degrees in lower elevations and 85 to 95 degrees in higher-elevation and smoked-in areas. Humidity is forecast to be around 5 to 10%. Erratic wind gusts could reach up to 35 mph in thunderstorm-affected areas.
Late last week, thunderstorms caused flash flooding and debris flows surrounding the Fire.
The Siskiyou County Sheriff's Office reports a debris flow caused a bridge to give out near Humbug Road, and a person working the fire was taken to the hospital with non-life threatening injuries. 
HOW TO WATCH FOX WEATHER ON TV
"Weather can be deceiving, and fire activity is not the only concern," the sheriff's office wrote.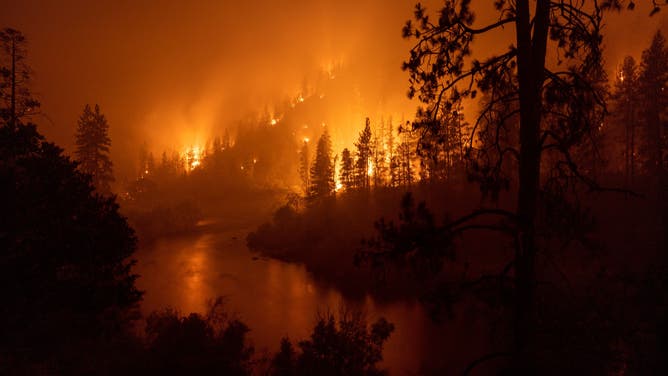 'I don't have anything to go back to…'
Nearly 6,000 residents were evacuated, according to FOX Weather's Max Gorden, who has been reporting from the fire line and staging area. Almost every home in the town of Klamath River burned to the ground. Officials don't have an official count yet of structures burned in town.
One resident lost his home but stayed to help his neighbors save their homes.
"I don't have anything to go back to… but I just want to be here because I don't have anything else I want to do," Louis Riccardi told Gorden. "You know this is where I live, and I'm gonna stay until it's beautiful again."
One resident wrote "A piece of history lost" in a video posted on Facebook. It showed the site where the Klamath River Community Hall once stood before the fire claimed it over the weekend. The hall was fondly remembered as a bingo hall, wedding venue and Taco Tuesday host for the town.
HEAT, DRY THUNDERSTORMS COULD SPARK MORE FIRES OUT WEST
FOX Weather meteorologists expect monsoonal moisture to touch off thunderstorms in the region. While any rain that falls is beneficial, fire officials fear gusty, erratic winds will lead to another day of what they call "extreme fire behavior." Dry lightning can also set off more fires and further stretch much-needed resources.
WHY DRY THUNDERSTORMS POSE WILDFIRE, DUST STORM RISKS
The National Weather Service issued Fire Weather Alerts for Northern California, including the area of the McKinney Fire, through Tuesday night. 
California in third year of drought
The state is in year three of drought, which has left the trees and brush dry and plenty of efficient fuel for the fire. 
"That's one of the things that's really driving this fire," Mike Lindbery, McKinney Fire Public Information Officer, told Gorden. "The drought conditions in California throughout the state have really impacted us. We've really seen it in the large fires over the last few years."
DROUGHT STATE OF EMERGENCY DECLARED IN CALIFORNIA AS 2021 BECOMES DRIEST IN 97 YEARS
California Gov. Gavin Newsom declared a state of emergency for Siskiyou County due to the McKinney Fire and at least two others burning in the area.
The blaze's ferocity has already propelled it to be the largest wildfire of the season in California. 
CAL Fire reported some resources were pulled from the Oak Fire in Central California to help with the fight.