Drought State of Emergency declared in California as 2021 becomes driest in 97 years
A two-year drought has prompted a State of Emergency in California as the state suffers its second-driest water year on record.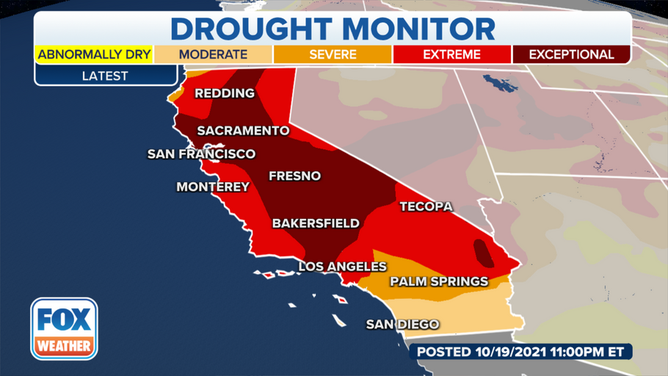 SACRAMENTO, Calif. – A two-year drought has prompted a State of Emergency in California as the state suffers its second-driest water year on record, with only 1924 having less rain and snow, according to NOAA's Western Regional Climate Center.
Gov. Gavin Newsome made the emergency declaration Tuesday, proclaiming climate change "continues to intensify the impacts of droughts on our communities, environment and the economy," and that the summer period between June 1 and Aug. 31 was the hottest on record. 
California's water year, measured from Oct. 1 through Sept. 30, was found to receive half the rain and snow of what's considered an average year.
The near-record dry year comes on the heels of 2020 being named the fifth-driest year based on statewide runoff and flow rates of rivers, which only 1977 saw less runoff. 
The two-year drought is the third multi-year drought in the past two decades, coming on the heels of drought periods spanning 2007-2009 and 2012-2016.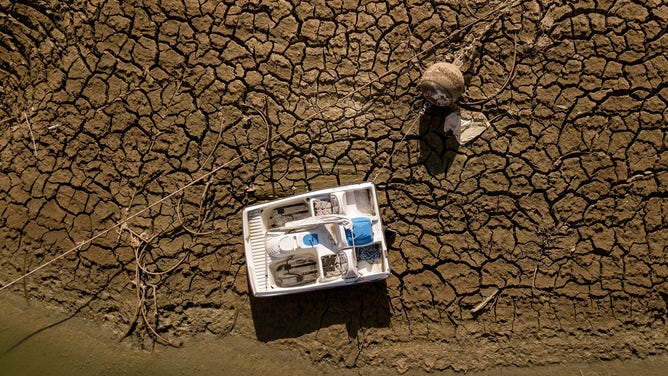 The National Centers for Environmental Information estimated the 2020s economic cost of the drought in California to range from $250-$500 million. If drought and wildfires are included, the economic impact soars to $10-$20 billion. 
This year, reservoirs are only 60% filled with water, and nearly 40% of the state is in extreme drought.  The current Drought Monitor map looks remarkably different from October 2019, when only the northern third of the state was in severe drought and the north-central, coastal mountainous region saw extreme drought.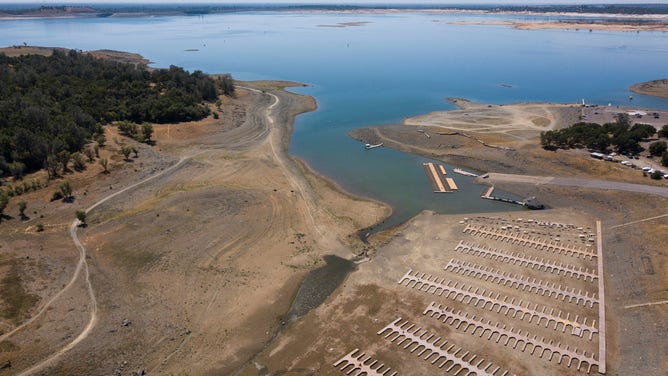 Proclamation of a State of Emergency 
The state has reduced per capita residential water use in urban areas by 16% from 2013, the time of the previous drought. But the current drought required more cutbacks.
In July, Gov. Newsom declared a drought emergency for most counties and called on all Californians to voluntarily cut water use by 15%. But in August, the State Water Board announced that urban Californians only reduced their use by 5%, and Tuesday, the State of Emergency for drought was expanded to cover all California counties.
The proclamation requires local water suppliers to implement water shortage contingency plans that are responsive to local conditions and prepare for the possibility of a third dry year. In doing so, residents could use wells to tap unused groundwater.
 It also authorizes the State Water Board to ban wasteful water uses that includes: 
The use of potable water to wash sidewalks and buildings.
The use of any potable water that ends up in gutters
Washing a car without auto shutoff nozzles
Watering medians or turf on public streets
Irrigating for 48 hours after measurable rainfall
The use of water for street cleaning and construction for anything but to protect public health and safety
Topping off decorative fountains, lakes, and ponds unless using recycled water
The act also allows funding under the California Disaster Assistance Act to appropriate, supply, and deliver drinking water or water for sanitation purposes.
The 2022 water year is not looking wetter, as La Niña conditions are this winter and historically, La Niña years have been dry for California. Though in the short term, a series of storms are to bring copious amounts of rain to much of the state through next week.