Heat, dry thunderstorms could spark more fires out West
The fire weather risk will likely persist into Wednesday across portions of the interior Pacific Northwest and central Montana
Fire weather concerns continue across much of the interior northwestern U.S. and extend eastward across Montana and western North Dakota.
A combination of gusty winds and low humidity will increase the potential for wildfires. Some high-based thunderstorms with cloud-to-ground lightning and limited rainfall may also be a concern Tuesday, the National Weather Service said.
HOW TO WATCH FOX WEATHER ON TV
On the northern edge of the storms, enough dry air may be in place near the surface to evaporate much of the rain before it reaches the ground. Lightning strikes, however, will still be possible. And with little rain over the past few months, plants are exceptionally dry, so any lightning strikes will have the potential to spark new fires.
The lightning threat will be the greatest Tuesday in Oregon and Idaho, also spreading east toward Yellowstone. In addition to lightning, the thunderstorms will be capable of gusty winds of 30 to 60 mph.
WHY DRY THUNDERSTORMS POSE WILDFIRE, DUST STORM RISKS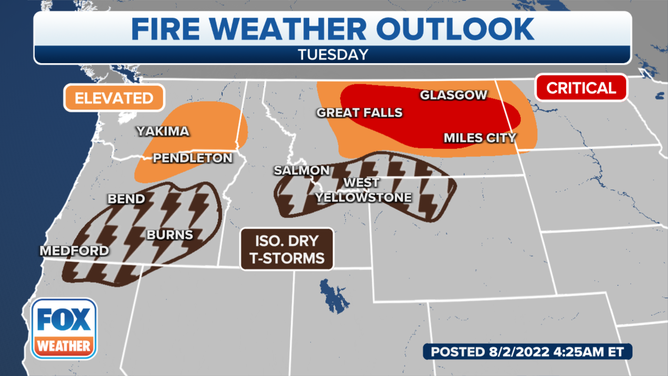 The fire weather risk will likely persist into Wednesday across portions of the interior Pacific Northwest and central Montana.
ELMO FIRE IN MONTANA FORCES EVACUATIONS AS IT BURNS OUT OF CONTROL
Meanwhile, in western Washington, Montana and northern Wyoming, hot temperatures and gusty winds will overlap with relative humidity below 20%. Any fires that do start could spread rapidly.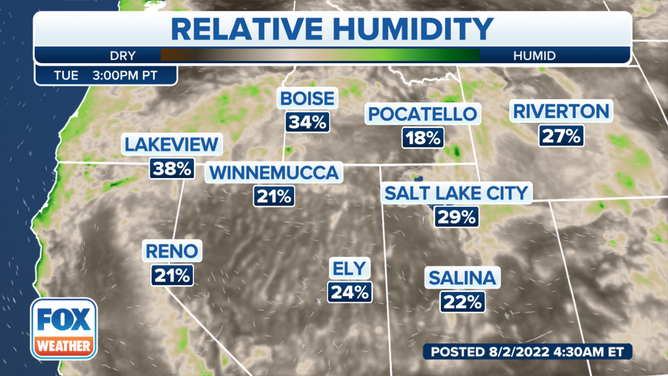 2 FOUND DEAD INSIDE BURNED CAR AS CALIFORNIA'S MCKINNEY FIRE SCORCHES 55,000 ACRES
In total, there have been 39,000 fires that have burned 5.7 million acres across the U.S. so far this year. The average acres burned to date is 3.5 million.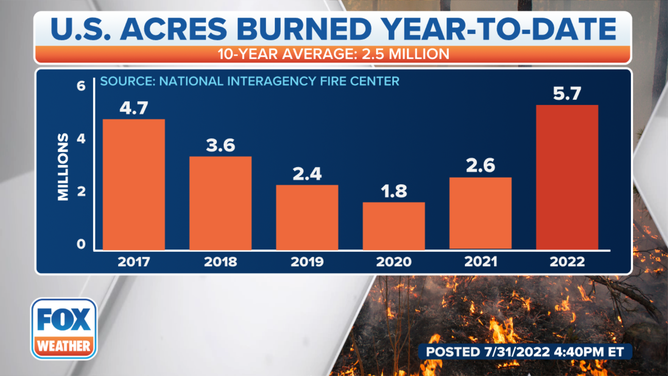 CLICK HERE TO GET THE FOX WEATHER UPDATE PODCAST
Download the FOX Weather app to track storms in your area and receive potentially life-saving weather alerts issued by the National Weather Service. The free FOX Weather livestream is available 24/7 on the app, website and on your favorite streaming platform. The FOX Weather Update podcast also provides weather information for the entire country.