Elmo Fire in Montana forces evacuations as it burns more than 18,400 acres
The Elmo Fire started on Friday near the town of Elmo and is estimated to have burned more than 18,400 acres
Residents living near the Elmo Fire burning in Montana have been forced from their homes as intense flames continue to scorch the area.
The Elmo Fire started on Friday near the town of Elmo. The blaze is estimated to have burned more than 18,427 acres as of Wednesday, a more than 2,000-acre increase in the past 24 hours, according to Montana fire officials. 
Fire crews gained 16% containment on the once uncontrolled fire. 
On Tuesday, the blaze expanded to the north and east into Black Lake, Red Lake, the vicinity of Black Lake Road and Dayton Creek Road, and is approaching Highway 93 near Chief Cliff.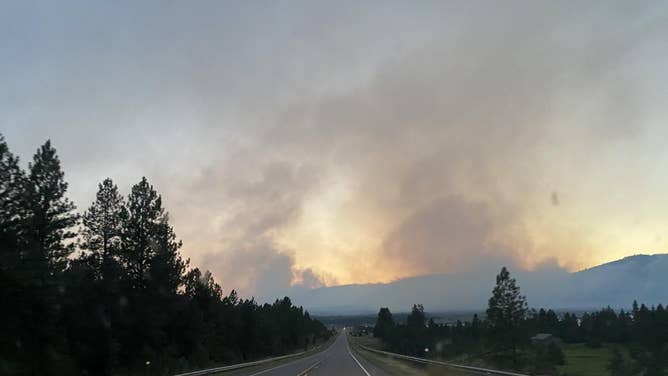 HOW THE LAY OF THE LAND AFFECTS WILDFIRE BEHAVIOR
The fire started in the grass and made its way to timber north of Highway 28. 
Visibility on Highway 93 may be impacted by the smoke, which is why officials have reduced traffic to a single lane and reduced speeds between Dayton and Elmo. 
On Monday afternoon, officials ordered an evacuation of the Lake Mary Ronan corridor to the Lake County Sheriff's Office. Evacuations remain in place for the Lake Mary Ronan corridor, including Lake Mary Road, Black Lake Road and the surrounding areas.
Evacuations were later expanded to all residents residing north and south of Highway 352 (Lake Mary Ronan Road) and all residents who live along Lake Mary Ronan. 
Power has been shut off to some Mission Valley Power customers at the request of the Lake County Emergency Management.
Weather conditions have hindered firefighters' attempts to contain the fire.
HOW WILDFIRE BURN SCARS COULD HAVE LASTING IMPACTS
Strong winds and extremely dry conditions continue to fuel the fire.
The National Weather Service issued Fire Weather Warnings due to the critical fire weather risk.
CLICK HERE TO GET THE FOX WEATHER UPDATE PODCAST
The FOX Weather app is a great resource that can be used to alert you of any watches or warnings issued for your area. The free FOX Weather livestream is also available 24/7 on the website and app and on your favorite streaming platform. The FOX Weather Update podcast also provides weather information for the entire country.