Florida slammed by multiple EF-2 tornadoes with damage reported on both coasts
Survey teams from the National Weather Service are currently in Crystal River and Clearwater. Preliminary data shows at least EF-2 tornadoes at both locations, with further details expected later in the day.
TAMPA, Fla. – Multiple tornadoes touched down on both coasts of Florida Thursday morning, leaving a trail of damage in several communities.
Survey teams from the National Weather Service toured areas in Crystal River and Clearwater. Preliminary data shows at least EF-2 tornadoes at both locations. According to the FOX Forecast Center, the tornado that hit Crystal River was the strongest twister to hit Citrus County since an F-2 tornado that also struck Crystal River on Sept. 3, 1998.
Chilling video captured by Michelle Dal Pos showed a waterspout as it moved onshore near the Dunedin Causeway, located 5 miles north of Clearwater, Florida. It struck under the cover of darkness and was later confirmed as a tornado.
Dal Pos said she was awakened by thunder at 1:45 a.m. and went to go check on her dogs when she saw the waterspout out the window.
"I looked and I couldn't believe what I saw," Dal Pos told FOX Weather. "This was something I had never seen before; it was pretty crazy … it was very heart-pounding."
Power outages across the state topped more than 18,000 by mid-afternoon as neighborhoods continue to deal with widespread damage.
HOW TO TELL THE DIFFERENCE BETWEEN A WATERSPOUT AND A TORNADO
In the Tampa Bay area, the Clearwater Fire and Rescue responded to tornado damage to two homes in North Clearwater Beach.  The department shared pictures with debris in the streets and a piece of sheet metal driven through a car windshield. No injures have been reported. 

A woman was sleeping on the second floor of her Clearwater home when the tornado struck. She told FOX 13 Tampa that the twister bent her bedroom wall 45 degrees and all she could do is cover herself with sheets and blankets. She managed to escape unharmed.
Along the same street, a backyard deck was lifted from one home and dropped in the front yard of a neighbor's home, FOX 13 reported.
"The destruction on the ground is insane," a storm witness told FOX 13 Tampa. "I've seen air conditioners on the ground, trash and chairs thrown everywhere. It was much worse than I was expecting for a Florida tornado."
In Palm Coast, a community along the east coast, another EF-2 struck during the overnight hours. Authorities said the neighborhood is closed off to all traffic due to downed trees and power lines and significant damage to properties.
"There are some significant structural damages, but most of the damage is trees, fences down and some of the drainage canals flooding so forth," said Flagler County Sheriff Rick Staly. "We were really very fortunate that it was not more severe."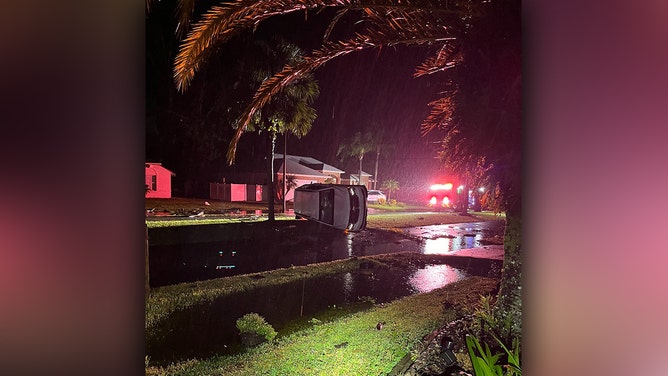 The west side of Citrus County experienced significant damage from a tornado that struck Crystal River overnight. The Citrus County School District canceled Thursday's classes to allow for cleanup. All city offices were also closed.
The National Weather Service said damage survey teams will head out to survey the damage in Clearwater Beach and Citrus County on Thursday.
Heavy rain soaks parched Southeast
The FOX Forecast Center said the continued moisture will lead to widespread rain from Louisiana to Florida to South Carolina through Friday.
"You don't have to have a tropical depression or a tropical storm to have deep tropical moisture," FOX Weather meteorologist Britta Merwin said. "But it means the difference between the type of rain that you see if you're a local along the Gulf Coast … we're talking about opening up the gates here."
Minor flash flooding is possible across Central Florida as the rain and storms roll over the peninsula.
Steady rains will taper off by later Friday in northern and central Florida as the band of lighter rain drifts south into Southern Florida and lingers there through Saturday. Drier weather is expected statewide on Sunday into early next week.
HOW HEAVY IS IT REALLY GOING TO RAIN?
Between 2 and 3 inches of rain is expected to fall over portions of northern and central Florida and southern Georgia.
(FOX Weather)
---