Storms hit the East Coast Monday. Learn why the outcomes were severe
Large hail, strong winds and even a reported tornado hit the Mid-Atlantic and the Northeast Monday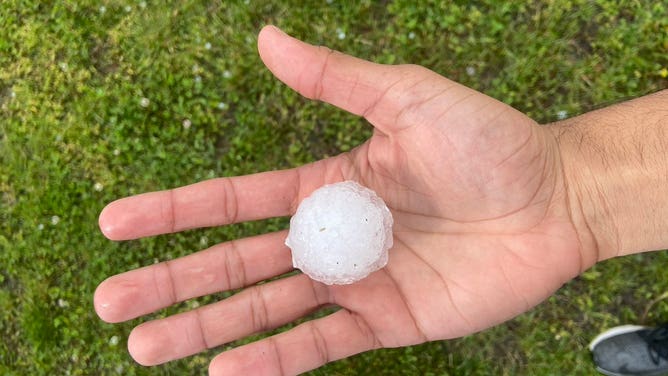 Severe storms moved through metro areas of the Mid-Atlantic and the Northeast Monday. 
Wind reports littered the East Coast, toppling and snapping trees. Large trees were said to be uprooted and wind caused damage to homes. More than 40,000 were without power as of Monday evening from Virginia to New York.
Hen egg-sized hail hit in Delaware, while hail the size of golf balls pelted a Maryland home causing severe damage. 
Check out the scenes across the East and learn how the crazy weather forms.
Hail
Ping pong or walnut-size hail pounded Huntingtown, Maryland Monday. Hail needs a long "hang-time" within thunderstorm updrafts to get that big. 
Strong updrafts, fast rising air that forms the cumulonimbus cloud, carry water droplets high into the cloud where the hailstone forms. As the stone falls and then gets caught in another updraft it picks up more water droplets and grows in size. The National Weather Service estimates that a walnut-sized stone needs a 60 mph updraft to form.
When they get too big to defy gravity on the drafts, they fall to the ground.
Rain
One resident barely made it inside before sheets of rain soaked the parking lot in Lake Ridge, Virginia.
She tweeted, "Well that escalated quickly," once safely sheltered. 
She probably noticed an earthy smell when the deluge started. It's called petrichor. The scent comes from rain droplets combined with an organic compound and the tiny combination, in an aerosol, can be picked up by noses.
Wind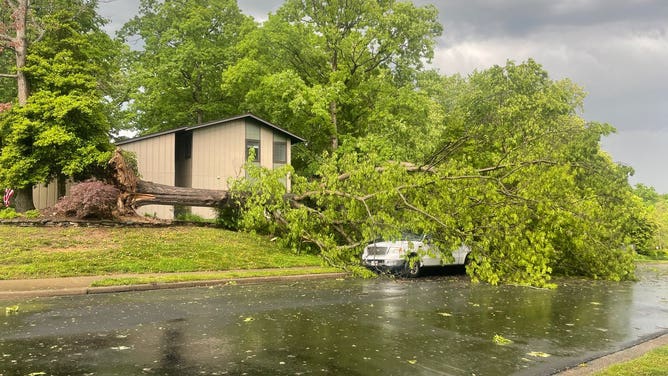 Strong winds brought down a tree on top of a car in Lake Ridge, Virginia. 
Wind speeds can be estimated by the Beaufort Wind Scale. The NWS teaches its weather spotters that 64-73 mph winds can uproot moderate-size trees. The scale would classify the wind that cause the damage in the photo as a violent storm.
THIS IS WHAT I LEARNED IN A STORM SPOTTER CLASS
An Alexandria, Virginia resident tweeted that the neighbors' tree branches broke off and traveled 30 to 40 yards before hammering her home. The Beaufort Scale puts this damage in the gale category with winds of 39-46 mph.
That speed is well below what the NWS needs to see to classify a storm as severe. The storm would need to produce winds of at least 58 mph to be a severe thunderstorm.
'DESTRUCTIVE' THUNDERSTORM ALERTS: WHAT ARE THEY AND WHY THE NATIONAL WEATHER SERVICE ISSUES THEM
Thunderstorms
Residents of Bridgeport, West Virginia knew weather was incoming when they saw this shelf cloud. 
A shelf cloud is the harbinger of strong winds and a deluge of rain. The arcus cloud forms on the leading edge of the outflow from a thunderstorm. When rain and cold air fall from the center of a thunderstorm, the air hits the ground and flows horizontally.
SURREAL ROLL CLOUD SPOTTED IN OKLAHOMA IN WAKE OF THUNDERSTORMS
Tornado
Phillip Frank Cannon posted an apparent tornado near his home in New Bern, North Carolina lit by lighting. An NWS spotter confirmed the tornado touched down and tossed debris in the air and created power flashes.
Strong winds and tornadoes cause power lines to short out and arc – called a power flash. Power flashes are easy for trained spotters to identify because they are close to the ground and concentrated in one area wrote NOAA.
Rainbow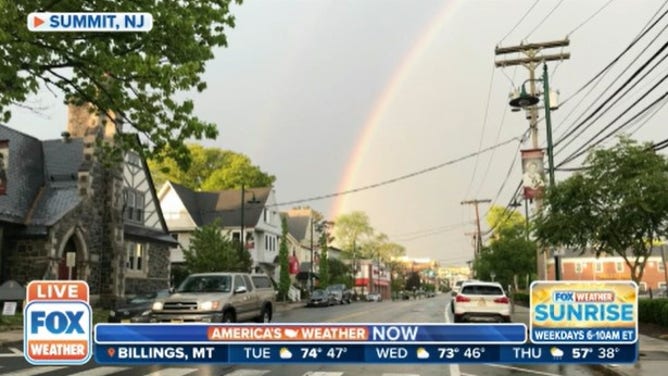 After the storm, Summit, New Jersey was treated to a double rainbow. All rainbows are double rainbows, but the second one may be too faint to see.