Dozens of wildfires continue to burn across the country
Drought conditions contributing to longer fire seasons
Fire crews across the country have been busy trying to contain and extinguish dozens of wildfires that have broken out and burned tens of thousands of acres and forced thousands of people from their homes.
HOW TO WATCH FOX WEATHER ON TV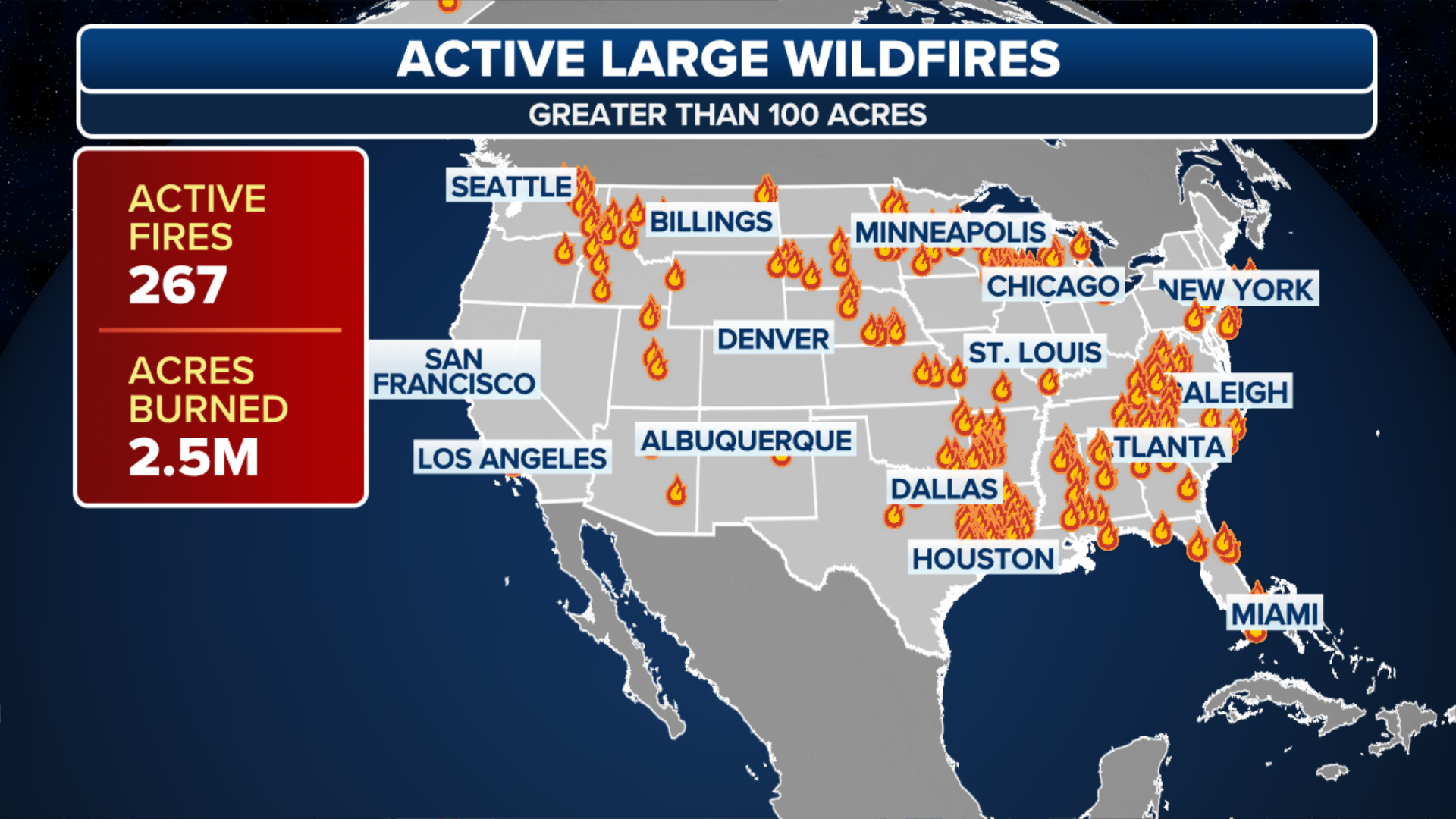 As of Thursday morning, 43 wildfires larger than 100 acres have been reported from the Plains to the Southeast and the Tennessee and Ohio valleys. At least 180,000 acres have burned so far while crews continue to work on getting the upper hand in fighting these blazes.
HOW THE LAY OF THE LAND AFFECTS WILDFIRE BEHAVIOR
Most recently, a large wildfire known as the Hatcher Mountain Road/Indigo Lane Fire broke out near Pigeon Forge, Tennessee.
At least one person has been injured due to that fire, and dozens of structures have been damaged or destroyed by the flames.
The fire has burned about 3,700 acres as of Thursday morning and is 5% contained. 
Evacuations were ordered for areas near Pigeon Forge and Gatlinburg, with shelters being opened for residents. However, local officials lifted the evacuation order in Gatlinburg early Thursday morning.
WHAT DO LEVEL 1, 2 AND 3 EVACUATIONS MEAN DURING WILDFIRES?
Another large wildfire was reported in Bryson City, North Carolina.
The Thomas Divide Complex Fire, which is burning in the Smoky Mountains in Swain County, has so far burned at least 940 acres and is currently 40% contained as of Thursday morning.
The fire, which was caused by humans, has been burning since Saturday.
Forest rangers with the Great Smoky Mountains National Park closed several backcountry campsites and trails because of the blaze. 
WHAT TO DO IF A WILDFIRE PROMPTS A POWER OUTAGE
The Crittenberg Complex Fire near Fort Hood, Texas, has burned more than 33,000 acres since it broke out on Saturday, forcing the residents of Flat, Texas, to flee their homes.
That evacuation order has since been lifted, but residents in that community, as well as those in Fort Gates and Gatesville, were told to prepare to evacuate at a moment's notice if necessary.
Crews have been working hard to contain that fire, and so far, it is at 70% containment.
The U.S. Department of Agriculture reports that the number and severity of wildfires have steadily increased over the past several decades. And in addition to the number of fires, they seem to be starting earlier in the season.
In fact, in 2021, the U.S. Forest Service has shifted to the concept of a fire year rather than a fire season.
"Wildfire season has become longer based on conditions that allow fires to start and to burn – winter snows are melting earlier, and rain is coming later in the fall. What was once a four-month fire season now lasts six to eight months," the USDA wrote in 2021.
Many areas of the country report drought conditions, with locations from the Plains to the western United States reporting extreme or exceptional drought conditions.
Those conditions also contribute to longer fire seasons and make it harder to fight fires when they start.