Wildfires continue in Great Smoky Mountains National Park
About half of the Thomas Divide Fire Complex is burning within the Smoky Mountains National Park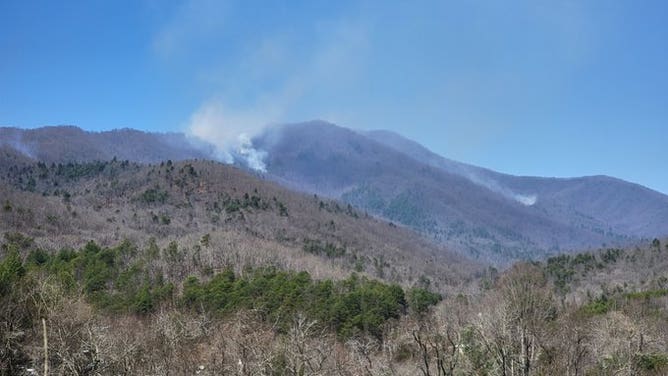 SWAIN COUNTY, NC – Rangers with the Great Smoky Mountains National Park have closed select backcountry campsites and trails on the North Carolina side of the park due to wildfires.
The Thomas Divide Fire Complex contains two fires, the Stone Pile Fire and Cooper Creek Fire, according to the National Park Service officials. Both wildfires started over the weekend when winds and fallen trees knocked down power lines.
HOW THE LAY OF THE LAND AFFECTS WILDFIRE BEHAVIOR
Late Monday night, the Great Smoky Mountains National Park Service shared a positive update about the firefight.
"Cews made great progress today!" NPS wrote in a tweet. "The fire complex, consisting of the Stone Pile and Cooper Creek fires, is now 40% contained. Engine crews, hand crews, and air operations worked together today to extinguish the estimated ~940-acre fire."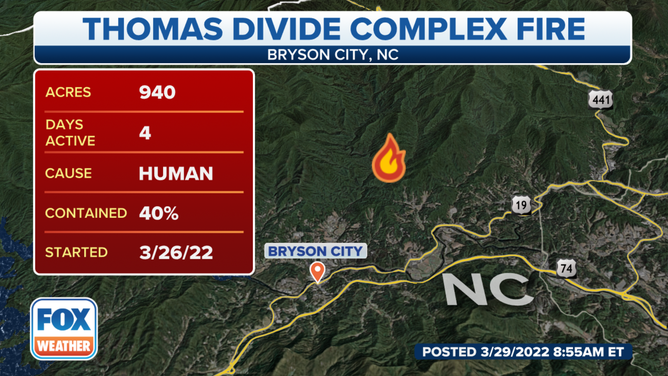 High winds and low humidity have thwarted firefighting efforts. The NOAA Storm Prediction Center says the fire weather outlook is elevated for parts of the Southeast and into the Ohio Valley.
The National Weather Service Office in Morristown, Tennessee warns strong winds will be strong Wednesday ahead of an incoming storm expected to bring severe weather.
MEET THE METEOROLOGISTS WHO HEAD TOWARD THE HEART OF THE FIRE
NPS officials said multiple agencies are fighting the fire. The Unified Command Center includes about 70 people from NPS, North Carolina Forest Service, Bryson City Fire Department, Bureau of Indian Affairs, Swain County Fire Department and Jackson County Emergency Management.
Due to wildfires, the following trails are closed: Deep Creek and Thomas Divide trails from Deep Creek to Newfound Gap Road; Pole Road Creek, Indian Creek, Stone Pile Gap, Deep Creek Horse Bypass, Juney Whank Falls, Deeplow, Fork Ridge, Sunkota Ridge, Martins Gap, Indian Creek Motor Nature, Mingus Creek, Newton Bald, Kanati Fork, and Loop trails.
Rangers have closed backcountry campsites 46, 51, 52, 53, 54, 55, 56, 57, 58, 59, and 60 and Toms Branch Road near Deep Creek is also closed. Scott Mountain Trail is closed from campsite  No. 6 to Schoolhouse Gap. Campsite No. 6 is open, according to the park service. 
Hikers and campers should continue to check the park's current delays and closures page for the latest information.
To the west, fire conditions across the Southern High Plains and the western U.S. are also fueled by windy conditions and low humidity.