Damaging winds fuel 'potentially catastrophic' fire weather Friday from New Mexico to Colorado
NOAA's Storm Prediction Center has hoisted an 'extremely critical' risk of fire weather – the highest risk on its fire weather outlook scale
ALBUQUERQUE, N.M. – Dangerous fire weather conditions are expected Friday from northern and central New Mexico to eastern Colorado, where damaging winds as high as 80 mph will rapidly spread any fires that ignite across the region.
"There is high confidence that a widespread extreme and potentially catastrophic fire weather event will occur today," the National Weather Service in Albuquerque, New Mexico, wrote in a Fire Weather Warning issued Friday morning. "Strong to damaging winds will impact all of northern and central New Mexico while the very dry and unstable conditions persist."
NOAA's Storm Prediction Center has hoisted an "extremely critical" risk of fire weather – the highest risk on its fire weather outlook scale – across east-central New Mexico and northward into the High Plains of eastern Colorado.
HOW TO WATCH FOX WEATHER ON TV
Fire weather outlook for Friday, April 22, 2022.
(FOX Weather)
---
"A dire situation will take shape today as very strong to damaging winds will develop across much of northern and central New Mexico," the NWS office in Albuquerque wrote in its forecast discussion Friday morning. "While windy conditions are common this time of year, today will be different with widespread gusts of 60 to 70 mph, and several locations are expected to observe even higher gusts near 80 mph."
WHAT DO LEVEL 1, 2 AND 3 EVACUATIONS MEAN DURING WILDFIRES?
Current wind speed and gusts.
(FOX Weather)
---
Additionally, a very dry air mass is parked over the central and southern High Plains, which will send relative humidity values tumbling to between 5 and 15% across those regions by Friday afternoon.
WHAT TO DO IF A WILDFIRE PROMPTS A POWER OUTAGE
Current relative humidity.
(FOX Weather)
---
"This will mean that any ongoing wildfires or new fire starts will grow rapidly and likely out of control with catastrophic results possible," the NWS office in Albuquerque said.
HOW THE LAY OF THE LAND AFFECTS WILDFIRE BEHAVIOR
Fire Weather Warnings have been issued by the NWS for much of the central and southern High Plains, from southeastern Arizona into all of New Mexico, West Texas, eastern Colorado, southeastern Wyoming, western Kansas and western and central Nebraska. Fire Weather Watches are posted in other parts of those regions.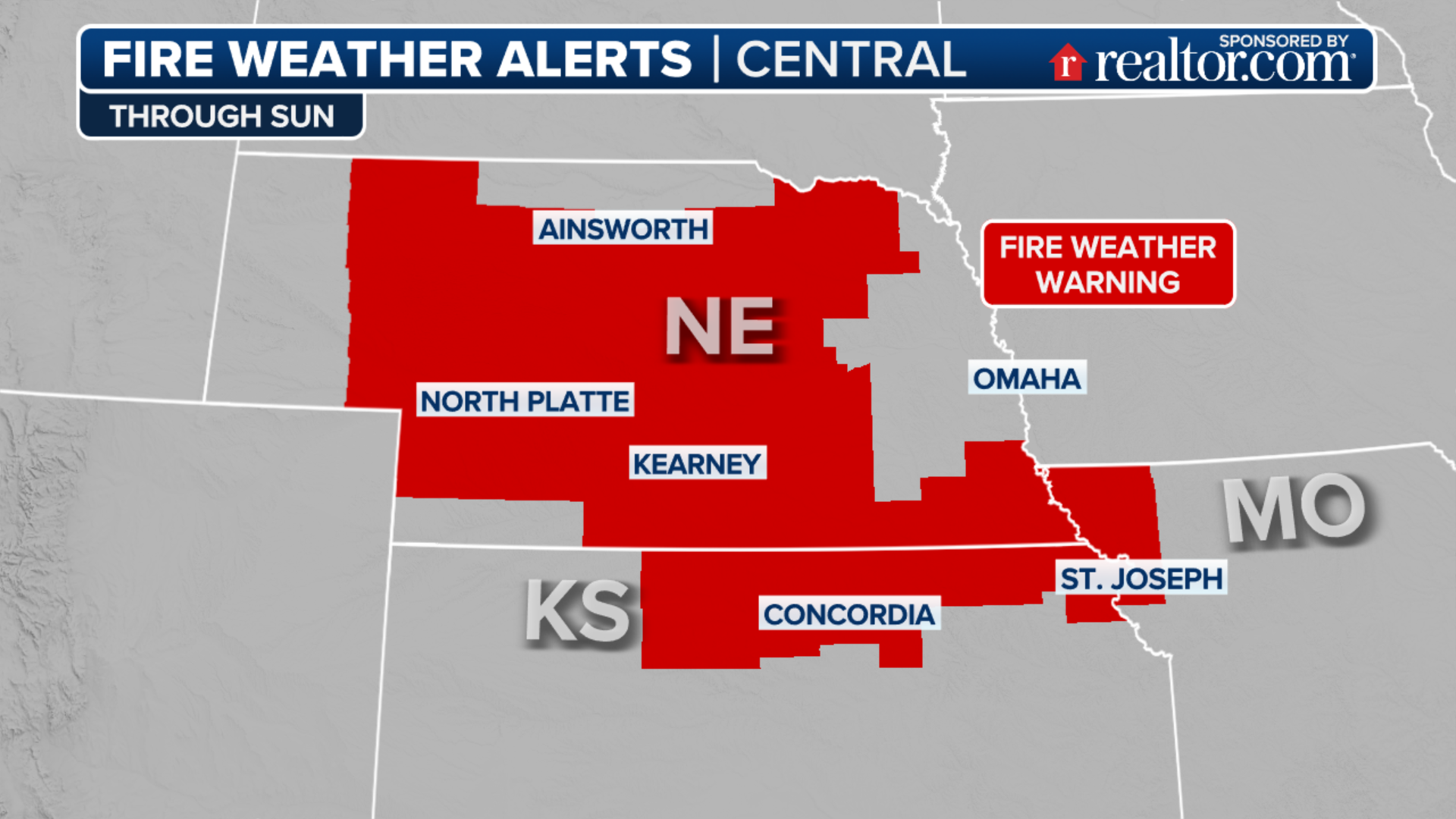 Fire Weather Warnings and Watches are in effect on Friday, April 22, 2022.
(FOX Weather)
---
The NWS is urging everyone to be extremely cautious and avoid doing anything that could cause a spark, such as outdoor burning or using outdoor power equipment. People are also encouraged to avoid parking their vehicles in tall grass and to ensure that trailer chains are properly stowed.
Though winds will not be as strong as Friday, critical fire weather conditions will persist Saturday across eastern New Mexico, West Texas, western Oklahoma and southwestern Kansas.
More than a dozen large fires are currently burning in the Southwest and Southern Plains, including the Tunnel Fire near Flagstaff, Arizona, which has burned more than 20,000 acres in the area and prompted a state of emergency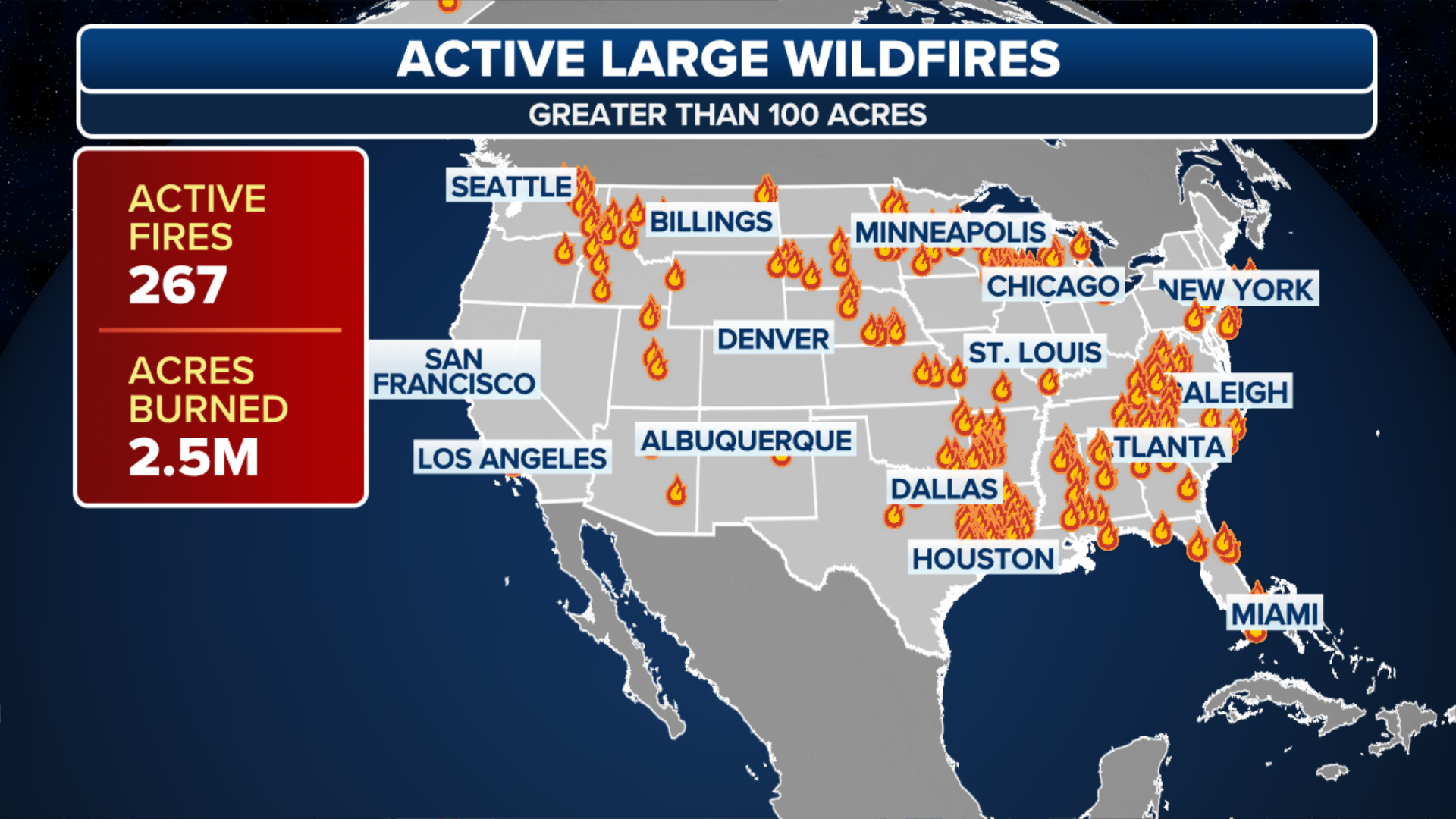 Active large wildfires.
(FOX Weather)
---