Dallas sees first rain in 67 days as rounds of storms soak Gulf Coast, Southeast
Dallas hadn't seen measurable rain since June 3 but finally ended its 2nd-longest dry streak on record Wednesday.
DALLAS – After 67 days with no rain, the sky finally opened up over the Dallas-Fort Worth Metroplex on Wednesday and brought a much-needed soaking to North Texas as multiple rounds of showers and thunderstorms take aim at much of the Gulf Coast and Southeast through the weekend.
June 3 was the last time measurable rain (at least 0.01 inches) was reported at Dallas-Fort Worth International Airport. The 0.41 inches that fell into the rain gauge Wednesday ended the city's second-longest dry streak on record, topped only by an 85-day streak with no rainfall in 2000.
HOW TO WATCH FOX WEATHER ON TV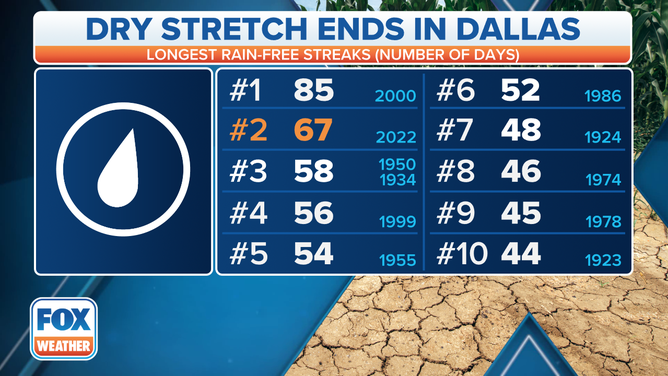 In southeastern Texas, Houston also received some welcomed rainfall on Wednesday. Between June 1 and Aug. 9, the city had recorded only 1.56 inches of rain, which was more than 9 inches below average for the summer to date.
But Houston picked up a whopping 2.78 inches of rain Wednesday, of which 2.26 inches fell in one hour between 6 and 7 p.m. Central, finally putting a bit of a dent in that rainfall drought.
TEXAS ON PACE TO SET RECORD FOR NUMBER OF WILDFIRES THIS YEAR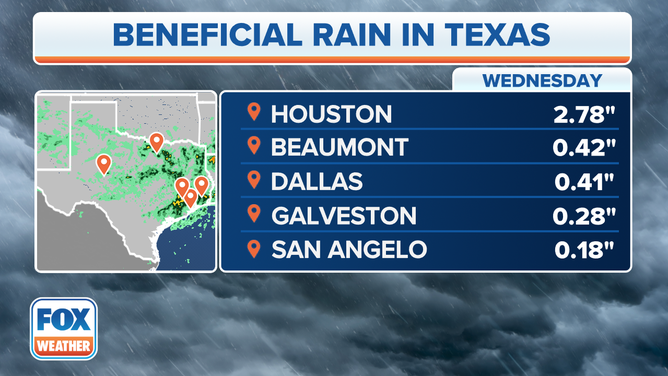 Later Wednesday evening, the storms in Texas turned severe in some areas, prompting the National Weather Service to issue a Tornado Warning for the Houston suburb of Katy at about 8:15 p.m. after rotation was detected by Doppler radar.
The storms snapped large trees and knocked out power to more than 100,000 people across the Houston metro area, according to the NWS.
40 SHARKS ILLEGALLY CAUGHT OFF TEXAS COAST
Stormy forecast for Gulf Coast, Southeast
A slow-moving cold front draped across the Southeast, Tennessee Valley, northern Gulf Coast and lower Mississippi Valley will act as a focus for multiple rounds of showers and thunderstorms across these regions each day through the weekend.
As the front continues to sag slowly southward Thursday and Friday, very humid air ahead of it will provide enough moisture to support heavy rainfall. A secondary cold front is expected to sweep through these regions by early Saturday, then stall over the Gulf Coast and Southeast into Sunday.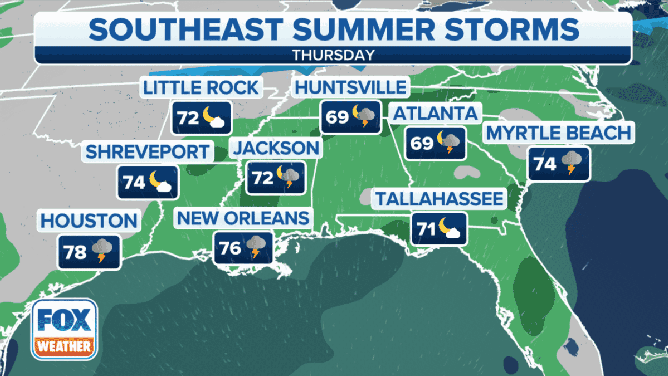 The FOX Forecast Center says the showers and storms will be slow-moving, creating the potential for localized flash flooding.
7 FACTS YOU SHOULD KNOW ABOUT FLASH FLOODS
"The closer that you are to the coastline, in places like Alabama, Mississippi, as well as Florida and even Louisiana, the more likely that you will end up seeing more rain," said FOX Weather meteorologist Jason Frazer.
Many areas will receive 1 to 3 inches of rain over the next few days, with locally higher amounts between 3 and 5 inches possible in some spots along the immediate Gulf Coast that repeatedly get soaked by heavy downpours.
"Mobile, Panama City, Baton Rouge, as well as New Orleans, you have the potential at seeing some of that flash flooding," Frazer said.
Rainfall forecast for the Gulf Coast and Southeast.
(FOX Weather)
---