40 sharks illegally caught off Texas coast
The Coast Guard detained four Mexican fishermen and seized the sharks.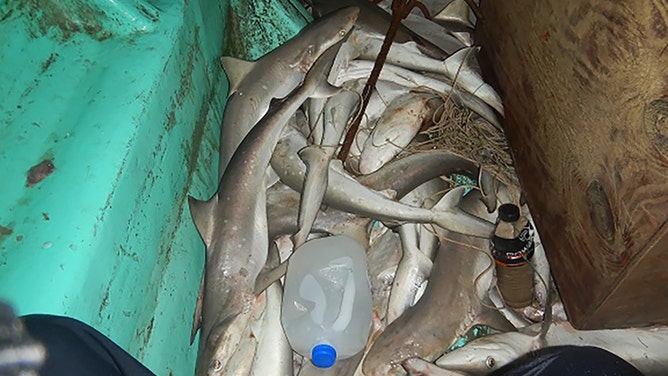 The Coast Guard stopped a boat this week off the coast of Corpus Christi, Texas, and found 40 illegally caught sharks.
The boat, operated by four Mexican fishermen, was in U.S. Federal waters. Federal law prohibits foreign commercial fishing. 
According to the Texas Parks and Wildlife Department, a licensed fisherman can catch up to one shark a day.
THE GOOD NEWS BEHIND THE RECENT SHARK SIGHTINGS
"The fishermen sell the shark for food purposes and for the fins," said Petty Officer Corinne Zilnoicki. "We're not entirely sure what exactly they're doing with the fins. It may also be food related."
In April, Texas Game Wardens discovered 381 shark fins and 29 pounds of frozen shark fins in a San Antonio restaurant during an inspection. FOX News reported that shark fin soup is a delicacy for some. 
While these fishermen kept the shark intact, others just keep the fin. Shark finning, cutting the fin off a shark and throwing the body back into the water is illegal for anyone in U.S. waters.  
SHARK SUMMER TIMELINE: SHARK ATTACKS, SIGHTINGS IN NEW YORK, NEW JERSEY PUT BEACHGOERS ON EDGE
"Sharks and red snapper are the two big targets in U.S. territory," Zilnoicki explained.
The Coast Guard seized the sharks and illegal fishing equipment found onboard.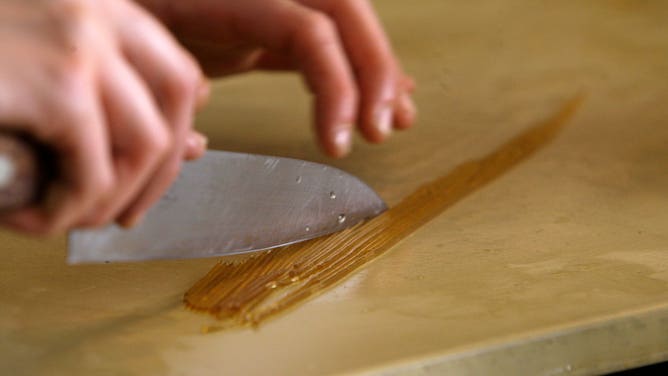 "I don't know what they specifically did with this catch. It varies," said Zilnoicki. "Sometimes the Coast Guard does donate illegally caught fish to local aquariums. Sometimes they have to dispose of it."
U.S. Customs and Border Protection tipped off the Coast Guard about the "lancha," a type of narrowboat usually 20-30 feet long with an outboard motor. 
AERIAL VIDEO CAPTURES SHARK SNACK ATTACK OFF NEW YORK BEACH
The Coast Guard wrote in their press release, "Lanchas are frequently used to transport illegal narcotics to the U.S. and illegally fish in the United States' Exclusive Economic Zone near the U.S./Mexico border in the Gulf of Mexico."
Once onshore, officers turned the fishermen over to border enforcement agents.
 Track the temperatures and storms in your area with the FOX Weather app. The free FOX Weather livestream is also available 24/7 on the website and app and on your favorite streaming platform. The FOX Weather Update podcast also provides weather information for the entire country.