The Daily Weather Update from FOX Weather: Flooding concerns prompt campground closures at Yosemite
Start your day with the latest weather news – Storms could causing flooding issues in the central U.S., while snowmelt is prompting campground closures at Yosemite National Park. Plus, the Eastern Pacific hurricane season starts today.
Welcome to the Daily Weather Update from FOX Weather. It's Monday, May 15, 2023. Start your day the right way with everything you need to know about today's weather. You can also get a quick briefing of national, regional and local weather whenever you like with the FOX Weather Update podcast.
Flood threat prompts closures at Yosemite
After months of historic snow, Yosemite National Park officials announced they would close several campgrounds Monday due to the threat of flooding from snowmelt. 
Lower Pines, North Pines and Housekeeping Camp will close starting on Monday. Officials didn't announce when they expect to reopen the campgrounds but said they would provide an update Monday evening. 
Continuous rain spells trouble for central US
Flooding has been a major problem for parts of the central U.S. over the past week, and the risk continues to start the workweek. 
Central and South Texas will once again be in Monday's risk of flash flooding, along with the Ozarks region from Tulsa, Oklahoma, to St. Louis. 
Additional rainfall totals expected through Tuesday, May 16, 2023.
(FOX Weather)
---
Eastern Pacific hurricane season begins Monday
May 15 marks the start of the Eastern Pacific hurricane season, two weeks earlier than the Atlantic hurricane season.
The earlier start for the Eastern Pacific hurricane season is due to warmer ocean temperatures, providing more fuel to any tropical cyclones that are able to develop.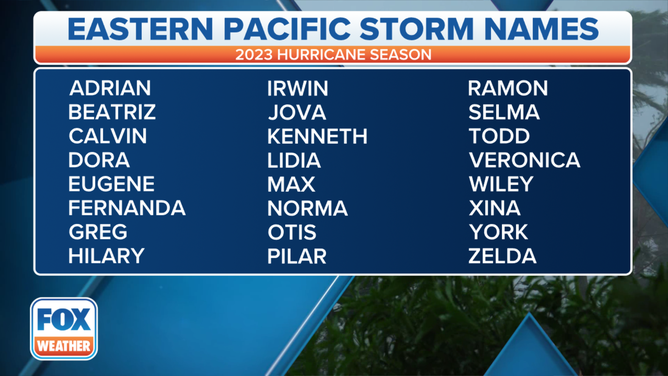 Bonus reads
Before you go, here are a couple of stories we think you might enjoy.
Need more weather? Check your local forecast plus 3D radar in the FOX Weather app. You can also watch FOX Weather wherever you go using the FOX Weather app at foxweather.com/live or on your favorite streaming service. 
You can share your weather pictures and videos with us anytime, anywhere, in our America's Weather Watchers community on Facebook, email them to weather@fox.com or add the hashtag #FOXWeather to your post on your favorite social media platform.