The Daily Weather Update from FOX Weather: Smoke grips Northeast as dangerous flooding risk lingers
Start your day with the latest weather news – Deadly flooding returned to the Northeast over the weekend as the region braces for another hazard on Monday: Canadian wildfire smoke.
Welcome to the Daily Weather Update from FOX Weather. It's Monday, July 17, 2023. Start your day the right way with everything you need to know about today's weather. You can also get a quick briefing of national, regional and local weather whenever you like with the FOX Weather Update podcast.
Flash flood threat returns to Northeast on Tuesday after deadly weekend flooding
It was a wet weekend for millions across the Northeast as Flood Watches prompted renewed fears for many in Vermont. This latest round of heavy rain moved out of the region overnight, but another round of wet weather will move into the Northeast by Tuesday and bring yet another risk of flash flooding.
The weekend flooding threat was the third time in a week that flooding turned deadly for states in the Northeast. At least five people were killed over the weekend after torrential rain prompted flash flooding in eastern Pennsylvania. Officials said upwards of 7 inches of rain fell in less than an hour in eastern Bucks County, which resulted in rapid flooding and extensive damage.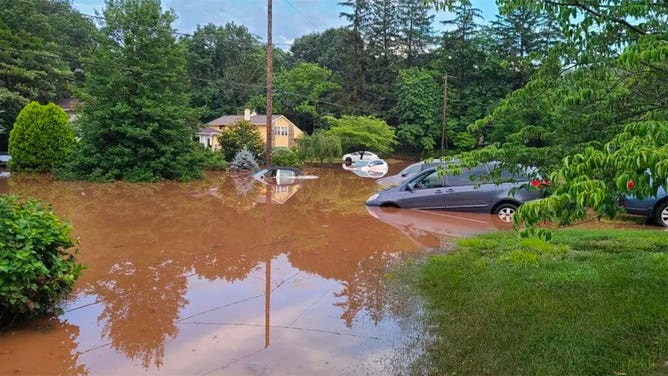 Canadian wildfire smoke returns to Northeast, mid-Atlantic
Wildfire smoke will continue to filter into the eastern U.S. on Monday, prompting the expansion of air quality alerts into the Northeast.
By Monday afternoon, thick smoke could be seen in parts of New York, Pennsylvania and Vermont. Air quality will continue to deteriorate throughout the day as the smoke overspreads much of the Northeast and mid-Atlantic. 
Air quality alerts are in effect for millions across the U.S. on Monday, July 17, 2023.
(FOX Weather)
---
Heat wave drags on from coast to coast
A widespread heat wave across the western and southern U.S. looks to have no end in sight as record highs are in jeopardy from coast to coast. 
Heat alerts have expanded to more of the country Monday as the heat becomes more widespread. 
The FOX Forecast Center warns the weather patterns that have resulted in excessive heat across large parts of the western and southern U.S. will continue through the foreseeable future with increasing fire risks and drought conditions.
Record-high temperatures are expected in several places across the U.S. on Monday, July 17, 2023.
(FOX Weather)
---
Hurricane HQ: Calvin sets its sights on Hawaii
Calvin continues to churn in the Central Pacific as a tropical storm. Calvin weakened to a tropical storm Sunday after becoming the first major hurricane in the basin on Friday. 
Calvin is forecast to approach Hawaii on Tuesday and Wednesday, bringing the potential for heavy rainfall and dangerous surf. The National Hurricane Center says a Tropical Storm Watch may soon be warranted for the main Hawaiian Islands. 
The current status of Tropical Storm Calvin.
(FOX Weather)
---
Bonus reads
Before you go, here are a few stories you might want to read.
Need more weather? Check your local forecast plus 3D radar in the FOX Weather app. You can also watch FOX Weather wherever you go using the FOX Weather app at foxweather.com/live or on your favorite streaming service. 
You can share your weather pictures and videos with us anytime, anywhere, by emailing them to weather@fox.com or by adding the hashtag #FOXWeather to your post on your favorite social media platform.