The Daily Weather Update from FOX Weather: Severe weather threat lingers in Southeast, Plains
Start your day with the latest weather news – A deadly severe weather outbreak put more than 1 million customers without power on Monday. Now, the severe threat lingers in the Southeast and Central Plains on Tuesday.
Welcome to the Daily Weather Update from FOX Weather. It's Tuesday, Aug. 8, 2023. Start your day correctly with everything you need to know about today's weather. You can also get a quick briefing of national, regional and local weather whenever you like with the FOX Weather Update podcast.
Deadly severe weather outbreak produces hurricane-force winds, tornadoes across East; threat lingers in the Southeast, Plains
More than 1 million customers were without power Monday evening after destructive winds caused power outages across the East. The storms were part of a deadly severe weather outbreak that also produced flooding, tornadoes and hail from the Northeast to the Southeast. 
Officials say that one person was killed after he was struck by lightning in Alabama. 
In South Carolina, a 15-year-old was struck and killed by a falling tree during a severe storm that impacted the Anderson area about 5 p.m. Monday. The victim has been idetfied as Evan Christopher Kinley.
Travelers were also stranded at airports as the severe weather outbreak forced ground stops, flight cancelations and delays across the U.S.
And while the majority of storms moved off the Eastern Seaboard on Monday evening, the Southeast remains under threat of severe weather on Tuesday. 
Forecasters say that outflow from the storms on Monday will provide fuel to give considerable storm chances in the Southeast on Tuesday. 
Another threat of large hail and potential tornadoes also is possible in the Central Plains on Tuesday afternoon.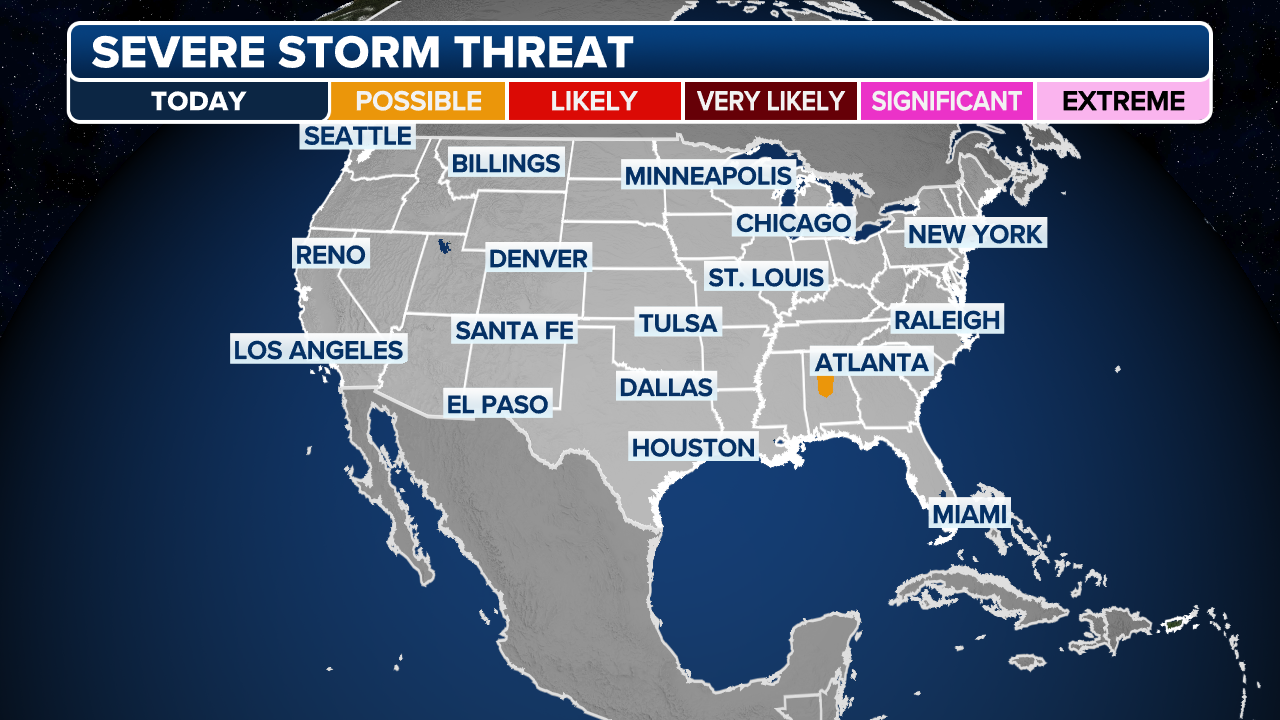 Here's a look at Tuesday's severe weather threat.
(FOX Weather)
---
Hurricane HQ: Dora brings strong winds to Hawaii, while moisture from Eugene could bring moisture to California, Southwest
Major Hurricane Dora continues to trek through the central Pacific. And while the hurricane is expected to stay south of Hawaii, forecasters have issued High Wind Warnings and High Surf Warnings for the Hawaiian Islands. 
The forecast for Hurricane Dora.
(FOX Weather)
---
Further east, Eugene continues to move through the eastern Pacific.  Eugene became post-tropical on Monday, and forecasters say that moisture from the system could provide beneficial rain to parts of the Southwest and California by week's end. 
Record heat continues from Southern Plains to Southeast
The heat wave that won't end continues this week, with millions of people from the Southern Plains through the Gulf Coast and into Florida. 
Forecasters say that the excessive heat warnings and heat advisories will likely continue through much of this week as there is no end in sight to the current large-scale pattern that is driving this heat wave.
Heat alerts across the southern U.S.
(FOX Weather)
---
Bonus reads
Before you go, here are a few stories you might find interesting.
Need more weather? Check your local forecast plus 3D radar in the FOX Weather app. You can also watch FOX Weather wherever you go using the FOX Weather app at foxweather.com/live or on your favorite streaming service. 
You can share your weather pictures and videos with us anytime, anywhere, by emailing them to weather@fox.com or by adding the hashtag #FOXWeather to your post on your favorite social media platform.