Eugene's remnants in Eastern Pacific could bring needed rain to Southwest, California
Rain totals will be light, but scattered rain showers and thunderstorms are possible through Friday, the FOX Forecast Center said.
Although Eugene has weakened into a post-tropical storm, there is still a risk of higher chances of rainfall in some parched areas of California and the Southwest this week.
Rain totals will be light, but scattered rain showers and isolated thunderstorms are still possible through Thursday. While Phoenix gets most of its rain in the summer, its a rarity for Southern California. The last time the city saw measurable rain in August was 2014. The City of Angles averages 0 inches of rain for the month.
"All the moisture that's associated with tropical storms, it doesn't disappear when the storm disappears," FOX Weather meteorologist Britta Merwin said. "All the moisture is still plentiful in the atmosphere, and this can end up being kind of a Cinderella story for the Southwest."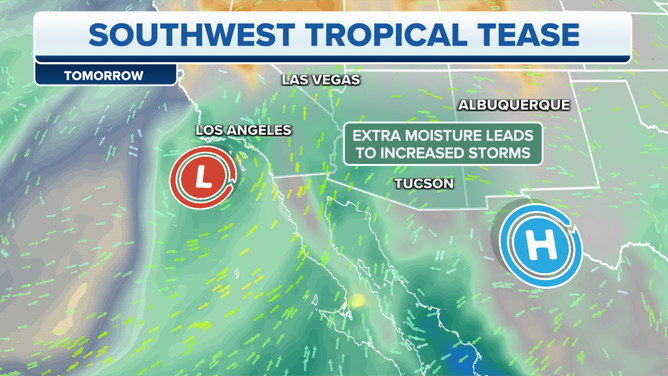 Now, the leftover moisture from Eugene is pushing into Southern California and Arizona. Phoenix, "abnormally dry" in the drought monitor, could see isolated thunderstorms, including gusty winds, frequent lightning, brief downpours and blowing dust. The National Weather Service gives south-central Arizona the best chance of storms, 20-40%, especially in higher terrain.
The NWS in Los Angeles forecast a 10-20% chance of thunderstorms into Thursday, with a small chance of lingering storms on Friday. They warned of brief heavy rain triggering flooding and wildfires triggered by dry lightning.
"This is going to allow for showers and thunderstorms," Merwin said. "It's going to feel a lot different, especially because it's been such a hot and dry summer."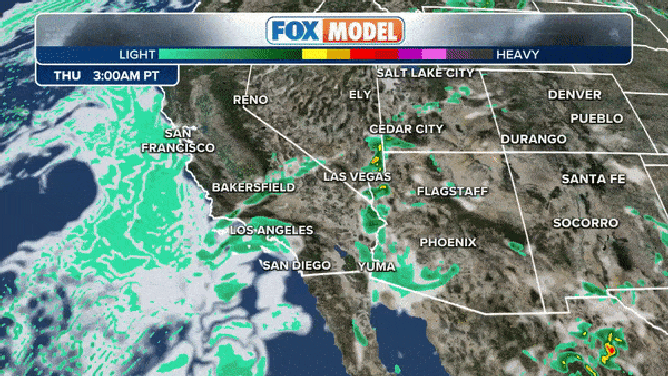 Bands of rain will organize overnight and place the worst of the weather between Los Angeles and Santa Barbara Thursday morning, according to the NWS. Rain will be spotty, and storms could produce dry lightning that could set off wildfires. 
Some tropical rain moved into the San Diego area on Wednesday morning, according to the National Weather Service.
The county will continue to see tropical clouds overhead on Thursday. Isolated thunderstorms and brief showers are possible mainly over the mountains.
The chance for storms remains in the forecast for Arizona and New Mexico through the weekend.
WHAT'S THE DIFFERENCE BETWEEN A TROPICAL DEPRESSION VS. TROPICAL STORM VS. HURRICANE?
Rain outlook.
(Fox Weather)
---
Dire need of rainfall
Cities from Nevada through Southern California and into Arizona and New Mexico are in desperate need of precipitation following a delayed start to the monsoon season – when the winds shift in from the south, and more moisture is available from the Pacific Ocean and the Gulf of Mexico. Deserts depend on monsoonal moisture as their only rain source.
"Unfortunately, this year, it's been kind of lame, to be quite honest," Merwin said, "And so unfortunately, parts of Arizona, also New Mexico, Southern California, they're not seeing as much thunderstorm activity as they usually do. That makes a hot summer even more difficult to get through because you're not tapping into that moisture."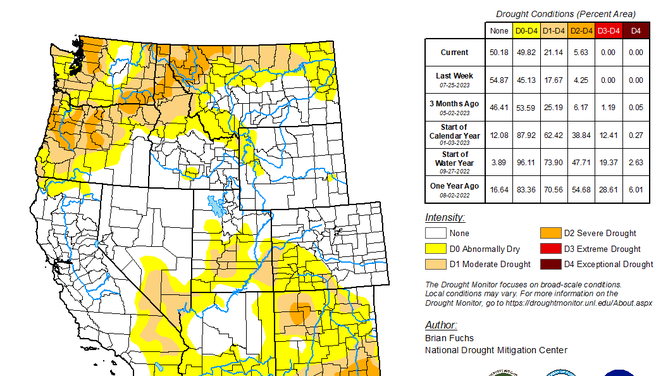 According to the NWS office in Tempe, Arizona, Phoenix is in the midst of one of the most prolonged periods on record without rainfall, and there is no precipitation in sight. The city's official observation site at Phoenix Sky Harbor International Airport has reached 134 days without precipitation, and the NWS believes they are on track to reach the second-longest dry spell on record at 143 days.
Can you feel the humidity?
Places not used to feeling muggy summers, such as San Diego and even in the deserts of Southern California, will actually feel increased humidity 
"Wednesday, Thursday and Friday, that's kind of our token time frame where we're going to have some higher humidity in place and more moisture in the atmosphere because of what's left over of Eugene finally getting caught up in the jet stream and pushing up into the Southwest," Merwin said.
WATER FROM HURRICANES, TROPICAL STORMS KILLS MORE IN US THAN HURRICANE WIND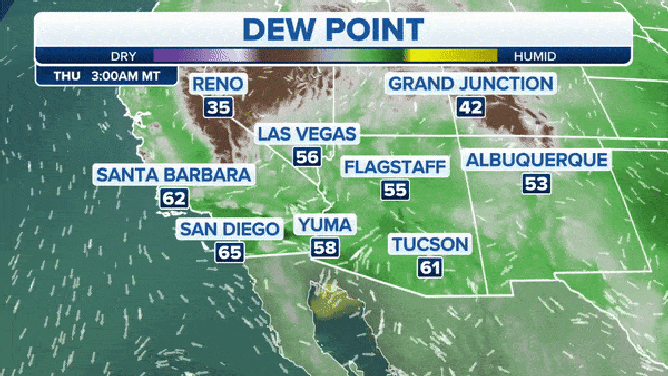 Dew points are a great measurement of how much moisture is in the atmosphere, Merwin added. The lower the number, the drier the air.
"Look at the dew points for Thursday across places like Indo, California. You're talking about the desert. We have a dew point of 69 degrees on Thursday morning," Merwin said. "That is humid air in the deserts of Southern California." 
"We need the rain," Merwin added. "We have the opportunity to capitalize on it. So, fingers crossed we can get as much as we can get."