Atmospheric river event pummels California with flooding, mudslides
A series of powerful atmospheric river storms have so far claimed the lives of at least 18 people, which is more than wildfires over the past two years combined.
SAN FRANCISCO – Another barrage of atmospheric rivers is impacting California, with effects from heavy rain expected to last through early next week for the West Coast.
Millions in the Golden State are under flood alerts and some residents in low-lying areas of Santa Cruz County have been told to evacuate as rivers and streams rise.
The region caught a break Thursday from the onslaught of deadly atmospheric river storms that have greatly helped the ongoing drought situation but have battered California with heavy rain, high winds, flooding and mudslides.
Before the current event, authorities said the death toll climbed to at least 18 after a 43-year-old woman was found dead in her vehicle that was submerged in floodwaters near San Francisco, according to the Sonoma County Sheriff's Office.
The storm systems will produce potentially dangerous impacts for both inland and coastal regions.
The FOX Forecast Center expects waves, between 30 and 35 feet, will crash ashore along the Oregon coast. That will create hazardous conditions, with beaches becoming inundated as the water surges into ordinarily dry areas.
PLAN, PREPARE, PROTECT: HOW TO BEST COVER YOUR PROPERTY AGAINST FLOODS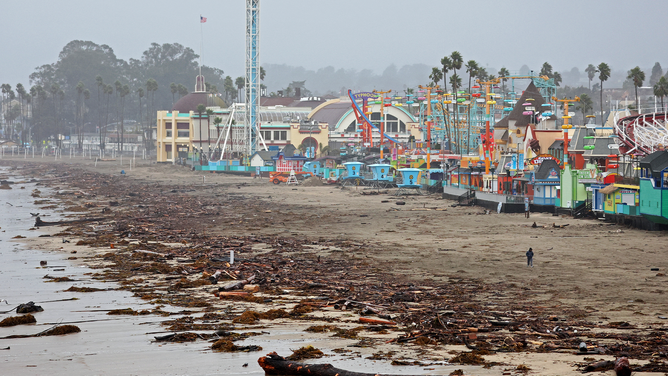 In Northern California, waves between 20 and 25 feet are predicted, and 10- to 20-foot waves will roll into Southern California. Dangerous surf conditions are the primary concern in those areas.
Strong wind gusts up to 40 mph are expected to accompany the atmospheric river event. These high winds will likely topple trees still standing in the saturated soil, as well as trigger more power outages. 
DRAMATIC IMAGES SHOW DEVASTATION FROM ONSLAUGHT OF ATMOSPHERIC RIVERS SLAMMING CALIFORNIA
An overview of the series of storms headed to California into early next week.
(FOX Weather)
---
STATE OF REDWOODS REMAINS UNCERTAIN AFTER HISTORIC STORMS IN CALIFORNIA
Scattered showers are expected to linger into Sunday, but conditions should gradually improve as the day progresses. However, another powerful storm will push into California at the start of the workweek.
In general, from the combination of these storms into early next week, between 2 and 4 inches of additional rain is predicted across the lower elevations of California, while 4 to 8 inches could fall at the higher elevations of the state's coastal ranges.
Expected rain totals over the next seven days.
(FOX Weather)
---
Atmospheric river storms make dent in California's drought
The latest drought numbers were released Thursday morning, and the news is good for California.
WHAT CALIFORNIA'S EXCESSIVE SNOW MEANS FOR SPRING AND THE MEGADROUGHT
"We now have seen a massive reduction in the extreme drought, right where we need it in the Central Valley where we have critical crops that are being grown," FOX Weather meteorologist Britta Merwin said. "A lot of farmers, a lot of industry here have been hit hard by the drought, so to see the short-term reduction, it is a major silver lining."
Nearly the entire state is now out of the extreme and exceptional drought categories, with less than 1% of California remaining in extreme drought.
About 95% of the state is still experiencing some category of drought conditions, according to the latest information from the U.S. Drought Monitor. But that's still an improvement over last week when drought covered 98% of the state.
The latest U.S. Drought Monitor shows 95% of California remains in drought, but that's an improvement over last week's 98% drought coverage in the state.
(FOX Weather)
---
"It's that reduction in extreme drought that is just purely amazing," Merwin said. "If we rewind to before Christmas Eve, we had almost 40% of the state under exceptional and extreme drought; all of that was in the Central Valley."
Rich Tinker, the U.S. Drought Monitor author with the National Oceanic and Atmospheric Administration, said he was optimistic about the drought situation but was cautious.
"The reservoirs, of course, is the big issue for most of what goes on in most of California, and water management is pretty heavy," he said. "So, it takes a long time for reservoirs to deplete, and it also takes a while for them to refill. So, we're doing considerably better. We're still not even up to what's normal for this time of year, however."
So, while Californians may be breathing a sigh of relief, some scientists say it may be too soon to celebrate.
"At this point in time, we still have another four or five months in our snow season and in our typical rainy season," said Andrew Schwartz, lead scientist at the Central Sierra Snow Lab. "That means that while we're kind of scoring the touchdown in the first quarter of the game. Right now, we still have three-quarters left, and there's a lot that can happen."
'EXTRA WINTER'S WORTH OF PRECIPITATION' NEEDED TO BUST CALIFORNIA DROUGHT, SCIENTIST SAYS
So, how much precipitation is needed to continue to make dents in the drought?
"At this point in time, we realistically need about an extra winter's worth of precipitation," Schwartz said. "So it's not going to happen in one year. At minimum, we're probably looking at three to four of above average before we can really talk about getting out of the drought."