Blizzard Warning issued as cross-country storm brings snow, high winds to Plains, Midwest on Veterans Day
A foot or more of snow could fall in parts of northeastern North Dakota and northern Minnesota
A powerful storm system sweeping across the United States on Veterans Day will bring snow, high winds and blizzard conditions to the Plains and Midwest before spreading rain into the eastern U.S. by Friday.
This system's cold front triggered severe thunderstorms on Wednesday in the Southern Plains, where damage was reported from a possible tornado in Tulsa, Oklahoma.
The powerful storm's wintry side will now become a blizzard in portions of the Northern Plains and whip up a wind-driven soaking rain in other parts of the Plains, Midwest and South. This system will eventually conclude its cross-country trek Friday night as it pushes off the East Coast.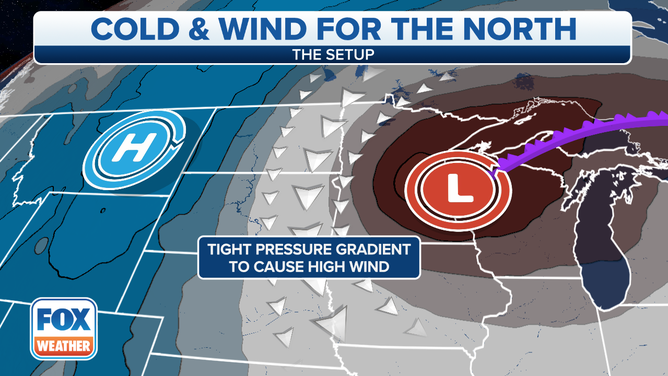 Much colder air will follow in the wake of this storm across the central and eastern U.S. after an unseasonably warm start to the week.
BLAST OF COLD AIR INTO PLAINS BRINGS DRAMATIC TEMPERATURE SWING TO FINISH WEEK
Snow impacts
While many areas will see a soaking rain with this system, parts of the Northern Plains and upper Midwest are expected to see their first significant snowfall of the season Veterans Day into Friday.
The National Weather Service has issued a Blizzard Warning through Friday for northeastern South Dakota and adjacent portions of west-central Minnesota, where wind gusts to 55 mph will combine with falling and blowing snow to significantly reduce visibility.
According to the NWS, a snowstorm must reach the following criteria to become an official blizzard: sustained winds or frequent gusts to at least 35 mph and considerable falling and/or blowing snow that frequently reduces visibility to one-quarter mile or less, both of which must persist for a period of three hours or longer.
HERE'S WHY 'BLIZZARD ALLEY' IS IN THE NORTHERN PLAINS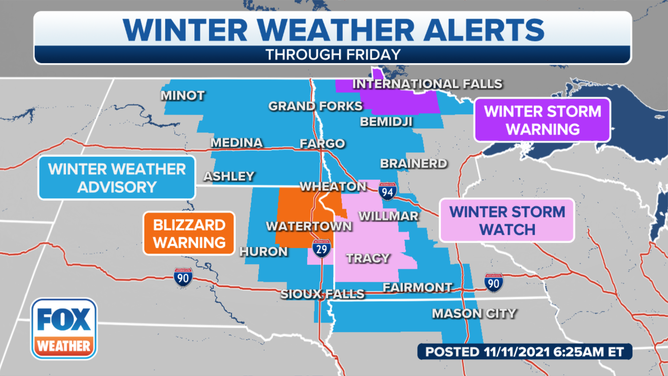 Winter Storm Warnings, Winter Storm Watches and Winter Weather Advisories are also in effect into Friday from central and eastern North Dakota into eastern South Dakota, northern Iowa and western and central Minnesota.
On Veterans Day, snow will continue to fall across northern Minnesota, while a second batch of snow develops back to the west over much of North Dakota and eastern South Dakota as much colder temperatures build in on the backside of this storm.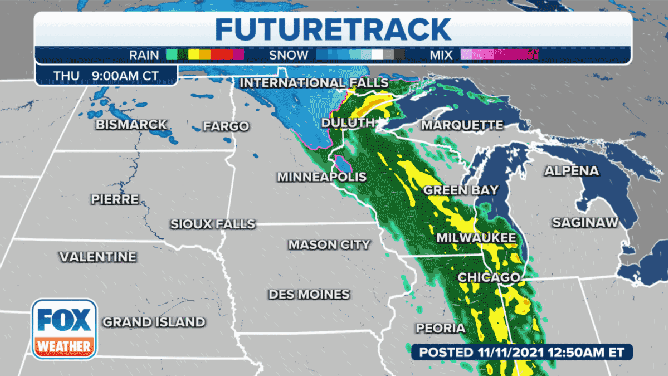 Thursday night, snow will fall across central and eastern North Dakota, eastern South Dakota, northern Iowa and western and central Minnesota. The snow should gradually taper off in the eastern Dakotas Friday morning, with lingering snow showers possible in Minnesota and northern Iowa through Friday afternoon. Rain could mix with snow on Friday over parts of Wisconsin and northern Illinois before ending Friday night.
Lake-effect snow and rain showers will then develop downwind of the Great Lakes this weekend with the colder air in place.
The heaviest snow is predicted to fall across northeastern North Dakota and northern Minnesota, where many areas could pick up 6 to 12 inches of snow. Isolated spots along the U.S.-Canada border might receive more than a foot of snow.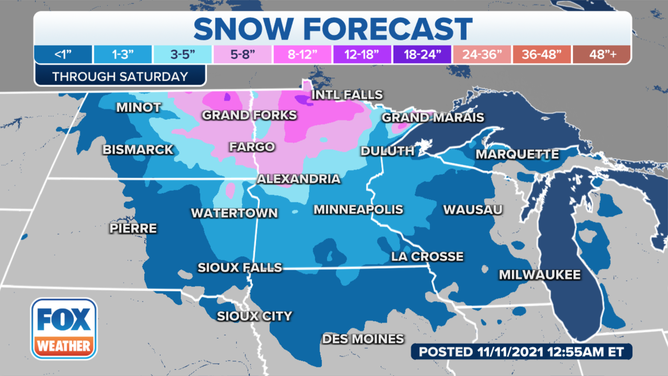 Less than a half-foot of snow is forecast for other parts of the Northern Plains and upper Midwest. Minneapolis/St. Paul is projected to see less than an inch, but it's still notable because it will be the first snow of the season for the Twin Cities.
This system will also spread a line of heavier rain and a few strong thunderstorms across the South and the Mississippi, Ohio and Tennessee valleys into Thursday night.
On Friday, the strong line of rain and thunder will move through the eastern U.S. from New England to the mid-Atlantic before the storm pushes off the East Coast Friday night.
NORTHEAST BRACING FOR HEAVY RAIN, POSSIBLE FLOODING FRIDAY
Wind impacts
High winds will accompany the snow and rain in the Plains and Midwest on Veterans Day and into Friday, which is why a Blizzard Warning has been hoisted for parts of the Northern Plains.
WHAT MAKES A BLIZZARD DIFFERENT FROM AN ORDINARY SNOWSTORM?
The NWS has also issued High Wind Warnings and Wind Advisories through Friday morning from portions of the Dakotas and northern Nebraska into southwestern Minnesota and northwestern Iowa.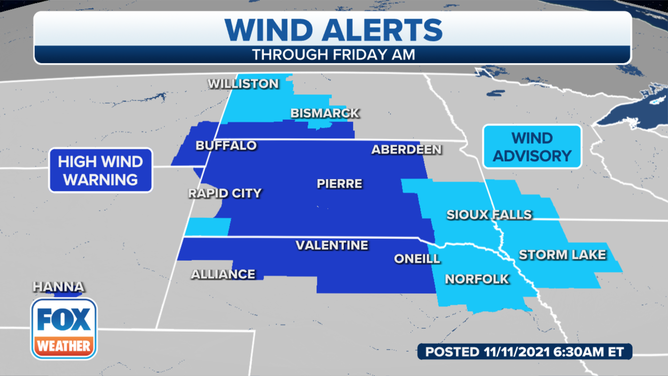 Winds could gust upwards of 60 to 70 mph over the High Wind Warning areas in the Northern Plains. Areas under Wind Advisories are expected to gust between 45 and 55 mph through Friday morning.
In places where snow is falling, these high winds will lead to blowing and drifting snow and possible whiteout conditions, meaning visibility could be reduced to near zero at times. This is especially hazardous for motorists, so you're advised to use extreme caution if you must travel on Veterans Day or Friday.
WHAT YOU SHOULD KNOW ABOUT BLOWING, DRIFTING SNOW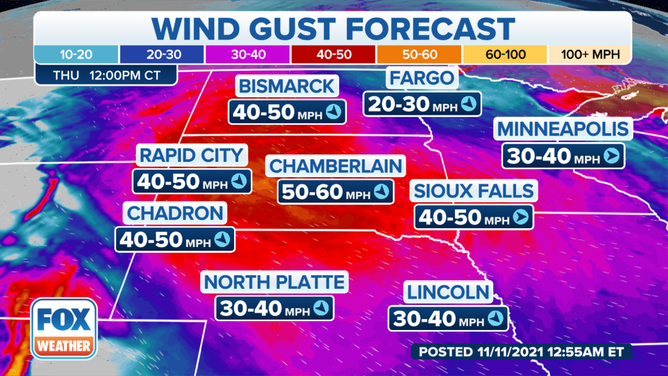 Winds will remain gusty into Friday afternoon across much of the Northern Plains and upper Midwest. 
Winds could still gust from 40 to 50 mph in portions of South Dakota and Nebraska, with 30- to 40-mph gusts possible farther north and east into parts of North Dakota, western Minnesota and much of Iowa.