Here's why 'Blizzard Alley' is in the northern Plains
Not every winter storm is a blizzard, but one region of the country is especially prone to these wind-whipped snowstorms.
Most people probably know "Tornado Alley" is in the Plains, but did you know this region of the U.S. is also considered "Blizzard Alley?"
Portions of the northern Plains are notorious for seeing blizzards from late fall through early spring, and it turns out that blizzards are more likely to occur there than anywhere else in the nation.
According to the National Weather Service, a snowstorm must reach the following criteria to become an official blizzard: sustained winds or frequent gusts to at least 35 mph and considerable falling and/or blowing snow that frequently reduces visibility to one-quarter mile or less, both of which must persist for a period of three hours or longer.
WHAT MAKES A BLIZZARD DIFFERENT FROM AN ORDINARY SNOWSTORM?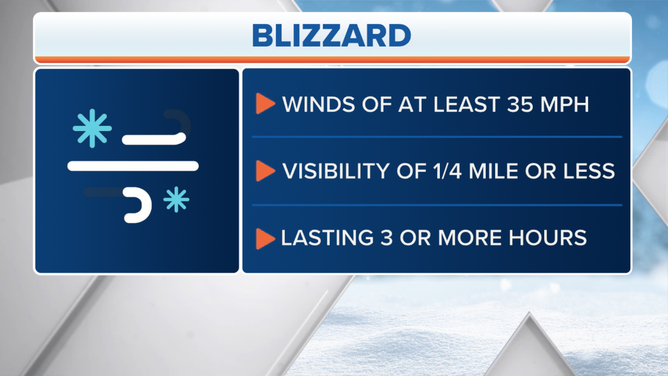 A study by Jill S. M. Coleman and Robert M. Schwartz published in 2017 found an area from the Dakotas into western and southern Minnesota, northern Iowa and northeastern Nebraska has the highest likelihood of blizzards in the U.S.
The researchers analyzed monthly issues of the NOAA/National Centers for Environmental Information Storm Data publication for 55 winter seasons from September 1959 through May 2014, searching for reports of a blizzard or blizzard conditions. The reports were tallied by county and date and included damage, injury and fatality statistics.
During the period of study, the greatest number of blizzards was found in the magenta-shaded region depicted in the map below, which includes much of eastern North Dakota, two counties in northeastern South Dakota and one county in western Minnesota. Coleman and Schwartz noted that an average of 34 to 42 blizzards per 1,000 square kilometers (386 square miles) occurred there between the winters of 1959-60 and 2013-14.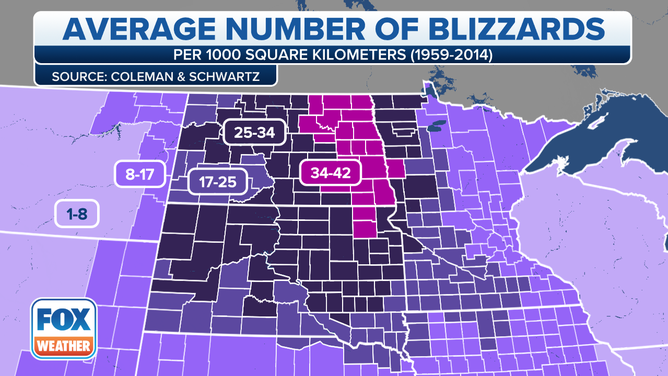 Nearly all 119 counties in the Dakotas and 39 counties in western Minnesota averaged at least one blizzard or more per year, the study found. Five counties in eastern North Dakota, along the Minnesota border with the Red River, reported over 100 blizzards during the 55 winter seasons in the analysis.
Traill and Cass counties in eastern North Dakota, with 111 blizzards, had the maximum blizzard frequency for the Lower 48, as well as the highest blizzard average per 1,000 square kilometers, with 42.4 blizzards during the period of study.
WHICH IS THE SNOWIEST MONTH OF THE YEAR?
Surrounding this blizzard hot spot, other parts of North and South Dakota, western Minnesota, northern Iowa, and northeastern Nebraska averaged between 17 and 34 blizzards per 1,000 square kilometers.
Every county in North Dakota has a greater than 60% annual probability of a blizzard, as do more than a dozen of the adjacent counties along the Red River in western Minnesota and nearly a half-dozen counties in northeastern South Dakota, according to the study.
Why are there so many blizzards in the northern Plains?
The topography of the northern Plains is relatively flat, and there is a general lack of trees and vegetation. Without many trees to get in the way, winds can turn stronger than in many other parts of the country because of the lack of friction caused by trees. Therefore, strong winds are frequently able to blow bitterly cold air southward out of the Canadian Prairies.
In addition, this region is a breeding ground for low-pressure systems to strengthen as they punch eastward out of the Rockies. These systems are able to tap into cold, arctic air that's typically in place behind them, causing temperatures to plummet as the storm tracks through the Plains.
The combination of all these factors makes the region prime real estate for snowstorms to become blizzards, meeting the strict criteria discussed earlier.