Invest 97L not expected to develop into Atlantic tropical depression
'Danielle' will be the name given to the next Atlantic tropical storm.
A tropical disturbance in the central Atlantic that forecasters have been monitoring for possible development all week is no longer expected to become a tropical depression.
Satellite observations show the tropical disturbance is located about halfway between the western coast of Africa and the Lesser Antilles. It's currently moving west-northwestward at 15 to 20 mph across the tropical Atlantic.
This disturbance has been dubbed Invest 97L by the National Hurricane Center. An invest is simply a naming convention used by the NHC to identify an area of weather that it is investigating for possible development into a tropical depression or tropical storm within the next five days.
WHAT IS AN INVEST DURING HURRICANE SEASON?
On Thursday morning, the NHC lowered the odds of development for Invest 97L to near 0% over the next five days, noting that the tropical disturbance's associated shower and thunderstorm activity remains limited on Thursday because of Saharan dust and dry air just to the north.
The National Hurricane Center is monitoring the highlighted area for the development of a tropical depression this week.
(FOX Weather)
---
According to the FOX Forecast Center, any development of this system is no longer expected as upper-level winds over the tropical Atlantic are expected to remain too strong to allow for the formation of a tropical depression.
"That tropical wave that we saw push off the coast of Africa earlier this week has really run into an environment not conducive for seeing any further development," said FOX Weather meteorologist Jane Minar. "It's going to continue to move into an environment with very strong upper-level winds … so with that, we aren't expecting to see any development."
NOAA'S HISTORIC MISSION OF TROPICAL DISTURBANCE TO HELP FUTURE HURRICANE FORECASTS
The National Hurricane Center is monitoring the circled area for the development of a tropical depression this week.
(FOX Weather)
---
Entering peak of Atlantic hurricane season
The Atlantic Basin is just beginning to enter the heart of the hurricane season, which usually kicks off in mid-August and runs through mid-October. Sept. 10 is the official peak of the Atlantic hurricane season.
During the climatological peak, it is typical for meteorologists to be tracking several disturbances across the Atlantic.
Water temperatures are usually at their warmest, and atmospheric conditions allow for the development of persistent thunderstorm activity.
PEAK OF ATLANTIC HURRICANE SEASON BEGINS IN AUGUST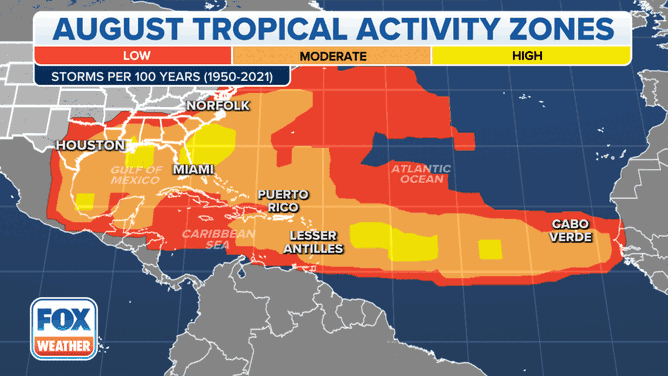 Forecasters at Colorado State University and the National Oceanic and Atmospheric Administration believe the season is still on track to be more active than average.
CSU is expecting 18 named storms, with eight becoming hurricanes and as many as four strengthening into major hurricane status with winds of at least 115 mph.
HURRICANE FORECASTERS AT COLORADO STATE, NOAA REAFFIRM CONFIDENCE IN BUSY SEASON PREDICTION
The next system that gains tropical storm status will earn the name "Danielle."
Typically, the fourth named storm develops around Aug. 15.