NOAA's historic mission of tropical disturbance to help future hurricane forecasts
NOAA's Gulfstream analyzed the tropical wave and took measurements of the Saharan Air Layer and the Intertropical Convergence Zone
A tropical disturbance that became nothing more than a curiosity in the eastern Atlantic could lead to historic research that is expected enhance meteorologists' understanding of developing cyclones.
A National Oceanic and Atmospheric Administration Gulfstream jet typically tasked with surveying environments ahead of tropical systems in the western parts of the basin recently made a historic 4,000-mile trek to the Cabo Verde islands, off the coast of Africa, to examine the area of disturbed weather.
During its mission, the crew used dropsondes to measure the atmosphere around the Intertropical Convergence Zone (ITCZ) and the disturbance known as invest 97L.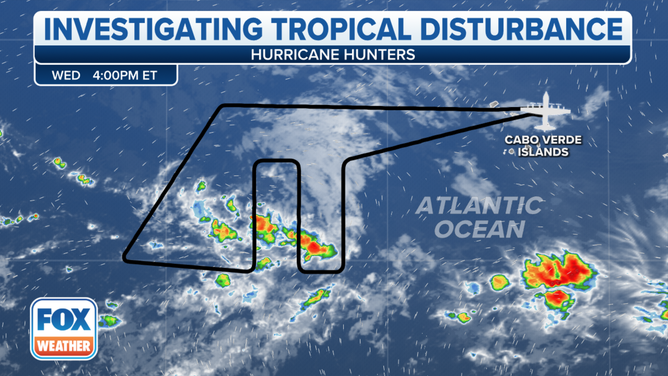 WHAT IS AN INVEST DURING HURRICANE SEASON?
An invest is simply a naming convention used by the National Hurricane Center to identify an area of weather that it is investigating for possible development into a tropical depression or tropical storm within the next five days.
The plane also monitored the Saharan Air Layer (SAL) and other critical atmospheric conditions that can hinder tropical cyclone development.
NOAA said a goal of the experimental mission is to determine if the addition of data from areas of the basin where there are few weather observations impacts forecasts.
During the past several decades, forecasters have generally seen a five to ten percent improvement of output by forecast models when aircraft data is included.

HOW TO WATCH FOX WEATHER ON TV
Meteorologists say during a system's infancy, a small change in the favorability of atmospheric conditions can lead to large changes in strength and structure that sometimes have implications for landmasses in the western part of the basin.
With an additional data source, weather agencies hope to see a decrease in errors regarding track and intensity from one of the main breeding grounds of tropical cyclones.
SAILDRONES ADD GULF OF MEXICO TO HURRICANE HUNTING GROUNDS AFTER CATEGORY 4 INTERCEPT IN 2021
NOAA said the recent experimental mission is the first of two that are planned during the 2022 hurricane season that will sample the atmosphere off the coast of Africa and help to further understand the structures of tropical cyclones.
The Atlantic basin hurricane season started on June 1 and runs through the end of November.