Colorado State University increases forecast for 2022 Atlantic hurricane season to 20 named storms
CSU has been issuing forecasts for nearly 40 years
FORT COLLINS, Colo. – The experts at Colorado State University released an updated 2022 Atlantic hurricane season outlook Thursday and increased the forecast number of named storms from what they initially predicted in an April outlook.
"We have increased our forecast and now call for a well above-average Atlantic Basin hurricane season in 2022," Phil Klotzbach, lead author of the forecast, wrote in the outlook published Thursday morning.
THE HISTORY OF THE CSU ATLANTIC HURRICANE FORECAST
The updated CSU forecast calls for 20 named storms, 10 of which could become hurricanes with winds of at least 74 mph. Experts say out of the hurricanes, five of them could be major (Category 3 or higher) with winds of at least 115 mph.
This is an increase of one named storm, one hurricane and one major hurricane from CSU's initial outlook issued in April. It's also on the upper end of NOAA's hurricane season outlook released in May, which predicted 14 to 21 named storms, six to 10 hurricanes and three to six Category 3 or stronger hurricanes.
These numbers are significantly higher than the 30-year averages of 14 named storms, seven hurricanes and three major hurricanes. If the forecasts hold, 2022 will become the seventh straight above-average Atlantic hurricane season, which would be the longest streak on record with more activity than average.
HOW TO WATCH FOX WEATHER ON TV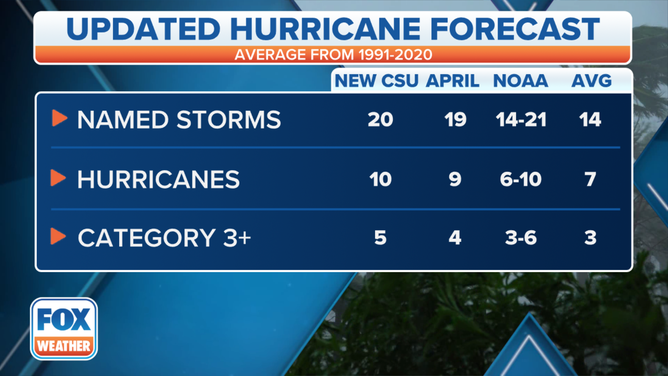 "We think the odds of El Niño are quite low. The Atlantic is looking reasonably conducive," Klotzbach told FOX Weather in April when CSU's initial outlook was released.
Klotzbach says that of the various forecasts for El Niño or La Niña, a cool-neutral condition to weak La Niña is expected to be in place, much like the 2021 hurricane season, which was the third most active on record with 21 named storms and seven hurricanes, four of which became Category 3 or stronger.
7 THINGS WE'LL REMEMBER ABOUT THE 2021 ATLANTIC HURRICANE SEASON
La Niña conditions often yield an active season in the Atlantic, while El Niño typically has the opposite effect and causes the season to be quieter than average.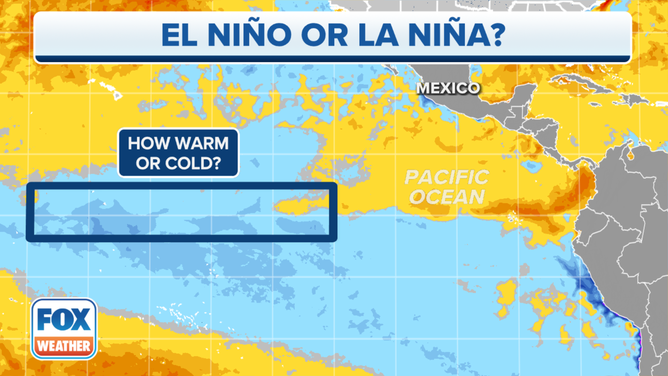 Along with the climate patterns, Klotzbach and his team use 70 years of historical data, including sea-surface temperatures, sea-level pressure and wind shear – the change in wind speed and/or direction with height – to create these forecasts.
When looking at the Atlantic Ocean waters, the consensus of the long-range forecasts is for water temperatures to be above average in the region where most strong hurricanes develop, known as the Main Development Region, and much warmer than average to the north and close to the U.S. coast.
WHERE TROPICAL STORMS, HURRICANES TYPICALLY OCCUR DURING EACH MONTH OF ATLANTIC HURRICANE SEASON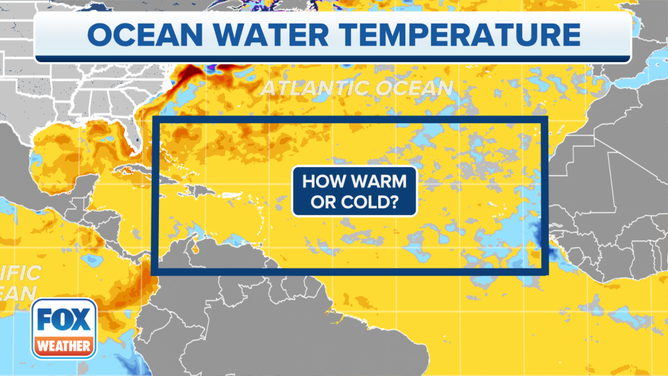 Because of all these factors, Klotzbach believes this 2022 Atlantic hurricane season will be much more active than average.
The Atlantic hurricane season officially kicked off on June 1 and will end on Nov. 30. The list of 21 names being used this season begins with Alex and ends with Walter.
HERE ARE THE NAMES YOU'LL SEE DURING THE 2022 ATLANTIC HURRICANE SEASON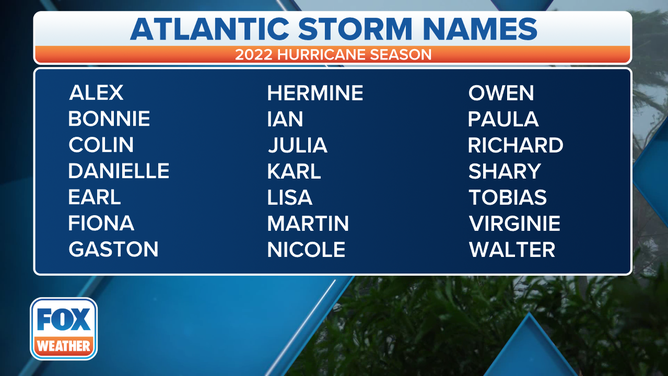 This six-month period was chosen by the National Hurricane Center because it accounts for 97% of all Atlantic tropical storms and hurricanes, according to NOAA's Hurricane Research Division.
That means only 3% of Atlantic tropical cyclones occur outside those dates, with the majority of out-of-season activity occurring in May or December. However, there has been either an Atlantic tropical storm or hurricane in every month of the year, as can be seen in the graph below.
CSU will update its hurricane season outlook again on July 7, while NOAA will update its forecast in early August ahead of the peak of the season on Sept. 10.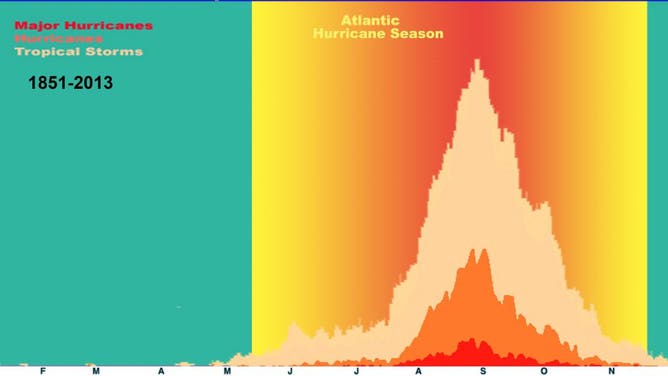 About the CSU seasonal hurricane forecast
This is the 39th year CSU released a forecast for the tropical weather season.
"It all got started with Dr. Bill Gray, who basically was the first one anywhere to do these season hurricane predictions for the Atlantic," Klotzbach says. 
The CSU team was founded by the late Dr. William Gray, who led the program for decades.
"He made fundamental contributions to all sorts of tropical meteorology," Klotzbach says about Gray. "He was like Wikipedia before there was Wikipedia. He was kind of an online encyclopedia." 
CLICK HERE TO GET THE FOX WEATHER UPDATE PODCAST
Gray was able to associate the amount of hurricane activity with climate patterns.
Because of his discovery of the correlation, the program as well as his forecasts became world-renowned. Now, nearly 40 years later, Klotzbach and the CSU tropical weather and climate research team continue the legacy and issue the forecast annually.