7 things we'll remember about the 2021 Atlantic hurricane season
Eight storms made landfall in the continental US in 2021
Tuesday marks the end of hurricane season in the Atlantic, and it will go down as the third-busiest season on record, behind only 2020 and 2005.
There were 21 named storms that roamed the Atlantic Basin in 2021, of which seven became hurricanes and four intensified into major hurricanes (Category 3 or higher on the Saffir-Simpson Hurricane Wind Scale). Eight of these storms made landfall in the continental United States, short of the record-breaking 11 that struck the U.S. in 2020.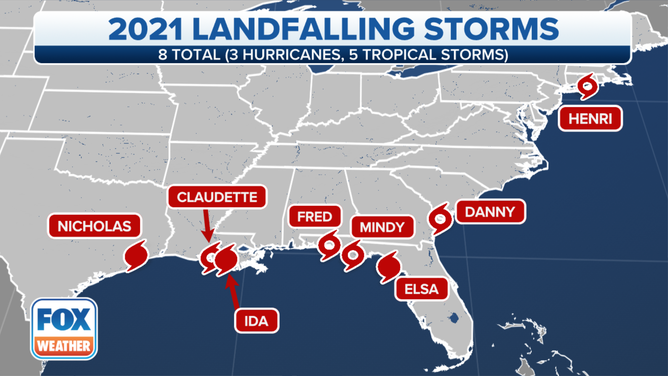 While the number of named storms was well above the 30-year average of 14, the number of hurricanes matched the average of seven. The season's four major hurricanes were one more than average.
2021 ATLANTIC HURRICANE SEASON ENDS AS THIRD MOST ACTIVE ON RECORD
Here are seven things we'll remember about the 2021 Atlantic hurricane season.
1. Season started early for seventh straight year
Even though the official start date of the Atlantic hurricane season isn't until June 1, Tropical Storm Ana kicked off the 2021 season early with its brief existence May 22-23 in the central Atlantic.
In fact, we've had an early start to hurricane season every year since 2015, so this marked the seventh consecutive year the season's first named storm formed before June.
HERE'S WHY THE ATLANTIC HURRICANE SEASON RUNS FROM JUNE TO NOVEMBER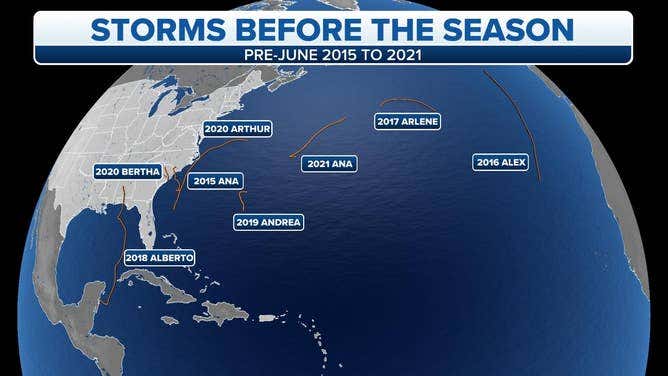 2. Hurricane Elsa's impacts felt from Caribbean to Florida to New England
Elsa was the first Atlantic storm to become a hurricane in 2021, achieving that status on July 2, nearly six weeks earlier than when the season's first hurricane typically forms (Aug. 14). Hurricane-force winds were reported on Barbados and St. Lucia that day.
The storm made its first landfall in Cuba on July 5 after weakening to a tropical storm, then briefly became a hurricane again as it headed in the direction of Florida. However, it weakened back to a tropical storm before its second landfall in the Sunshine State near Steinhatchee, Florida, on July 7.
Elsa produced strong winds, flooding rain and isolated tornadoes along the East Coast from Florida to New England.
On July 8, Tropical Storm Warnings spanned more than 1,000 miles of the U.S. coastline from North Carolina to the Massachusetts-New Hampshire border as Elsa raced through the Northeast into July 9.
3. Hurricane Ida slammed into Louisiana
Hurricane Ida crashed ashore in Louisiana on Aug. 29 – the 16-year anniversary of Hurricane Katrina – with maximum sustained winds of 150 mph, a Category 4 on the Saffir-Simpson Hurricane Wind Scale.
Preliminary reports suggested Ida was tied for the fifth-strongest hurricane to ever make landfall in the continental U.S. in terms of maximum wind speeds. The storm also produced tremendous storm-surge and rainfall flooding along the northern Gulf Coast.
Storm-surge flooding was estimated to top 10 feet in parts of southeastern Louisiana, while 16 inches of rain drenched southern Mississippi.
Wind gusts over 100 mph were reported along the coast of Louisiana, including a 172-mph gust on a ship, one of the country's highest gusts ever recorded in a hurricane. A gust of 99 mph was clocked in New Orleans.
Homes and businesses in Louisiana are still recovering from Hurricane Ida more than three months later.
4. Hurricane Ida's second chapter: Historic Northeast flooding
Ida's impacts weren't confined to the Gulf Coast. The storm caused a path of destruction up the Eastern Seaboard, producing historic flooding and tornadoes as far north as New England.
Even though it was only classified as a tropical depression, Ida's circulation teamed up with a cold front to dump up to 11 inches of rain in the Northeast at the beginning of September, triggering the National Weather Service to issue Flash Flood Emergencies in parts of New Jersey and New York for the first time ever.
EXPLAINING FLOOD ALERTS ISSUED BY THE NATIONAL WEATHER SERVICE
The streets of New York and northern New Jersey filled with feet of water, and the Manhattan subways looked like a new southern branch of Niagara Falls. Several people who were caught in the deluge remarked how it brought back memories of Superstorm Sandy in 2012.
Hurricane Ida's rainfall broke a number of long-time records as it dumped several inches of rain through the mid-Atlantic states into the New York City tri-state area. 
Central Park recorded a record 3.15 inches of rain – in one hour – shattering its all-time hourly rainfall record by more than a quarter-inch, and records go back into the mid-1800s. The city would end up with 7.13 inches of rain on Sept. 1, making it the fifth-wettest day in New York City history.
All of this heavy rain caused the Schuylkill River in Philadelphia to reach its highest level since the record crest of Oct. 4, 1869. That was 152 years ago.
On Sept. 2, the river level at the Philadelphia gauge was 16.35 feet, the second-highest crest on record. Flooding begins at 11 feet, according to the NWS.
The Vine Street Expressway (Interstate 676) in Center City, Philadelphia, was entirely submerged by Schuylkill River floodwaters.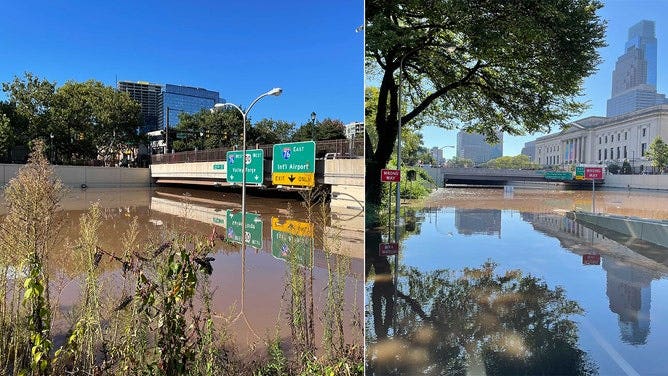 According to the Centers for Disease Control and Prevention, 53 people were killed in the Northeast after drowning in Ida's floodwaters, 28 of which were in New Jersey and 18 in New York.
Water is the No. 1 killer during a hurricane or tropical storm that strikes the U.S. – comprising nearly 90% of all tropical cyclone deaths.
WATER FROM HURRICANES, TROPICAL STORMS KILLS MORE IN U.S. THAN WIND
5. Hurricane Henri triggered Northeast flooding less than two weeks earlier
Hurricane Henri's rainfall triggered flooding from New Jersey to Massachusetts in late August, less than two weeks before Ida's historic flooding.
Henri meandered off the East Coast before eventually making landfall as a tropical storm near Westerly, Rhode Island, on Aug. 22.
The storm brought two rounds of torrential rainfall, resulting in major flooding in parts of the Northeast, including New Jersey, eastern Pennsylvania and the New York City tri-state area, where as much as 6 to 8 inches of rain fell during a 38-hour period. Central Park recorded more than 7 inches of rain between Aug. 22-23.
RECORD RAINS DRENCH NORTHEAST AS HENRI PLOWS INLAND
Rising floodwaters in Helmetta, New Jersey, had 200 residents running to safety.
More than 140,000 people lost power during the peak of the storm, according to the Associated Press. In Connecticut, nearly 95% of Eversource customers lost electricity on Aug. 22.
6. Saildrone deployed into a major hurricane
Scientists deployed an unmanned saildrone into the path of a major hurricane for the first time in history.
On Sept. 30, the 23-foot vessel was sent into the path of Hurricane Sam, which was swirling several hundred miles off the Eastern Seaboard. The drone captured video of 50-foot waves and 120-mph winds. It's said to be the first video footage taken inside a hurricane from an uncrewed surface vehicle.
SAILDRONE VIDEO TAKES US INSIDE HURRICANE SAM
The hurricane was rated as a Category 4 storm with peak winds of 145 mph on the day the video was captured.
7. Season ended quietly
Meteorologists only tracked three tropical systems during the months of October and November.
The lull in activity was quite different from the record-breaking seven named storms that formed during the same time period in 2020.
Tropical storms Victor and Wanda rounded out the final two names on this season's list.
HERE'S WHAT HAPPENS IF WE RUN OUT OF HURRICANE NAMES THIS YEAR
Unlike the 2020 hurricane season, the year did not require meteorologists to use names from a supplemental list.