How Ida's flash floods in New York compare to Superstorm Sandy
Both storms brought massive flooding into the region, and both storms were remnants of former hurricanes. But that's where the similarities end.
NEW YORK -- As the streets of New York and northern New Jersey filled with feet of water during Wednesday evening's record rainfall and the Manhattan subways looked like a new southern branch of Niagara Falls, several caught in the deluge were remarking how it brought back memories of Superstorm Sandy in 2012.
Both storms brought massive flooding into the region, and both storms were remnants of former hurricanes -- Wednesday's downpours were the remnants of Hurricane Ida.
But that's where the similarities end.
Ida's Flooding Came From The Sky
Hurricane Ida's flooding came via a historically intense rainfall that broke a number of long-time records as it dumped several inches of rain through the Mid-Atlantic states into the New York City metro area. 
Central Park recorded a record 3.15 inches of rain -- in one hour! -- shattering its all-time hourly rainfall record by more than a quarter inch, and records go back into the mid 1800s. The city would end up with 7.13 inches over the evening making it the 5th wettest day in New York City history.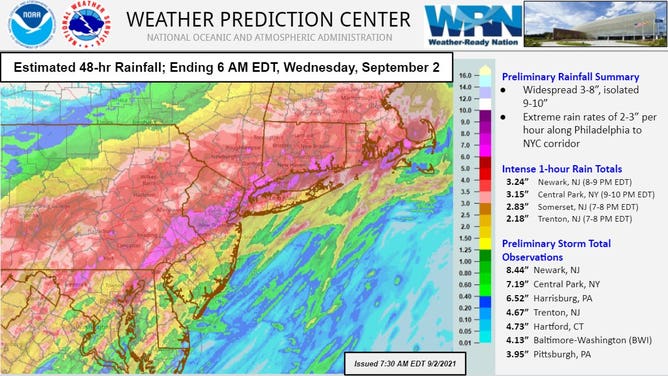 Over in Newark, they also received over 3 inches of rain in an hour, including one 6 minute period where they received a half inch. That city would total 8.41 inches for the evening, far and away shattering their record for wettest day in their records by more than an inch and a half!
UPDATE: Here are the 1-, 2-, 3-, and 6-hour recurrence intervals for Central Park. While 3.15" in 1-hour is the most headline worthy, the 2-, 3-, and 6-hour values are even rarer events (500-years; 0.2% chance per year). pic.twitter.com/rgj5Tn8TDF

— Brian Brettschneider (@Climatologist49) September 2, 2021
That much rain in such a short period of time overwhelmed the city's drainage systems leading to widespread flash flooding with videos from the scene showing water up to windows on some stalled vehicles.
Sandy's flooding was imported from the Atlantic
Meanwhile, Superstorm Sandy acted more like a traditional tropical system, even if it had technically lost its hurricane status by definition because it was no longer feeding off warm ocean waters to get its energy. 
But it was still a massive storm with winds of 70 knots (81 mph) when came ashore near Brigantine, New Jersey on Oct. 29, 2012, according to the National Weather Service. And with the sheer size of the storm combining with the rare track coming into the region from the east, Sandy brought a tremendous storm surge along with it. 
Think of Sandy's wide swath of 80 mph wind as like a big bulldozer out on the Atlantic, pushing all that water ashore as the storm moved in from the east. 
The storm surge coursed through the streets of New York City, New Jersey and Connecticut, once again bringing feet of water to the surface streets and flooding the subways. 
The highest storm surge was measured at 12.65 feet above normal tide levels at Kings Point, at the western end of Long Island Sound. A surge of 9.56 feet was measured on Staten Island, and 9.40 feet surge was at Battery Park. Some of those surges were more than 4 feet higher than any other surge ever measured there.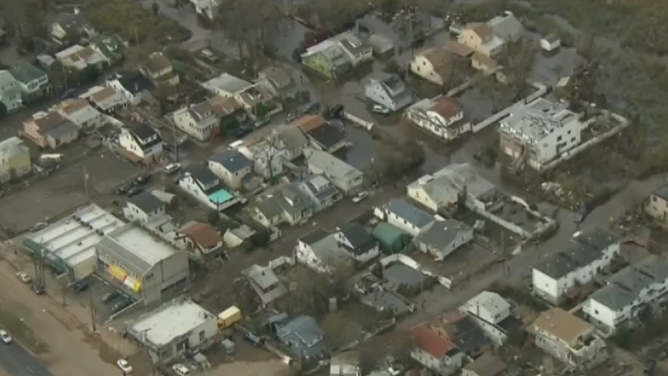 A storm survey by the USGS found Staten Island took the brunt of the flooding with one house in the survey found to have water 7.9 feet above the ground, while 4.7 feet of water was measured at the One World Trade Center. Some areas in New York near the harbor and Brooklyn Bridge, where elevations are lower, were found to have 11 feet of water.
But there wasn't much rainfall. For the entire storm, Central Park measured 0.95 inches of rain. To compare, Central Park received 2.72 inches in 45 minutes Wednesday -- three times that entire rainfall of Sandy!
For those cleaning up, it doesn't matter whether the water came from up high or from the ocean, both storms left a trail of damage that will leave an indelible mark on the weather history of the region.