At least 25 dead in Northeast after flooding, tornadoes driven by Ida's remnants
First flash flood emergency issued for parts of New Jersey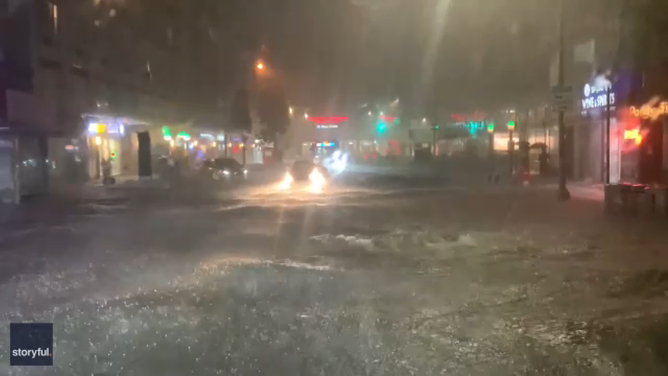 At least 25 people have been killed in a severe weather outbreak in the Northeast spurred in part by the remnants of Hurricane Ida.
Ida made landfall Sunday in Louisiana as a Category 4 hurricane with 150 mph. Since then, the storm has been spinning north and dumping heavy rain and spawning tornadoes across the eastern U.S.
On Wednesday, the remnants of Ida combined with another storm system from the Great Lakes to produce devastating flash floods in a large swath from Maryland to Connecticut. As much as 10 inches of rain is estimated to have fallen in some places.
Preliminary rainfall totals across the Mid-Atlantic and Northeast associated with Ida. A swath of 3-8" fell with isolated 9-10" totals led to numerous and widespread flash flooding Wednesday. pic.twitter.com/6CZRLlkNKW

— NWS Weather Prediction Center (@NWSWPC) September 2, 2021
A tornado outbreak also produced twisters from Virginia to New Jersey. Social media was flooded with scenes of destruction in places like Annapolis, Maryland, and Mullica Hill, New Jersey.
Deaths
According to FOX News, at least 25 people died as a result of Wednesday's storms. Here's a closer look at the death toll by state, as of Thursday afternoon:
Maryland: 1
New Jersey: 9
New York: 12
Pennsylvania: 3
The bulk of the deaths happened in New York City. According to FOX News, eight people were confirmed dead in the city. Among them were a 2-year-old boy, a 48-year-old woman and a 50-year-old man who were all found inside a home in the Jamaica neighborhood of Queens.
According to FOX 5 New York, four people were found dead in a flooded apartment in Elizabeth, New Jersey. Hillsborough Township Police said two people died as a result of the storms there..
Destruction
Historic rainfall led to images of water pouring into subway stations and homes in New York City and river rises in Pennsylvania.
The National Weather Service reported as much as 3.15 inches of rain in Central Park in one hour Wednesday night, far surpassing the previous recorded high of 1.94 inches that fell in one hour during Henri on Aug. 21.
Correction: Central Park, NY has just observed 3.15 inches of rain in one hour, from 8:51 pm to 9:51 pm.

— NWS New York NY (@NWSNewYorkNY) September 2, 2021
"We're enduring an historic weather event tonight with record breaking rain across the city, brutal flooding and dangerous conditions on our roads," New York Mayor Bill de Blasio said when he declared an emergency late Wednesday.
In Pennsylvania, the Schuylkill River was out of its banks and covering highways and submerging cars. According to FOX 29 Philadelphia, much of the town of Manayunk was underwater as of Thursday morning.
According to the Associated Press, an on-duty Connecticut state trooper and his cruiser were swept away in floodwaters Thursday morning in Woodbury. The trooper was taken to a hospital for treatment.
In Maryland, a tornado ripped through Annapolis, destroying businesses and felling trees along West Street, according to FOX 45 News. A tornado also damaged homes and injured some people in Mullica Hill, New Jersey, according to FOX 29 Philadelphia.
Historic flooding
The National Weather Service in New York said it issued its first flash flood emergency for Northeast New Jersey on Wednesday, an alert that is reserved for only the most dire flash floods.
A flash flood emergency was also issued for New York City for only the second time in history.
To be clear... this particular warning for NYC is the second time we've ever issued a Flash Flood Emergency (It's the first one for NYC). The first time we've issued a Flash Flood Emergency was for Northeast New Jersey a an hour ago. https://t.co/7k55jeXbpb

— NWS New York NY (@NWSNewYorkNY) September 2, 2021