2021 was world's 6th-warmest year on record
The amount of heat being held by oceans, Earth's largest heat sinks, hits a record high in 2021.
Last year was the sixth-warmest year on record for the world, continuing a 45-year streak of above-average temperatures.
According to an analysis released Thursday by the National Oceanic and Atmospheric Administration and NASA, the average global surface temperature in 2021 was 1.51 degrees Fahrenheit above the 20th-century average, placing it in sixth place for the warmest years for the world since record-keeping began in 1880.
Nearly every continent experienced temperatures that were above average in 2021. In Oceania, temperatures were above average, but they were the coolest since 2012.
NOAA: US ENDURED 4TH-WARMEST YEAR ON RECORD IN 2021, FUELED BY 2 RECORD-WARM MONTHS
The world has warmed at a rate of about 0.14 degrees Fahrenheit per decade since 1880. Scientists said that if that rate continues, the planet will likely cross the internationally recognized climate-change threshold of 1.5 degrees Celsius in the next couple of decades.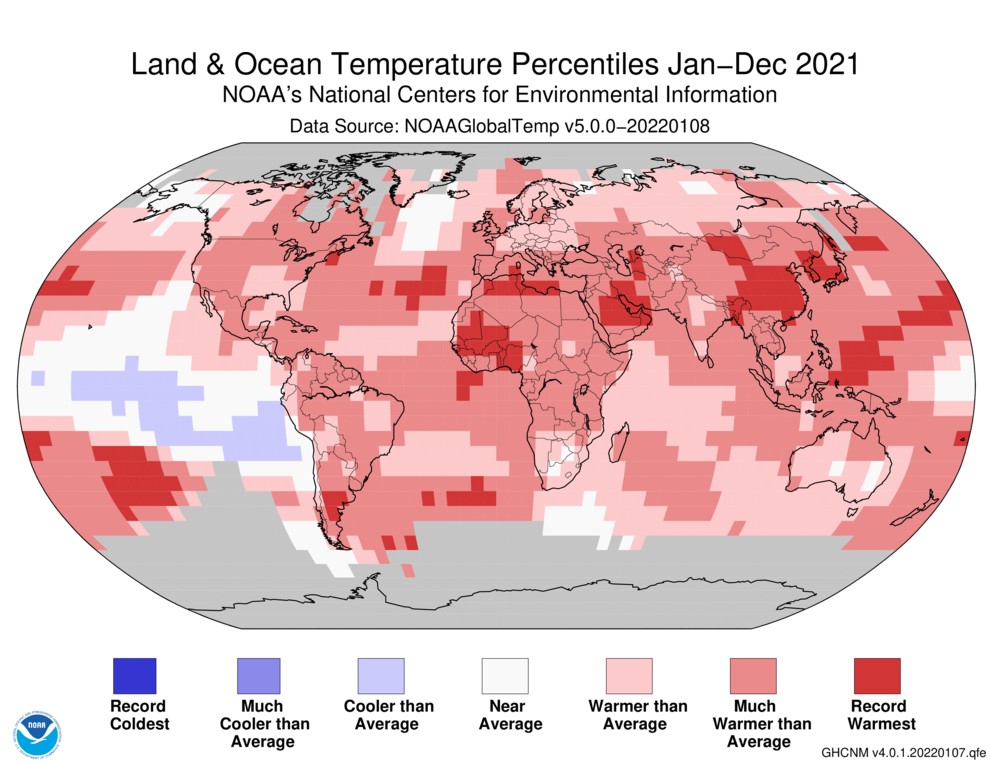 Oceans
Oceans act as the largest heat sinks in the world, absorbing 90% of the planet's excess heat. In 2021, the amount of heat contained in the ocean hit a record high. That broke the record set in 2020.
"The seven highest OHC have all occurred in the last seven years (2015-2021)," scientists said in the report.
Arctic sea ice hit its ninth-smallest extent in 2021 at 4.08 million square miles. In Antarctica, sea-ice extent was slightly below average at 4.42 million square miles.
Tropics
There were a total of 94 named tropical cyclones across the globe in 2021. This ties 1994 for the 10th-highest number of named storms in the 41-year record.
Of those 94 storms, there were 37 hurricanes. That sets a record for the fewest hurricanes across the globe in a year.
7 THINGS WE'LL REMEMBER ABOUT THE 2021 ATLANTIC HURRICANE SEASON
For the North Atlantic, where most hurricanes that affect the U.S. develop, there were 21 named storms. That is the third-highest number of named storms on record.
What does all this mean?
Scientists agree that as long as Earth continues to warm, the heat will fuel more extremes in the weather.
In 2021, there was no shortage of these extremes. In the U.S. alone, the country experienced record-setting heat waves, extreme cold, powerful hurricanes and destructive wildfires.