NOAA: US endured 4th-warmest year on record in 2021, fueled by 2 record-warm months
2021 marked the country's 25th consecutive warmer-than-average year
A record-warm December in the United States vaulted 2021 to the fourth-warmest year on record for the Lower 48 states, according to a report released Monday by NOAA.
The contiguous U.S.'s average temperature in 2021 was 54.5 degrees, or 2.5 degrees above the 20th-century average (1901-2000). Only 2012, 2016 and 2017 were warmer than 2021.
Temperatures last year were warmer than average in each of the 48 states analyzed. Maine and New Hampshire both reported their second-warmest years, while 19 additional states across the Northeast, Great Lakes, Plains and West ranked among their five warmest years.
THE HEAT WAS ON: 159 CITIES SAW WARMEST DECEMBER ON RECORD
No state was colder than average in 2021, though portions of the South and Gulf Coast reported near-average temperatures during the last 12 months. Alaska had its coldest year since 2012, but even there, temperatures were still 0.4 degrees above average.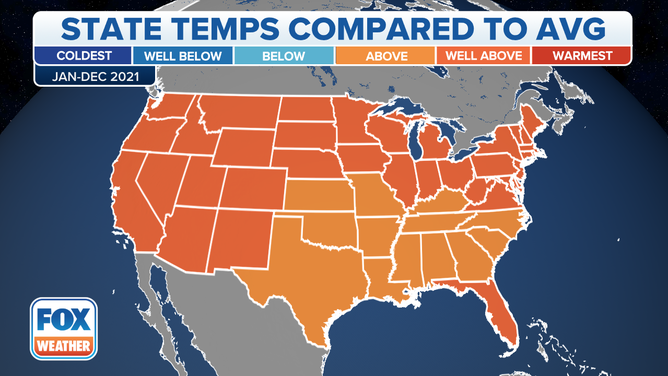 Last year marked the country's 25th consecutive warmer-than-average year.
According to NOAA, the six warmest years on record for the contiguous U.S. have all occurred since 2012, while nine of the 10 warmest years have all occurred since 1998. The Dust Bowl year of 1934 is the only year among the 10 warmest to occur prior to 1998.
Climate change has caused temperatures in the United States to increase at an average rate of 0.16 degrees per decade since recordkeeping began in 1895. A pair of recent studies found winters in the U.S. are warming faster than any other season.
STUDIES FIND WINTER IS FASTEST-WARMING SEASON IN U.S.; HERE'S WHY THAT'S BAD NEWS
The warmth in 2021 was fueled by the nation's hottest summer on record, which included the record-warmest June. The year was also capped off by a record-warm December, shattering the previous record from 2015 by 0.68 degrees.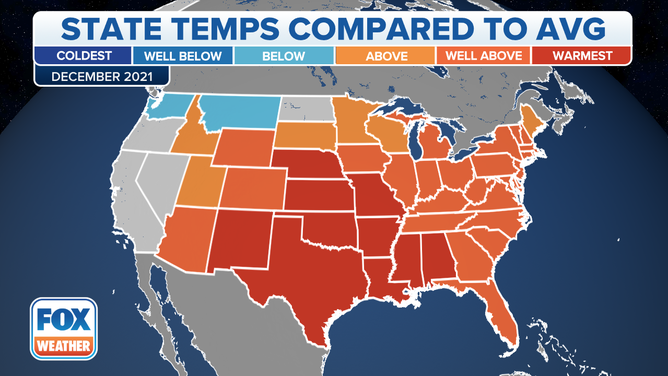 While much of last year was highlighted by warmer-than-average temperatures, a cold-air outbreak in February across the central U.S. brought frigid air, snow and ice from the Plains to southern Texas and into the Mississippi Valley. NOAA said it was the coldest event observed across the Lower 48 states in more than 30 years.
NOAA's temperature records span 127 years from 1895 through 2021.