2021 ranked second for highest number of billion-dollar weather disasters on record
Last year, the U.S. experienced 20 separate billion-dollar weather and climate disasters that killed at least 688 people.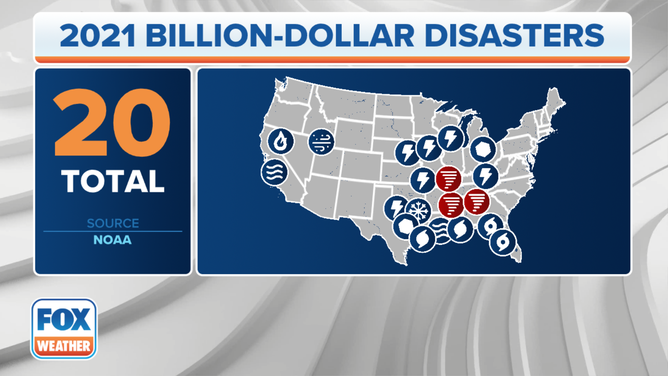 Last year, the U.S. had the second-highest number of billion-dollar weather and climate disasters on record, according to the National Oceanic and Atmospheric Administration.
There's no doubt that last year was one of record extremes, and a recent report published by NOAA shows just that.
The country experienced 20 separate billion-dollar weather disasters in 2021, coming just behind 2020 with 22 events.
While the annual average from 1980-2021 is 7.4 events, the average just in the last five years shows to have more than doubled at 17.2 events (2017-2021).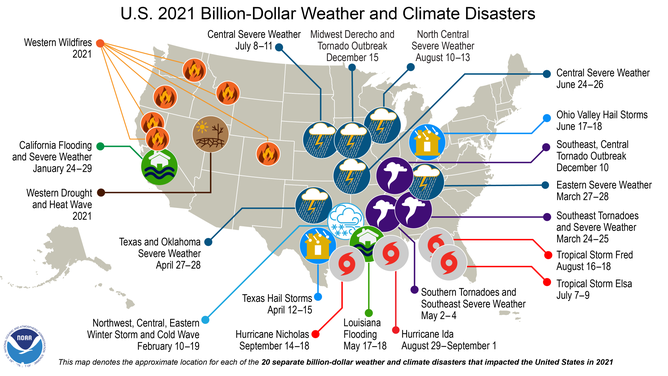 The events from last year as outlined by NOAA:
1 winter storm/cold wave event (focused across the deep south and Texas).
1 wildfire event (western wildfires across Arizona, California, Colorado, Idaho, Montana, Oregon and Washington).
1 drought and heatwave event (summer/fall across the western U.S.).
2 flood events (in California and Louisiana).
3 tornado outbreaks (including the December tornado outbreaks).
4 tropical cyclones (Elsa, Fred, Ida and Nicholas).
8 severe weather events (across many parts of the country, including the December Midwest derecho).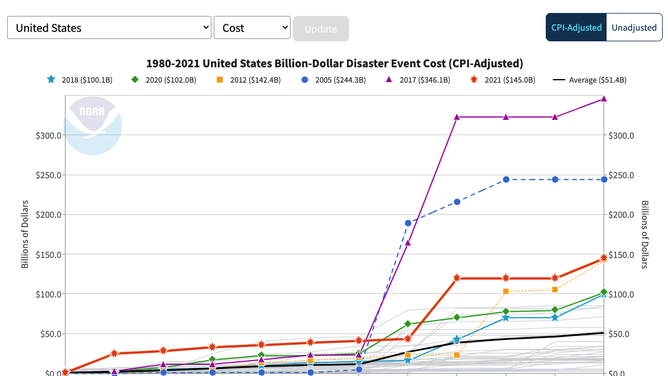 Last year's disasters totaled nearly $145 billion for all 20 events. In 2020, there were more billion-dollar disasters but accumulated to less than last year's total – 22 events totaling $102 billion. Over the last five years, the total cost of these disasters exceeded $742 billion.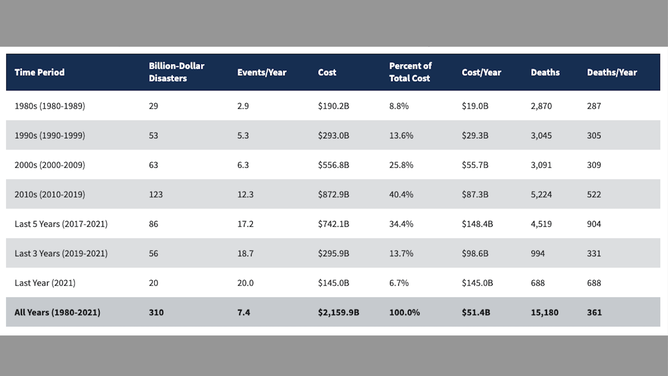 The costliest event from 2021 was Hurricane Ida. It ranks among the top five most expensive hurricanes on record at $75 billion.
At least 688 people were killed in last year's events, making it the most disaster-related fatalities for the contiguous U.S. since 2011 and more than doubling 2020's number of 262.