7 things that happened at COP26 this week
World leaders, climate activists have had a busy week in Scotland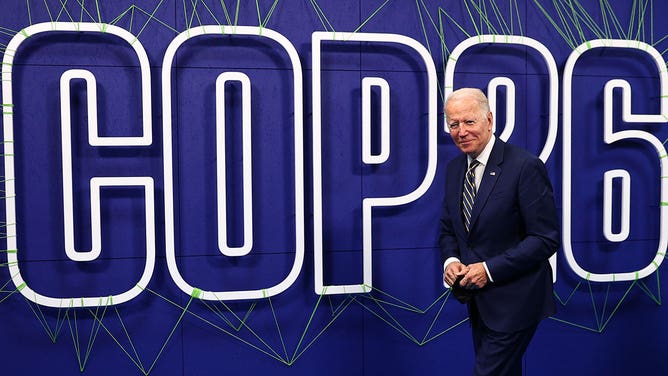 GLASGOW, United Kingdom – Leaders from across the globe have descended on Glasgow, Scotland, this week for the opening of the United Nations Climate Change Conference, better known as COP26.
About 200 nations are represented at the climate summit, and they have been busy discussing everything from methane emissions to coal.
However, those global leaders weren't alone. Hundreds of climate activists also flocked to the U.K. to voice their displeasure with how world leaders are addressing climate change.
The summit continues through Nov. 12, but here's a look at what happened this week.
'Decisive decade'
President Joe Biden led the American delegation at the conference, and he used his opening speech to call for global cooperation to address climate change.
Biden, while highlighting record heat, drought, wildfires, crop failures and historic flooding, said the window to address climate change is narrowing.
"This is a decisive decade in which we have an opportunity to prove ourselves," Biden said. "We can keep the goal of limiting global warming to just 1.5 degrees Celsius within our reach, if we come together, if we commit to doing our part of each of our nations with determination and with ambition. That's what COP26 is all about. Glasgow must be the kickoff of a decade, a decade of ambition and innovation to preserve our shared future."
Stopping deforestation
During another speech, Biden outlined the U.S. plan to both preserve and restore forests. 

Forests are considered the lungs of the planet. Trees serve as air scrubbers, taking carbon dioxide out of the air and expelling oxygen. However, there are not enough trees on the planet to keep up with the amount of carbon dioxide humans are emitting. In fact, one climate expert said it would take three planets worth of trees to stop climate change.
"Preserving forests and other ecosystems can and should play an important role in meeting our ambitious climate goals," Biden said.
Reducing methane emissions
As Biden rolled out the nation's climate change plan, the Environmental Protection Agency announced new proposed rules aimed at cutting U.S. emissions of methane, a powerful greenhouse gas.
The new rules, which would fall under the Clean Air Act, target pollution from the existing oil and natural gas industry. Previous rules targeting emissions have focused on new sources.
$100 billion pledge
The countries gathered at COP26 have pledged $100 billion to fund climate-change plans. That's in addition to trillions that have been promised by the private sector.
Special attention is being paid to how the more prosperous countries of the world can help developing nations address climate change.
"I believe we're on the cusp of a new era where rich countries put more money on the table to support developing countries," said COP26 President Alok Sharma.
Treasury Secretary Janet Yellen said the U.S. is setting aside more money to contribute to the United Kingdom's Climate Investment Funds Capital Markets Mechanism – aimed at helping developing nations with clean-energy projects.
Clean-energy transition
Leaders spent Thursday discussing how best to transition the world to clean, renewable energy sources.
Special attention was paid to how best to phase out coal as a power source.
Special Presidential Envoy for Climate, and former Secretary of State, John Kerry said any agreement would be useless without the participation of China.
"We're still holding out hope we can negotiate and bring China to the table, because China is three times the emissions of the U.S. and we're No. 2, and China's currently got plans to build 260 gigawatts of coal-fired power," Kerry said.
Protests
Hundreds of climate activists also traveled to the U.K. to protest how world leaders have handled climate change thus far. They're calling for action instead of talk. Here are some photos of the protests.

What's to come
Leaders will spend the remaining days of COP26 talking about a variety of climate change topics. They include land use, adaptation, resilience and industry.