Here are the top 10 best secret beaches in the US
Beaches in California, Florida, Hawaii and New Jersey all made the top 10 list
Summer is almost here and that means millions of Americans will be hitting the road and maybe even catching a flight to take a much-needed vacation.
And if you had the beach on your brain, there are many places you can travel to catch some waves and enjoy the sunshine without having to deal with large crowds.
FamilyDestinationsGuide.com recently surveyed 3,000 families to determine the hidden beaches they were most wanting to visit this summer.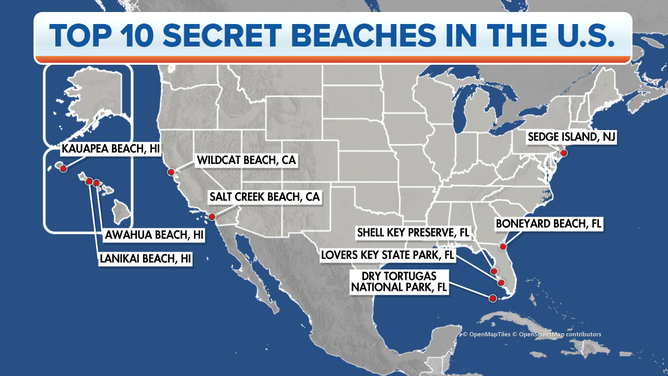 Here are the top 10:
'Awahua Beach – Hawaii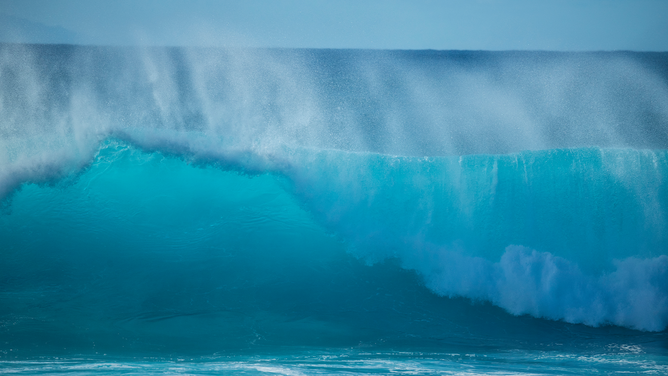 Located on the island of Molokai in Hawaii, 'Awahua Beach is a secluded beach that FamilyDestinationsGuide.com says is known for its crystal clear, turquoise waters and soft, white sand that stretches for more than a mile.
Visitors can find a little bit of everything at 'Awahua Beach, like swimming, snorkeling or just hanging out on the beach while taking in the beauty of towering cliffs.
Shell Key Preserve – Florida
Beautiful and secluded, the beach at Shell Key Preserve in Florida offers white sand and turquoise waters with lush vegetation, according to the website.
There is no development and no buildings, which offers a peaceful and serene atmosphere for swimming, sunbathing or just walking along the beach.
It's also a nesting ground for sea turtles, which makes the beach an important conservation area.
SWIM SAFETY: DON'T LET YOUR KIDS WEATH THIS COLOR IN THE POOL
Lanikai Beach – Hawaii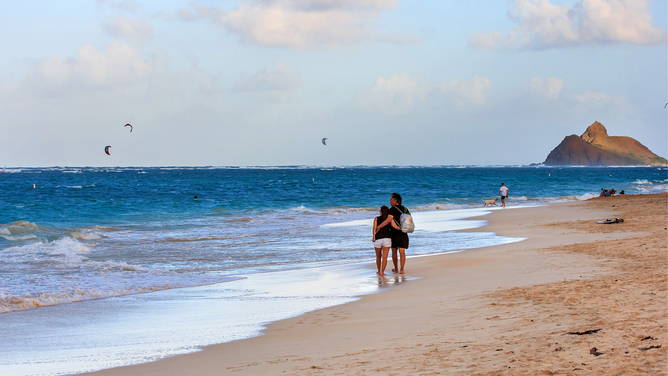 Located on the east coast of Oahu in Hawaii, Lanikai Beach is known for its powdery white sand, clear turquoise waters and two islands called Na Mokulua or "Mokes" that are visible from the shore.
FamilyDestinationsGuide.com said the beach is popular for its calm waters, which are perfect for swimming, snorkeling and kayaking.
Lanikai Beach is often regarded as one of the most beautiful beaches in Hawaii.
10 LARGEST US LAKES WORTH VISITING DURING YOUR NEXT VACATION
Kauapea Beach – Hawaii
Kauapea Beach is located on the north shore of Kauai, Hawaii, and is also known as Secret Beach because of its secluded location.
The beach is best known for its long stretch of golden sand, clear water and towering cliffs, according to FamilyDestinationsGuide.com
If you're looking to check out this beach the next time you visit Hawaii, get ready for a trek.
The only way to access it is by taking a steep hike down a dirt trail.
Visitors can enjoy swimming, but the beach is known for its strong currents and rough waves, which makes it popular with experienced surfers and bodyboarders.
CIRCLE OF LIGHT: HELICOPTER CREW CAPTURES MESMERIZING VIDEO OF FULL-CIRCLE RAINBOW IN HAWAII
Sedge Island – New Jersey
Sedge Island in New Jersey offers a beach that can only be accessed by boat. But once you arrive, you'll be met with soft sand and calm water that is perfect for swimming and sunbathing, according to FamilyDestinationsGuide.com
Nature lovers will also enjoy this hidden spot as its home to various wildlife, including nesting birds and crabs.
NEARLY TWO-THIRDS OF CORAL REEF SHARKS THREATENED WITH EXTINCTION FROM OVERFISHING AS MAN CAUSE, STUDY FINDS
Lovers Key State Park – Florida
Lovers Key State Park in Florida was once a series of secluded barrier islands that was reachable only by boat.
The area was actually supposed to become the site of luxury condominiums, but the land was donated so the area's beaches and mangrove forests can be preserved for all who visit.
Visitors can enjoy swimming and lounging on the beach, as well as kayaking in the calm turquoise waters.
The area is also a popular romantic destination that hosts weddings.
SEE THE EXTREME WEATHER VISITORS AT NATIONAL PARKS EXPERIENCE
Salt Creek Beach – California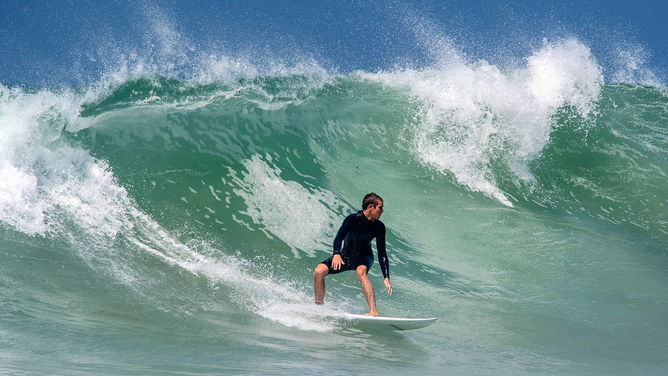 Salt Creek Beach in California is a popular surfing location that offers a small offshore reef that creates some of the best-left swells along the coast, according to OCParks.com.
Visitors can also enjoy swimming, body surfing, sunbathing and tide pool exploration.
Wildcat Beach – California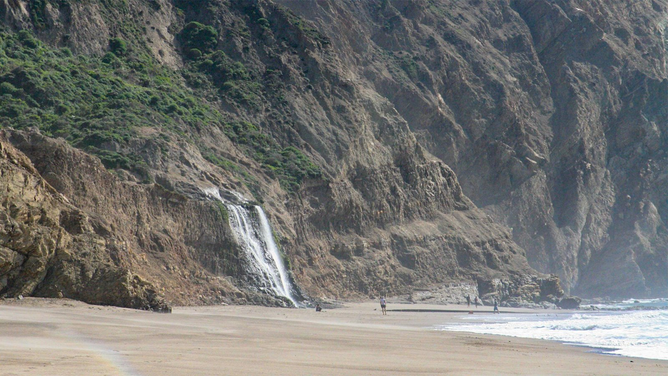 Wildcat Beach, located on the Point Reyes National Seashore in California, is a 2.9-mile-long beach within the Phillip Burton Wilderness along the southern part of the national seashore, according to the National Park Service.
The NPS says the only safe access point is at the Wildcat Campground, which is a minimum of 5.5 miles from the nearest trailhead.
Visitors need to be aware that high tides frequently cover most of the beach, and the water isn't warm. Ocean water can get to as low as 50 degrees, and the NPS warns that hypothermia can set in quickly.
THESE US NATIONAL PARKS REQUIRE RESERVATIONS IN 2023
Dry Tortugas National Park – Florida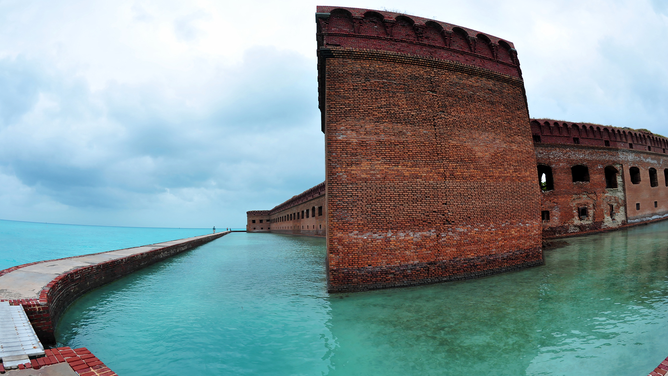 Dry Tortugas National Park is about 70 miles west of Key West, Florida. The 100-square-mile park is mostly open water and includes seven small islands. The park, which is only accessible by boat or seaplane, is known as the home of magnificent Fort Jefferson, its picturesque blue water, coral reefs and marine life.
SEE THE REMAINS OF A HISTORICAL HOSPITAL, CEMETERY THAT WERE FOUND UNDERWATER OFF THE FLORIDA COAST
Boneyard Beach - Florida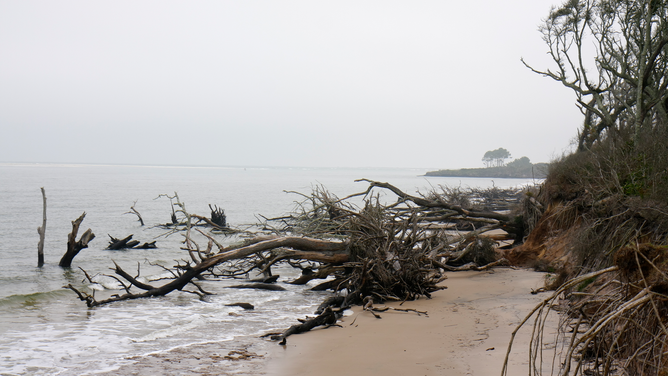 Boneyard Beach is located within Big Talbot Island State Park in Florida and is a favorite Jacksonville retreat and a close-kept secret, according to FloridaStateParks.com.
The beach, sculpted by nature, boasts 30-foot bluffs and is littered with massive driftwood trees that look like an elephant graveyard.