Headed to one of these top spring break destinations? Find out if rain will dampen your beach plans
Here's the forecast for the top spring break destinations for 2022
Spring break is finally here, and if you're headed to the beach for some much-needed rest and relaxation this week, you might want to know if any rain will dampen your plans.
A group of so-called spring break professionals at StudentEscape.com compiled a list of the top spring break destinations for 2022.
Let's take a look at the forecast for each city they deemed as a top destination this year and see if your vacation will be filled with sunshine or rain.
HOW TO WATCH FOX WEATHER ON TV
South Padre Island, Texas
A dry week is in store for those headed to South Padre Island off the southern coast of Texas. Temperatures will be very pleasant, with highs in the upper 60s and lower 70s each day.
Panama City Beach, Florida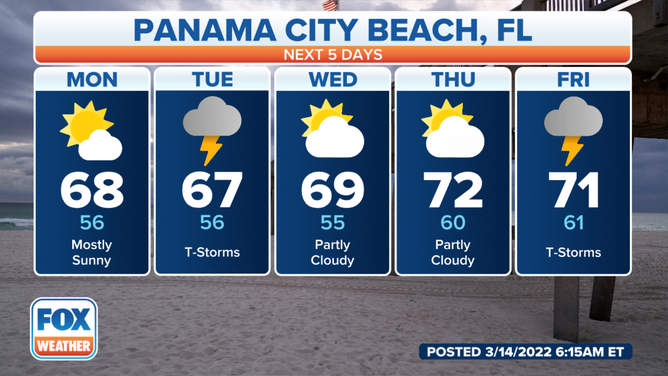 Outside the risk for scattered thunderstorms on Tuesday and Friday, the rest of spring break should stay dry in Panama City Beach along the Gulf Coast of Florida. Pleasant temperatures are expected each day, with highs in the upper 60s and lower 70s.
Destin, Florida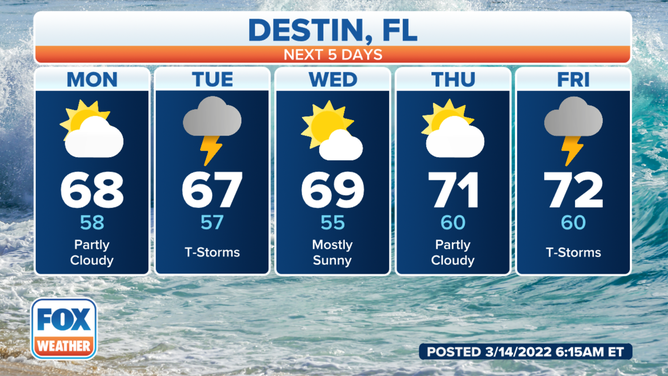 Spring breakers who head a little farther west on the Florida Panhandle to the city of Destin might also have to dodge a few showers and thunderstorms this week. Dry weather is expected for Monday, Wednesday and Thursday, but scattered thunderstorms are predicted for Tuesday and Friday. Temperatures will be pleasant, with highs in the upper 60s and lower 70s.
STYLISH VS. PROTECTION: WHAT TO KNOW WHEN CHOOSING YOUR NEXT PAIR OF SUNGLASSES
Daytona Beach, Florida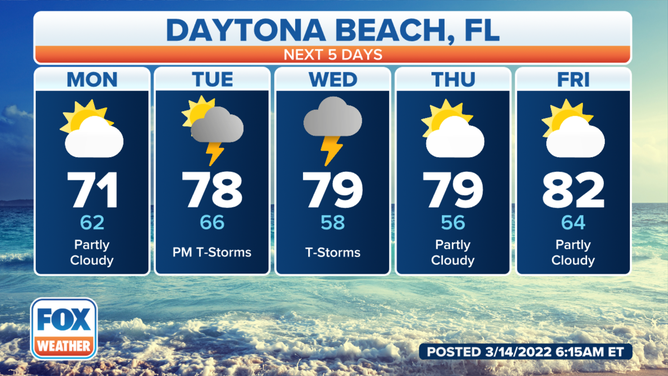 Over on Florida's Atlantic coast, it will be a warm spring break in Daytona Beach. High temperatures will be in the 70s through Thursday before climbing into the lower 80s by Friday. There could be a thunderstorm around on Tuesday or Wednesday, but dry conditions will prevail for the rest of the week.
Fort Lauderdale, Florida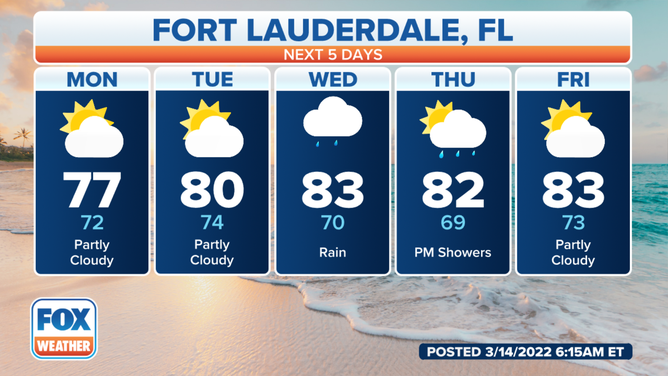 Down on the Atlantic beaches in South Florida, clouds and showers could dampen beach plans for the middle of the week in Fort Lauderdale, especially on Wednesday and Thursday. However, sunshine should dominate this portion of the Sunshine State for Monday, Tuesday and Friday. Highs will be in the mid- to upper 70s on Monday followed by the lower 80s for the rest of spring break.
7 FACTS YOU NEED TO KNOW ABOUT THE UV INDEX TO KEEP YOU SAFE
Freeport, Bahamas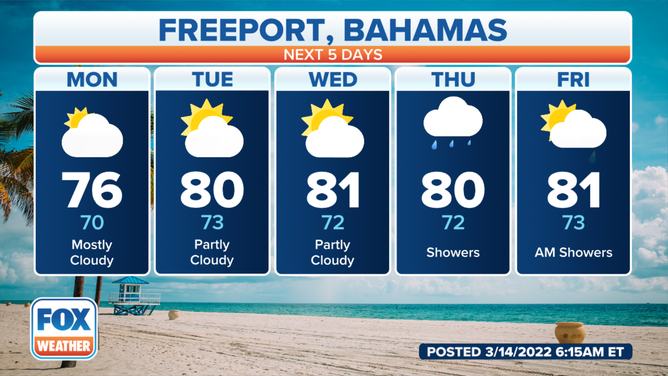 Perhaps you're headed to the Bahamas for spring break? The weather could be a bit unsettled in Freeport toward the end of the week, but it will stay dry Monday through Wednesday. Temperatures will be in the 70s to near 80 degrees each day.