7 facts you need to know about the UV Index to keep you safe
UV radiation is greatest when the sun is highest in the sky.
The UV Index helps us make wise, healthy choices when determining just how much sun is too much sun, but how does it impact our daily lives?
1. WHAT IS THE UV INDEX?
The National Weather Service says the UV Index is a next-day forecast of the amount of skin-damaging UV radiation expected to reach the earth's surface at the time when the sun is highest in the sky. 
The amount of UV radiation reaching the surface is primarily related to the elevation of the sun in the sky, the amount of ozone in the stratosphere, and the number of clouds present.
2. THE UV INDEX RANGE
The UV Index can range from 0 (when it is nighttime) to 15 or 16 (in the tropics at high elevations under clear skies). UV radiation is greatest when the sun is highest in the sky and rapidly decreases as the sun approaches the horizon.
A UV Index of 0-2 (Low)
 No protection is needed. You can safely stay outside using minimal sun protection.
A UV Index of 3-7 (Moderate to High)
 Protection needed. Seek shade during late morning through mid-afternoon. When outside, generously apply broad-spectrum SPF-15 or higher sunscreen on exposed skin, and wear protective clothing, a wide-brimmed hat, and sunglasses.
A UV Index of 8+(Very High to Extreme)
 Extra protection is needed. Be careful outside, especially during late morning through mid-afternoon. If your shadow is shorter than you, seek shade and wear protective clothing, a wide-brimmed hat, and sunglasses, and generously apply a minimum of SPF-15, broad-spectrum sunscreen on exposed skin.
3. THE DIFFERENT TYPES OF UV RAYS
There are three types of UV radiation from the sun: UVA, UVB, and UVC. All can cause skin and eye damage. 
UVC is the most dangerous type of UV radiation, but all UVC rays are absorbed by the Earth's ozone layer. 
UVB penetrates the top layer of the skin and is the primary cause of sunburns. UVB is also responsible for making vitamin D in your skin, and most people receive enough incidental sunlight on their skin—even with sunscreen use—to produce the needed amount of vitamin D.
UVA is the most abundant. UV radiation reaching the Earth's surface is largely composed of UVA with a small UVB component.
UVA penetrates clouds and car windows. We're exposed to it year-round. UVA radiation penetrates deep into the skin and causes wrinkling, leathering, and premature aging. It makes UVB-induced damage worse and increases your risk of developing melanoma and other skin cancers.
4. THE CONSEQUENCES OF OVEREXPOSURE
The National Weather Service says there are two prices to pay for overexposure to UV radiation: a severe sunburn following an intense short-term overexposure, and skin cancers developing as a result of frequent burns or after long-term overexposure.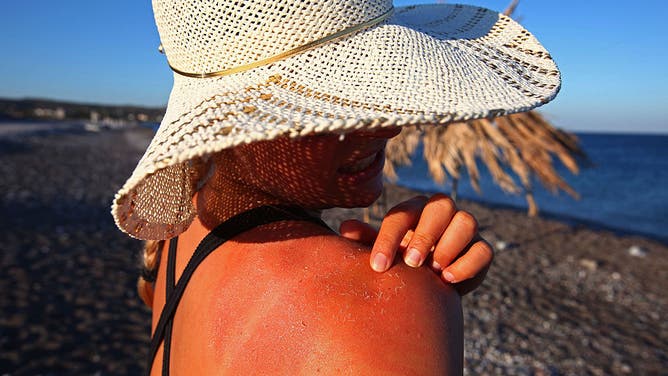 5. HOW DO UV RAYS REACH US?
The sun's UV rays can reach a person three ways: directly from the sun; scattered from the open sky; and reflected by the environment. 
6. UV SAFETY WHILE IN THE SUN
Do Not Burn or Tan: Avoid sun burning, intentional tanning, and using tanning beds.
Seek Shade: Get under cover when the sun's rays are the strongest between 10 am and 4 pm
Wear Protective Clothing: Wear long-sleeved shirts and pants and a wide-brimmed hat as well as UV-blocking sunglasses
Generously Apply Sunscreen: Use a Broad Spectrum sunscreen with a Sun Protection Factor (SPF) of 15 or higher for protection from UVA and UVB rays. Apply 15 minutes before going outdoors and reapply every two hours, or after swimming, sweating, or toweling off.
Get Vitamin D safely: The National Council on Skin Cancer Prevention recommends obtaining vitamin D through food and supplements, not through UV rays.
Protect Children from UV Rays: Babies younger than 6 months should be kept out of direct sunlight and protected from the sun using hats and protective clothing. FDA recommends keeping infants out of the sun during midday.
7. FOLLOW THE SHADOW RULE
An easy way to tell how much UV exposure you are getting is to look for your shadow. 
If your shadow is taller than you are (in the early morning and late afternoon), your UV exposure is likely to be lower.
If your shadow is shorter than you are (around midday), you are being exposed to higher levels of UV radiation. Look for shade and protect your skin and eyes.