Miami Dolphins will need a lot more heaters as snow is expected for Buffalo Bills game
The Miami Dolphins have been one of the worst-performing teams in the NFL in the cold since 2008, while the Buffalo Bills ranked as one of the best. The Bills could clinch a playoff berth with a win over the Dolphins on Saturday.
ORCHARD PARK, N.Y. - The Miami Dolphins and Buffalo Bills are set to face off for the second time this season Saturday night at Highmark Stadium, and a hefty amount of snow is in the forecast.
Last week, the Dolphins needed bench heaters during Sunday night's game against the Los Angeles Chargers because temperatures were in the mid-50s.
Now with the Bills' open-air stadium, snow and below-freezing temps, they're going to need even more heaters as Dolphins quarterback Tua Tagovailoa is not known to play well in cold-weather games. 
And it's no surprise that the Dolphins have been one of the worst-performing NFL teams in frigid weather since 2008. In games with temperatures below 34 degrees, the Dolphins have a record of 7-14 with a winning percentage of 33%, according to data from SportsWeather.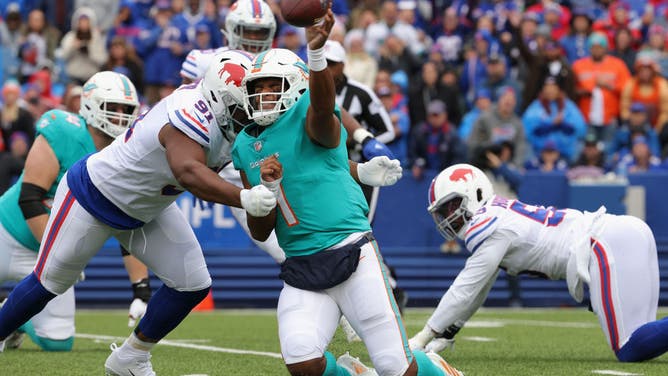 WHICH NFL TEAMS DO BEST IN THE COLD? 
While the Bills were one of the best, ranking in the top 10 with a 28-23 record since 2008 and a winning percentage of 55%. 
The Dolphins are on a two-game losing streak entering Saturday's game but can keep their division title hopes alive with a win over Buffalo, which would be a season sweep.
However, the Bills could clinch a playoff berth with a win over the Dolphins on Saturday. 
Forecast 
Weekend snow forecast for Orchard Park, NY
(FOX Weather)
---
A Lake Effect Snow Warning will be in effect for Orchard Park, where Highmark Stadium is located, Saturday through Monday evening. 
Heavy snow will fall on Saturday across northern New England, where the Buffalo Bills' stadium could see more than a foot of snow just on Saturday alone. 
DISRUPTIVE ICE, THEN HEAVY SNOW AHEAD FOR NORTHEAST AS COAST-TO-COAST WINTER STORM BIDS ADIEU
Winds will also be a factor on Saturday. The winds will turn to the southwest, carrying lake-effect snow north into the Buffalo metro area during the morning. Moderate-to-heavy snow will fall during this time. The band will again shift south of Buffalo Saturday night, where it will stay through Sunday.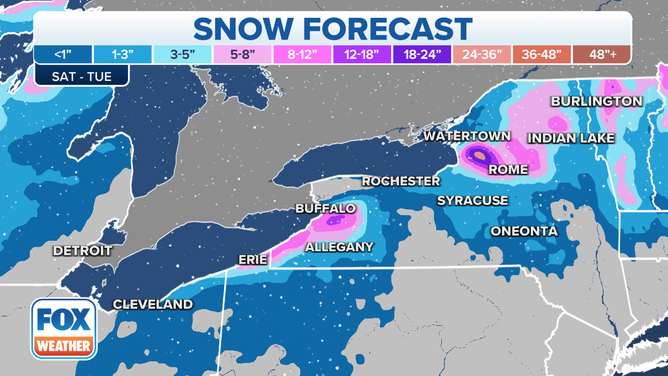 Storm total accumulations will be highest where the band has the longest residence time. This will most likely occur just south of Buffalo in southern Erie County, where close to two feet of snow could fall. 
Historic snowstorm forced Bills to move home game earlier this year 
Earlier this season, the Cleveland Browns vs. Buffalo Bills game had to be moved from Buffalo to Detroit due to a historic snowstorm. 
BROWNS VS. BILLS GAME MOVED FROM BUFFALO TO DETROIT DUE TO HISTORIC SNOWSTORM
Due to Highmark Stadium being an open-air stadium, crews were worried about the amount of snow needing to be cleared, as the city picked up several feet of snow. 
The last time the NFL moved a game out of Buffalo due to weather was in 2014.
In 2014, the Jets vs. Bills Week 12 matchup was moved from Sunday to Monday at Ford Field. Heavy snow in the Buffalo area moved the game to Detroit.
Is Buffalo Bills Highmark Stadium field heated? 
The Buffalo Bills stadium design provides little protection from the elements – both snow and cold. 
Only a select few areas in Highmark Stadium have heating, and due to its design, almost all seating has no protection from the elements – including the snow.
BUFFALO BILLS' HIGHMARK STADIUM OPEN TO MOTHER NATURE WITH PROTECTION FROM IMPENDING SNOWSTORM
Now, the Buffalo Bills recently released renderings for their new state-of-the-art stadium expected in the fall of 2026, and the team and designers knew that the lack of heat and no overhang to protect fans were issues.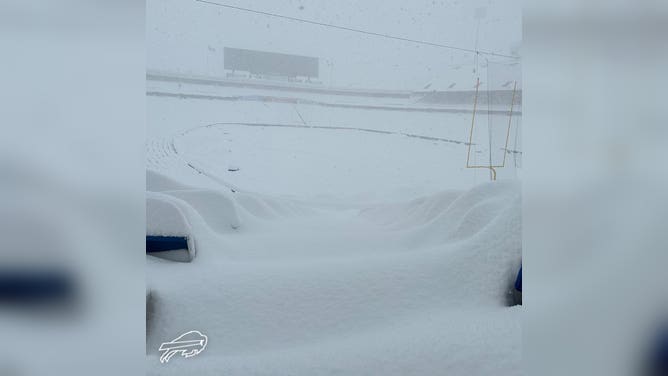 "In addition to the stacked seating that will provide protection from the elements, extensive radiant heating will be in place to enhance fan comfort," Bills insider Chris Brown wrote about the released renderings.
And while the design is always subject to change, the new stadium is said to have a clearer focus to be both "functional and comfortable" for the Bills Mafia.
But in the meantime, the open-air stadium will have to do with the little heat and snow.
Fantasy Impact 
Playing in the snow is nothing new for the Buffalo Bills, but it may cause problems for the warm-weathered Miami Dolphins, especially their quarterback. 
According to SportsWeather, Tua has not played a single NFL game when the feels-like temperature is below 20 degrees. And because of that, SportsWeather expects to see a decline in Tua's fantasy production this week. 
While on the opposite sideline, Bills quarterback Josh Allen may thrive in the snowy conditions. Being the dual threat that he is, SportsWeather expects an almost two-point increase in Allen's fantasy production on Saturday.
Game Prediction 
When it comes to picking games, we never know how much of a factor weather can or will play. Usually, teams are picked because we believe they have better players, but what about picking a team solely based on how they have historically performed in certain weather conditions? 
SportsWeather has its own metrics system that compiles historical game-time weather data and meshes it against both NFL teams' and players' historical performance. 
Snow is expected with temperatures around 30 degrees throughout the game and a feels-like temperature at 18 degrees.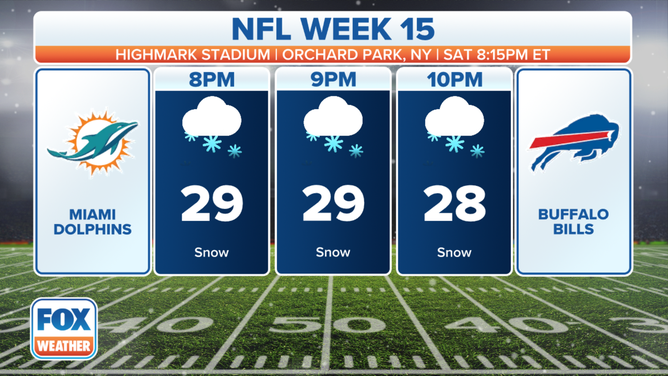 At that temperature, historically, the Dolphins are 3-4, and the Bills are 9-4. 
Winds are expected to be blowing at 11 mph, and over the last 14 seasons, Miami stands at 49-48 while the Bills are 42-43 when winds are blowing at that speed. 
There is currently a 61% chance of precipitation Saturday night during the game, which would be snow. When that happens, the Dolphins stand at 4-7, and the Bills come in at 8-8. 
PICK: SportsWeather.com gives Buffalo the major weather edge and predicts them to defeat the Dolphins.
Be sure to check back with SportsWeather on game day, as weather can be unpredictable and may change from the current forecast.