Here are the best national parks to spot bald eagles
If you are an avid birder or just someone who has never seen a bald eagle, Birda put together a list of the best national parks to see America's national bird.
If seeing a bald eagle is on your bucket list, Birda.org can help you out. The birdwatching app released its list of the top five national parks to find America's bird, which Congress named as the country's national symbol in 1782.
There are 424 national parks across America and its territories, so Birda used data from member birdwatchers and found places with the most sightings of bald eagles. The goal was to narrow it down so everyone, from avid birders to first-timers, can get a glimpse of the national bird.
The eagles are usually found near water, where they feed, as well as nest in large trees. They form long-term pair bonds, according to the National Park Service. Some birds nest in one place year-round, while others migrate and return to nest and breed each year.
WATCH: BALD EAGLE FLIES WITH CANADIAN GOOSE CLUTCHED IN TALONS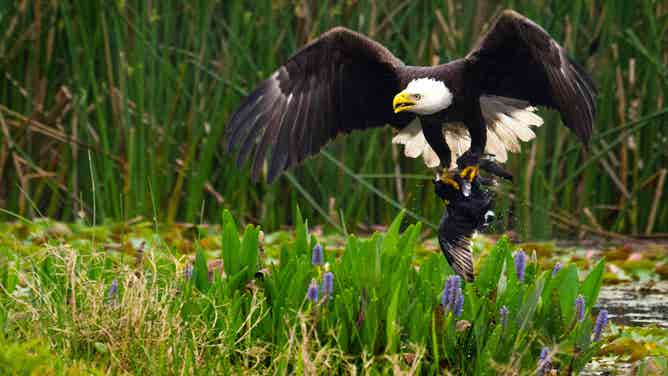 Females, the larger of the species, lay one to three eggs between February and April. Both adults keep the eggs warm. Eaglets are completely dependent on their parents for food until 10 to 14 weeks old, when they learn to fly.
Almost 15% of Americans call themselves birdwatchers, according to a U.S. Fish and Wildlife survey. More than 16 million traveled while 40 stayed home to spy feathered friends.
Here's their list of the five best national parks to spot bald eagles.
WATCH: BALD EAGLE PARENTS PROTECT THEIR EGG DURING CALIFORNIA SNOWSTORM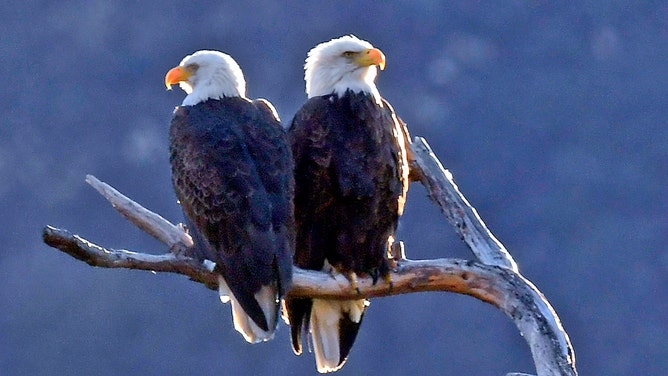 1. Acadia National Park, Maine
Acaida National Park is nestled into the rugged Maine coastline. It is home to seabirds, birds of prey and boreal birds. Its pristine beaches and lakes, along with cliffs and forests, offer multiple habitats. Acadia is home to 261 species of birds, according to Birda. It does close some trails during Peregrine falcon nesting season
In addition to bald eagles, look for these other birds:
Atlantic puffins
Peregrine falcons
Blackburnian warblers
Woodpeckers
PHOTO CAPTURES MOMENT 'NINJA PRAIRIE DOG' LUNGED AT BALD EAGLE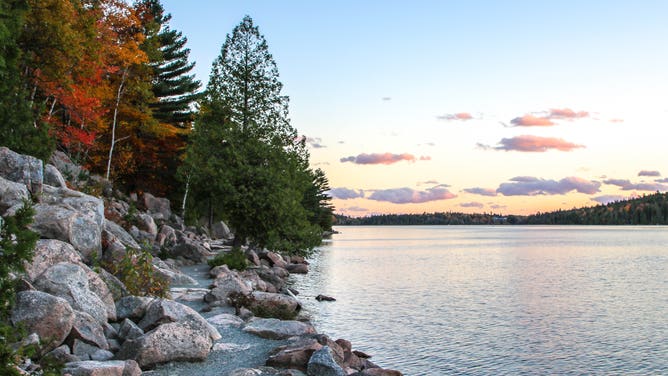 2. Olympic National Park, Washington
More than 250 species have been spotted in the park just east of Seattle, according to Birda. Birds and tourist enjoy Washington's beaches, forests, waterfalls, moss, ferns and mountains in Olympic National Park.
In addition to bald eagles, look for these other birds:
Western gull
Red-breasted sapsucker
Woodpecker
Belted kingfisher
Steller's and Gray jay
Blue grouse
Peregrine falcon
Northern Pygmy owl
HERE ARE THE MOST POPULAR NATIONAL PARKS FOR BIRDWATCHING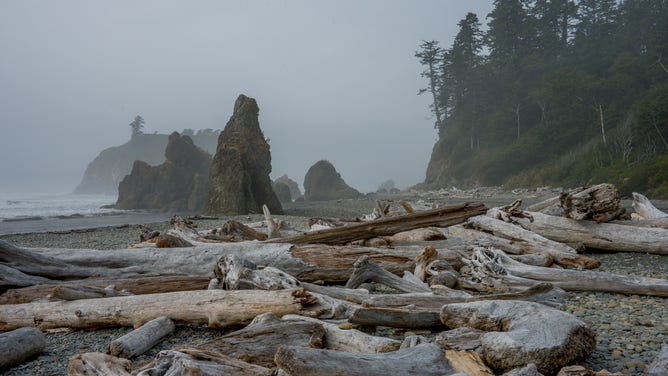 3. Pinnacles National Park, California
Pinnacles National Park is one of the few parks that California condors call home. Wildlife officials breed the birds in captivity and release them in the park. You can find more than 160 bird species here. This California park is relatively small and less visited, according to Birda.
In addition to bald eagles, look for these other birds:
California quail
California condor
Turkey vulture
Golden eagle
Prairie falcon
Acorn woodpecker
Steller's jay
7 FACTS ABOUT US NATIONAL PARKS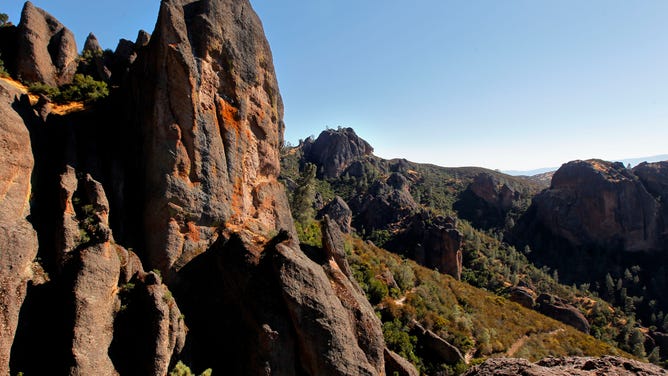 4. Yellowstone National Park
Yellowstone became America's first national park in 1872. Almost 300 bird species have been sighted in the 2.2 million acres. You can also find other wildlife like bears, bison and elk. 
The park which spans Wyoming, Idaho and Montana, is home to eight active eagle nests. Three of which welcomed a combined four baby eaglets into the world in 2022.
In addition to bald eagles, look for these other birds:
American white pelican
Canada geese
Common loon
Osprey
Sandhill crane
Trumpeter swan
American dipper
SEE A FLORIDA GATOR LUNGE AT BALD EAGLE WHICH NARROWLY ESCAPES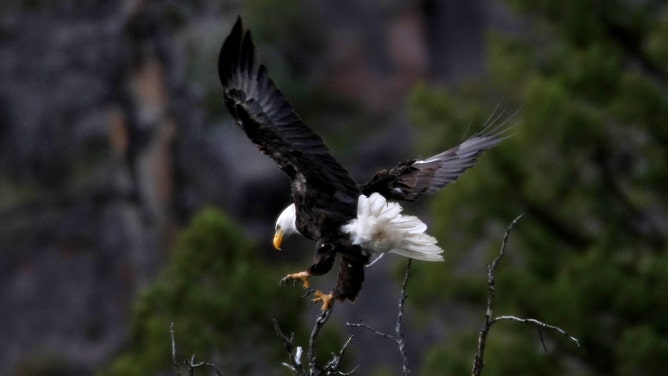 5. Fort McHenry National Monument and Historic Shrine, Maryland
The Fort McHenry National Monument and Historic Shrine has an equally patriotic claim to fame in addition to hosting bald eagles. The nation's forces bravely defended the fort in the Battle of Baltimore in 1814, which inspired Francis Scott Key to pen the immortal words, "Oh say can you see, by the dawn's early light," as he watched the Stars and Stripes of Fort McHenry, gallantly streaming in the rocket's red glare.
In addition to bald eagles, look for these other birds:
Osprey
Baltimore oriole
Canada geese
Ducks