Photo captures moment 'Ninja Prairie Dog' lunged at bald eagle
The photographer titled the shot 'Ninja Prairie Dog,' saying that the prairie dog looked like a ninja going after the eagle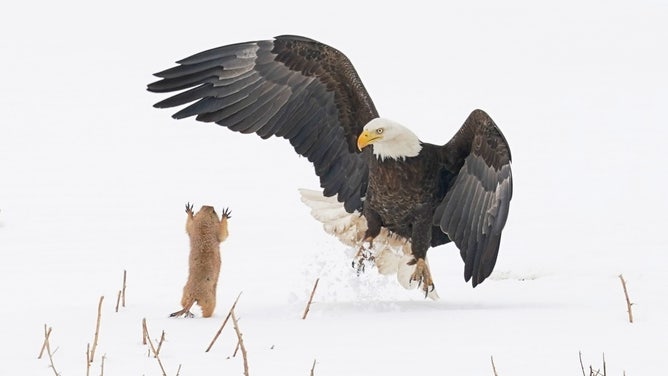 LONGMONT, Colo. –  A picture is worth a thousand words, and that is definitely true for the picture that Art Trevino shot.
Trevino, a wildlife photographer from Longmont, Colorado, titled the shot "Ninja Prairie Dog," saying that the prairie dog looked like a ninja going after the eagle.
After a snowstorm in March, Trevino went out to a spot where he had been photographing bald eagles for some time.  
"There is a Bald Eagle nest west of Hygiene that has an active mated pair of eagles. I have watched and photographed these two raptors for several years," he said. "When I arrived, I saw the male eagle perched in a tree near the road. I pulled over and set up my camera and waited for the eagle to take off."
Trevino knew that the eagle would move, so he waited with camera in hand.  
"After about 30 minutes, he took off," he said. "So, I followed him, firing away."
TOXIC CANE TOADS SUCCESSFULLY INVADED AND ARE KILLING PETS AND WILDLIFE ACROSS FLORIDA AND HAWAII

Trevino watched as the eagle darted towards the ground, attempting to grab a prairie dog but missing.
The eagle then landed a couple of feet away from the prairie dog. 
Watching as the prairie dog turned around and lunged toward the eagle, Trevino took the shot.
"I couldn't believe that something so small could be so aggressive toward an eagle that was ten times larger than he was! The eagle was startled and jumped backwards to avoid the lunging prairie dog," he said. "I guess he didn't want to get bit!"
Trevino said that the prairie dog then scurried off to a nearby burrow.
"A real David and Goliath story!"
Other than shooting wildlife, Trevino says he was a photographer for the National Oceanic and Atmospheric Administration and the U.S. National Center for Atmospheric Research in the '70s and '80s.
See more of Trevino's incredible work here: Pappa Dukes Production