You have options if a hurricane ruins your vacation or other travel plans
Oftentimes, airlines will offer travel waivers to move or postpone a flight in case of hurricanes or other severe weather.
Travel plans can be severely impacted when it comes to severe weather.
Many travelers have had to alter plans or cancel a trip entirely due to major weather events like hurricanes and nor'easters, but there are ways you can avoid headaches when issues arise.
The Points Guy content director Nick Ewen joined FOX Weather to provide some tips to travelers to prepare for possible issues.
HOW TO WATCH FOX WEATHER ON TV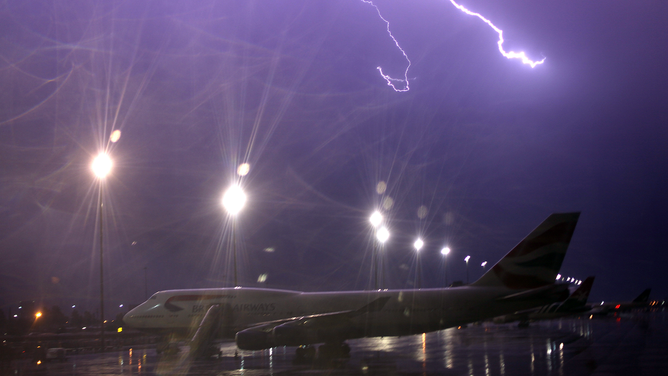 "One of the first things is you want to keep an eye on your individual airline's travel waiver policy," he told FOX Weather meteorologist Britta Merwin. "Oftentimes, in advance of tropical storms or even a range of thunderstorms or winter weather, airlines will issue weather waivers that allow you to either move up your flight or postpone your flight."
Ewen said airlines would likely provide assistance, like travel waivers, in advance of the major weather event and not when a flight is canceled or delayed.
But what happens to people who are already on vacation when a major weather event occurs and become stuck trying to get back home?
JETBLUE FLIGHT DEPARTING DOMINICAN REPUBLIC FLIES ABOVE DEADLY HURRICANE FIONA
"One of the first things you want to do is to look into any insurance coverage that you might have," he said. "Travel insurance has become a really popular item to have for travelers to purchase since the pandemic started. But, especially in hurricane season, it's another great option."
Ewen said even some credit card companies might provide help if they're used for buying airline tickets.
HOW A WEATHER DELAY ON A FLIGHT COULD PUT MONEY BACK IN YOUR WALLET
"You might actually be covered, too, if your plans are interrupted due to a storm, you have to rebook or try to get home," he said. "So, you definitely want to investigate any of those coverages that you could potentially utilize to help ease some of those travel headaches."
Other issues could crop up, too, like if you're on vacation and a major weather event impacts your home rather than where you're on vacation.
"There are a variety of protections that are offered based on different scenarios, whether you're getting sick or you're dealing with an inhabitable residence or a named storm or some other natural disaster," Ewen said. "The big thing is to be prepared. Read the policy that's either provided on your travel credit card or with the travel insurance that you're looking to purchase."
Ewen said that reading the fine print on a policy can really come in handy.
HERE'S WHAT CAUSES TURBULENCE AND WHY YOU SHOULDN'T BE AFRAID OF IT
"So you know exactly what is covered and what isn't covered," he said. "And, bear in mind, too, a lot of airlines have flexible change in cancellation policies. They implemented those in the middle of 2020 in response to the pandemic. So, you may actually be able to change your flight with no penalty, whereas two or three years ago, you weren't able to do so."
It's also a good idea to have some patience and a good attitude, as that could get you far.
"We've seen over the summer a lot of travel headaches, a lot of stressed out, overworked airline employees and airport employees," Ewen said. "A little grace does go a long way. And that goes not just for dealing with airline agents, but also with your fellow traveler."