What's the difference between a nor'easter and a hurricane?
While both nor'easters and hurricanes are powerful storms, there's a fundamental distinction between them.
As summer fades and winter approaches, you'll likely start hearing less about hurricanes and more about nor'easters.
Both are among the most powerful storms on Earth. Their swirling clouds even look similar in satellite images.
However, there is a fundamental difference between them. Here's a closer look at these storms.
What is a nor'easter?
A nor'easter is a strong low-pressure system that forms along the East Coast of North America that can bring high winds, burying snow and flooding rain to places along its path.
While these storms visit the Northeast U.S. most often, the storm actually gets its name from the direction the wind typically blows – out of the northeast from the Atlantic Ocean.
Most people associate nor'easters with heavy snow, but that's not always the case. These storms usually happen between fall and spring and form along the coast between Georgia and New Jersey.
WHAT MAKES A STORM A NOR'EASTER?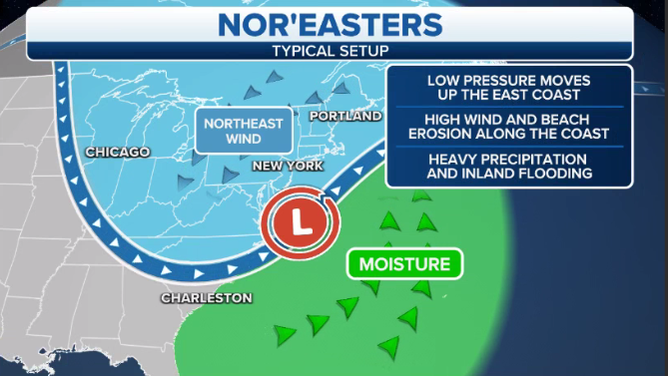 What is a hurricane?
A hurricane is a strong low-pressure system that has winds of at least 74 mph and forms in the tropical regions of oceans. This type of storm can bring ferocious winds, flooding rain and massive storm surge to places along its path.
Hurricanes that make landfall in the U.S. usually come from the Atlantic Ocean, making the East and Gulf coasts target areas for these storms.
Most hurricanes form between June 1 and Nov. 30, with September typically being the most active month.
TROPICAL DEPRESSION VS. TROPICAL STORM VS. HURRICANE: WHAT'S THE DIFFERENCE?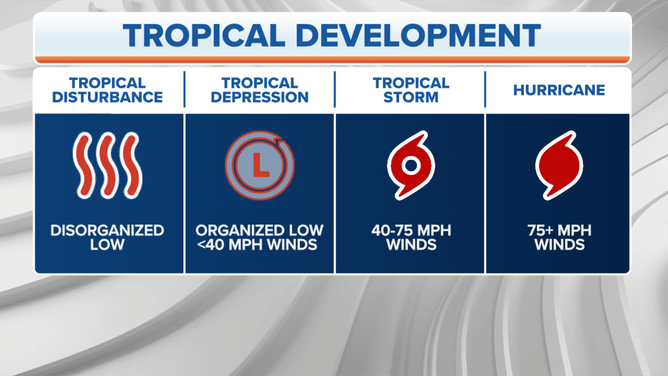 How are nor'easters and hurricanes similar?
Nor'easters and hurricanes are both powerful low-pressure systems that spin over the ocean.
Both storms should be taken seriously when they are forecast to hit your area, as they can produce dangerous wind, flooding rain and rough seas. Nor'easters can also produce heavy snow.
They look similar on a satellite image, as well. Both nor'easters and hurricanes are seen as a tightly wound spiral of clouds spinning counterclockwise around a center.
REMEMBER ALL THAT SNOW? HERE ARE 7 MEMORABLE NOR'EASTERS OVER THE YEARS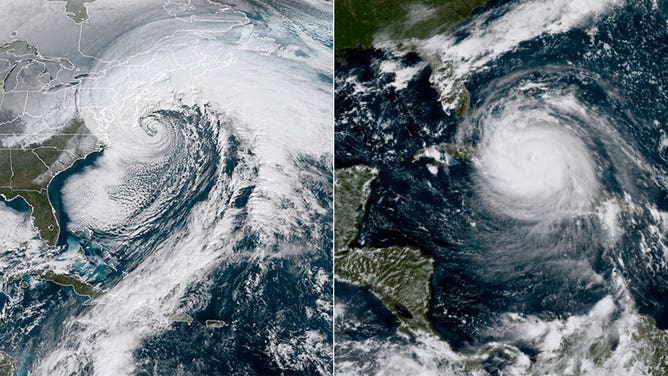 How are nor'easters and hurricanes different?
The primary difference between nor'easters and hurricanes has to do with where each type of storm forms.
Most hurricanes that make landfall in the U.S. form over the warm waters of the tropical Atlantic Ocean, meaning they are what meteorologists call a warm-core system. These types of storms strengthen in warm air.
Nor'easters, however, develop through a contrast of cold air from the north interacting with warmer ocean water. This is what meteorologists call a cold-core system. These storms do best when they can feed off cold air.
HOW EXTREMELY WARM GULF OF MEXICO WATERS CAN LEAD TO MONSTROUS STORMS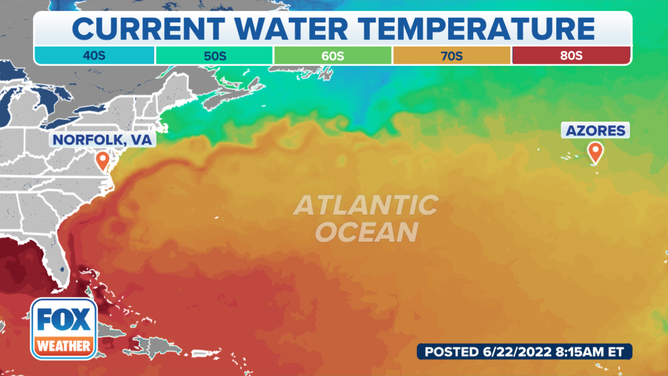 Has a hurricane ever become a nor'easter?
When hurricanes move from the warmer parts of the Atlantic Ocean into the cooler regions, this can result in the hurricane losing its tropical characteristics and becoming a post-tropical cyclone. Although no longer tropical, these types of storms can still bring heavy rain and high winds to places in their path.
Superstorm Sandy in 2012 is an example of a hurricane that transitioned to a post-tropical cyclone that was reminiscent of a nor'easter as it moved ashore in the Northeast. However, it stayed a hurricane much farther north than what was originally thought and never became a true nor'easter before it moved inland.
WHY THE SCIENCE OF SUPERSTORM SANDY WAS BOTH NORMAL AND ABNORMAL