America's first-ever tornado forecast issued 75 years ago at Oklahoma's Tinker Air Force Base
An unusual pair of tornadoes that struck Tinker Air Force Base in March 1948 paved the way for severe weather forecasting as we know it today.
TINKER AIR FORCE BASE, Okla. – Predicting exactly where a tornado might strike is no easy feat, but meteorologists can typically pick out areas in which the environment will be favorable for the development of tornadoes, sometimes up to a week in advance.
However, until Tinker Air Force Base in Oklahoma was struck by an unusual pair of twisters in less than a week in March 1948, no such forecast indicating the potential for tornadoes had ever been made in America.
That's when two Air Force meteorologists, Maj. Ernest Fawbush and Capt. Robert Miller, were stationed at the air base on Oklahoma City's southeastern side.
Miller was on duty the evening of March 20, 1948, when he issued a warning for the base to alert everyone that 35-mph wind gusts were on the way, though he didn't mention the possibility of thunderstorms. So, he settled in for what he thought would be a quiet and uneventful night of weather.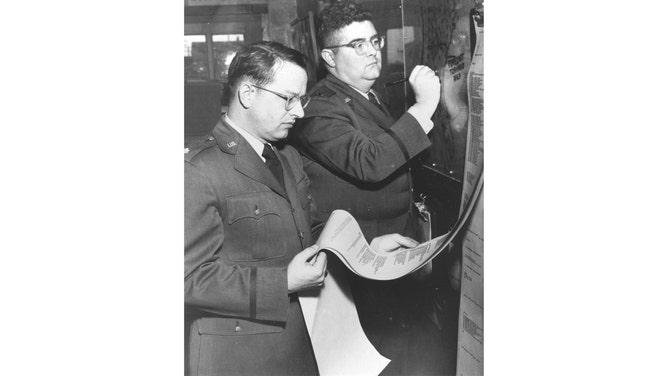 But it was far from quiet. Nearby weather stations to the west and southwest of the Air Force base began reporting lightning shortly after 9 p.m. Central time, and by 9:30 p.m., thunderstorms were in progress only 20 miles away.
"The sergeant began typing up a warning for thunderstorms accompanied by stronger gusts even though we were too late to alert the base and secure the aircraft," Miller later wrote in an account of his experiences that night.
At 9:52 p.m., the thunderstorms, which had developed into a squall line, arrived at Will Rogers Airport, only 7 miles to the west-southwest of Tinker Air Force Base.
WHAT IS A SQUALL LINE AND WHY IS THIS TYPE OF SEVERE WEATHER SO DANGEROUS?
"To our horror, they reported a heavy thunderstorm with winds gusting to 92 miles per hour and, worst of all, at the end of the message, 'TORNADO SOUTH ON GROUND MOVING NE!'" Miller recalled.
By 10 p.m., the worst had happened. A vicious tornado, which later received an F-3 rating on the Fujita Scale, touched down at the Air Force base, demolishing 52 aircraft.
At the time, it was the costliest tornado to ever strike Oklahoma, destroying $10 million worth of aircraft and property. That's equivalent to more than $124 million in damage when adjusted for inflation.
WE'RE ENTERING AMERICA'S MOST ACTIVE TIME OF YEAR FOR TORNADOES
America's first-ever tornado forecast
The day after the powerful twister struck, an investigative board of officers was brought in to Tinker Air Force Base to investigate whether such an event could be predicted in the future, with the goal of implementing a severe weather safety plan for the base.
At the time, there was a ban on issuing public forecasts and alerts for tornadoes in the U.S. because of fears it would cause panic, as we learned from a "Final Jeopardy!" clue that aired March 15, 2022.
'METEOROLOGY' CATEGORY NEARLY STUMPED 'FINAL JEOPARDY!' CONTESTANTS: WOULD YOU GET IT RIGHT?
"Due to the nature of the storm, it was not forecastable given the present state of the art," the investigators declared.
In 1948, there was no such thing as Doppler radar, satellites or computer forecast models. All meteorologists had available were upper-air observations collected by weather balloons and surface observations from some of the nation's airports.
But when analyzing archived upper-air and surface data from past tornado outbreaks in the days following the March 20 twister, something caught the eyes of Fawbush and Miller. They noticed many similarities in the overall weather patterns during those other outbreaks.
Then, on the morning of March 25, only five days after the F-3 tornado that struck the air base, weather charts were showing the same patterns as those from March 20 and the previous tornado outbreaks that Fawbush and Miller had studied.
"This chart resulted in the somewhat unsettling conclusion that central Oklahoma would be in the primary tornado threat area by late afternoon and early evening," Miller recounted.
HERE'S WHERE TORNADOES ARE MOST LIKELY TO OCCUR IN EACH MONTH
But the two meteorologists weren't confident enough on their own to issue a tornado forecast. No one had ever done it before, and the odds of two twisters striking the same area in five days were "infinitesimal." So the pair consulted Fred Borum, the commanding general of the Oklahoma City Air Material area, who quickly arrived at Tinker Air Force Base to provide assistance.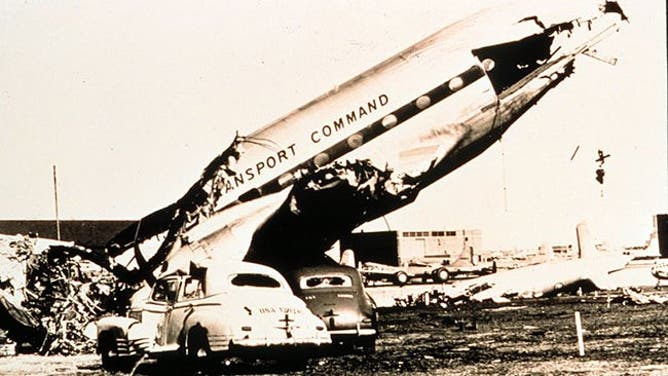 After hearing their insightful observations about the similarities in weather patterns, Borum inquired about what time would be the most critical. Fawbush and Miller advised a window "between 5 and 6 p.m."
Borum then decided the meteorologists should issue a forecast for the base to alert everyone that heavy thunderstorms were expected during that period.
WATCH VS. WARNING: HERE ARE THE DIFFERENCES BETWEEN THESE WEATHER TERMS THAT COULD SAVE YOUR LIFE
"You are about to set a precedent," Borum told Fawbush and Miller.
Well, a squall line of thunderstorms did develop to the west of Oklahoma City by mid-afternoon, and it continued to move steadily toward Tinker Air Force Base.
"General Borum looked us in the eye and asked the unsettling question, 'Are you going to issue a tornado forecast?'" Miller later recalled.
Fawbush and Miller were worried about a forecast "bust." If their forecast was incorrect, public confidence in weather forecasting would be set back years, not to mention their careers could be in jeopardy.
Despite these risks, the meteorologists composed and typed up the equivalent of a modern-day Tornado Watch. It was passed to base operations for dissemination at 2:50 p.m.
And just like that, America's first-ever tornado forecast was issued.
Fawbush and Miller's forecast prompted the air base to move aircraft to hangars, remove any loose objects, divert incoming aircraft and relocate base personnel, including the control tower personnel, to places of relative safety.
HOW YOU SHOULD PREPARE FOR A TORNADO
Shortly after 6 p.m. that evening, for the second time in five days, a destructive tornado struck the Air Force base, leaving it in shambles. Power lines were blown down, and debris was tossed everywhere.
The twister caused $6 million in damage at the base (equivalent to nearly $75 million when adjusted for inflation), but more importantly, no one was injured.
America's first-ever tornado forecast proved to be a success.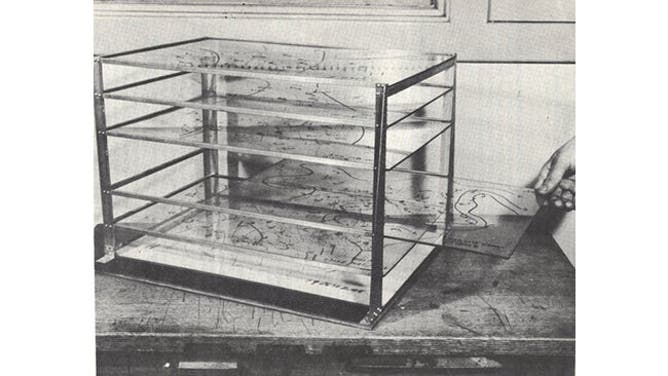 "We're still amazed that they could issue a forecast and have it hit when it did," Steven Weiss of NOAA's Storm Prediction Center said in a Tinker Air Force Base press release. "Scientists were just beginning to understand thunderstorms and tornadoes, and the Weather Bureau was not ready to move ahead into the tornado forecasting business."
Fawbush and Miller became instant heroes and continued to issue tornado forecasts with amazing accuracy, especially for an era before the existence of Doppler radar, satellites or computer forecast models.
"Of 75 tornado forecasts issued by the Fawbush-Miller method, 67 have been verified by teletype messages, newspaper clippings and highway patrol reports," according to the air base.
The successes of the two men prompted the U.S. Weather Bureau – now called the National Weather Service – to establish its Severe Weather Unit in 1952. This unit's name was later changed to the National Severe Storms Forecast Center but is now known as the Storm Prediction Center.
Headquartered in Norman, Oklahoma, the SPC issues daily outlooks highlighting areas at risk of tornadoes, damaging winds or large hail on each of the next eight days across the Lower 48 states.
SECRETS OF THE SPC: HOW DAILY CONVECTIVE OUTLOOK GRAPHICS ARE MADE
The SPC also issues Tornado Watches when conditions are becoming favorable for the development of twisters. When strong rotation is detected by Doppler radar or a storm spotter on the ground sees a tornado and reports it to their local NWS office, the NWS will then issue a Tornado Warning to alert people in the potential path of a twister.
And you can thank Fawbush and Miller, who paved the way for severe weather forecasting as we know it today. Countless lives have been saved over the 75 years since the two men issued that historic tornado forecast.