'Meteorology' category nearly stumped Tuesday's 'Final Jeopardy!' contestants: Would you get it right?
Find out how the three contestants fared in a 'Final Jeopardy!' meteorology category on Tuesday
Meteorologists and weather enthusiasts across America who tuned into Tuesday's episode of "Jeopardy!" had the perfect opportunity to put their knowledge to the test when host Ken Jennings revealed the category for "Final Jeopardy!"
"Meteorology is the subject for 'Final Jeopardy!' today, and here's the clue," Jennings said to the three contestants and everyone watching on television at home.
HOW TO WATCH FOX WEATHER ON TV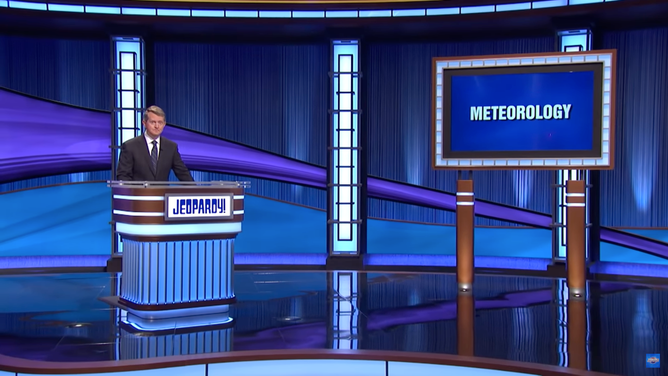 Clues about weather and meteorology have made occasional appearances during the popular game show's 38-year run and counting, including a "Double Jeopardy!" category called "talk about that weather" that 38-game champion Matt Amodio faced back in September.
MATT AMODIO FACES 'TALK ABOUT THAT WEATHER' CATEGORY IN 'DOUBLE JEOPARDY!'
Can you come up with the correct response to Tuesday's meteorology-themed "Final Jeopardy!" round? We'll provide the answer below the clue, so don't scroll too far if you want to figure it out on your own.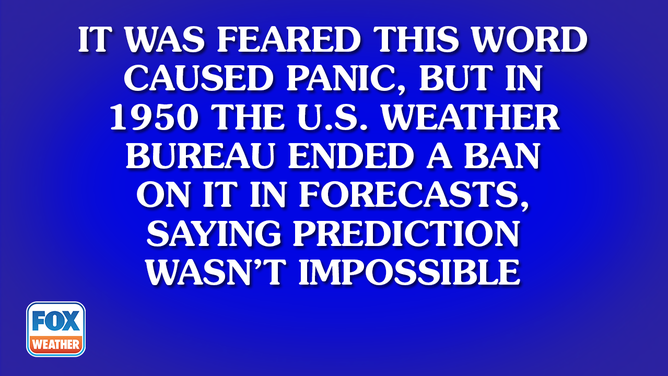 Correct response
If you said, "What is tornado?", you are correct.
NOAA's Storm Prediction Center issues daily outlooks highlighting areas at risk of tornadoes, damaging winds or large hail on each of the next eight days across the Lower 48 states.
The SPC also issues Tornado Watches when conditions are becoming favorable for the development of twisters. When strong rotation is detected by Doppler radar or a storm spotter on the ground sees a tornado and reports it to the National Weather Service, the NWS will then issue a Tornado Warning to alert people in the potential path of a twister.
WATCH VS. WARNING: HERE ARE THE DIFFERENCES BETWEEN THESE WEATHER TERMS THAT COULD SAVE YOUR LIFE
How did contestants fare in the 'meteorology' category?
Contestant Ariel San Jose answered incorrectly with, "What is surprise?"
Positioned at his left, contestant Simi Landau provided another incorrect response with, "What is hurricane?"
But returning champion Amy Bekkerman was able to come up with the correct answer: "What is tornado?", she wrote. That makes her a two-day champion, with $54,100 in winnings between both games.
Jennings said that around 1950, the U.S. Weather Bureau – now called the National Weather Service – decided tornadoes were not impossible to predict but merely very difficult.