Watch: Thunderstorms produce Empire State Building lightning strike, rock Washington with wind and rain
Severe Thunderstorm Watch issued from New York City to northern New England on Monday afternoon
Severe thunderstorms rocked the Northeast Monday afternoon bringing vivid lightning to New York City and intense wind and rain to the Washington, D.C metro area.
The National Weather Service issued both Severe Thunderstorm Warnings and Flash Flood Warnings as the storms moved through the Big Apple.
HOW TO WATCH FOX WEATHER ON TV
Videos posted to social media showed heavy rain falling across the city, which prompted forecasters to issue Flash Flood Warnings.
HOW DO LIGHTNING RODS WORK TO PROTECT HOMES AND BUILDINGS?
Another video posted to Twitter showed the moment when a bolt of lightning struck the top of the Empire State Building on Monday afternoon.
7 FACTS YOU SHOULD KNOW ABOUT FLASH FLOODS
Before hitting New York City, the severe thunderstorms moved across New Jersey.
In a video posted to Twitter, lightning can be seen across the sky above Newark.
Another video shot from New Jersey shows heavy rain falling in the Garden State as a wall of water approaches New York City.
Most of the skyline then starts to disappear as the storm moved closer to the Big Apple.
THE 5-POINT SEVERE THUNDERSTORM RISK CATEGORY SCALE EXPLAINED
Ominous clouds moved in over the nation's capital Monday afternoon as the National Weather Service issued Severe Thunderstorm Warnings for the DC-metro area, including Northern Virginia and Maryland. 
Torrential rain belted DC neighborhoods as intense winds swayed trees. 
The NWS Baltimore-Washington office forecast winds up to 60 mph, and quarter-size hail as severe weather moved through the region.
Severe weather threat in the Northeast, New England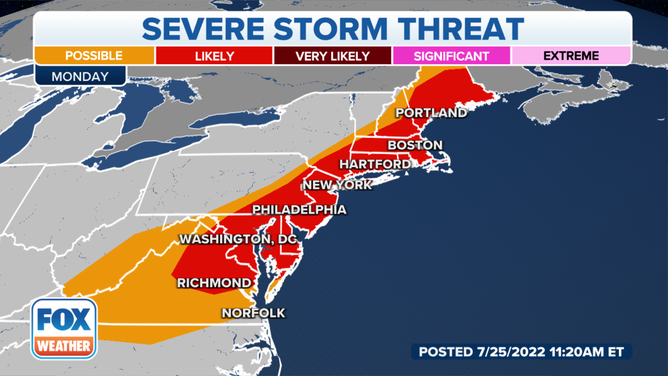 The threat of severe weather extends down much of the I-95 corridor from coastal Maine and Boston through New York City and Philadelphia and into the Baltimore/Washington area. All told, over 50 million people are at risk of damaging winds Monday.
OVER 50 MILLION FACE DAMAGING WIND THREAT AS SEVERE WEATHER TARGETS NORTHEAST ON MONDAY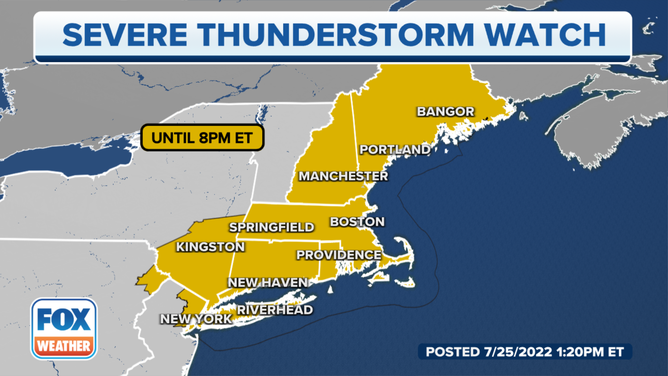 A Severe Thunderstorm Watch is in effect from the New York City area north through New England until 8 p.m. Eastern.
The watch includes major cities in the I-95 corridor including New York City, New Haven and Hartford, Connecticut, Providence, Rhode Island, Boston, Manchester, New Hampshire, and Portland and Bangor, Maine.
Once the storms pass, relatively cooler air but perhaps more importantly to comfort, drier air will move in behind the front, putting an end to the deadly heat wave that brought triple-digit heat to the region.
CLICK HERE TO GET THE FOX WEATHER UPDATE PODCAST
Be sure to download the FOX Weather app to track any storms in your area and receive potentially life-saving weather alerts issued by the National Weather Service. The free FOX Weather livestream is also available 24/7 on the website and app and on your favorite streaming platform. The FOX Weather Update podcast also provides weather information for the entire country.