Over 50 million from Virginia to Maine face threat of severe weather Monday
The threat of severe weather extends down much of the I-95 corridor Monday from coastal Maine and Boston through New York City and Philadelphia and into the Baltimore/Washington area
NEW YORK -- Some relief from the heat is on the way to the Northeast Monday, but the price to pay is a potentially stormy day.
A cold front will bring scattered thunderstorms that could turn severe, with damaging winds the greatest threat.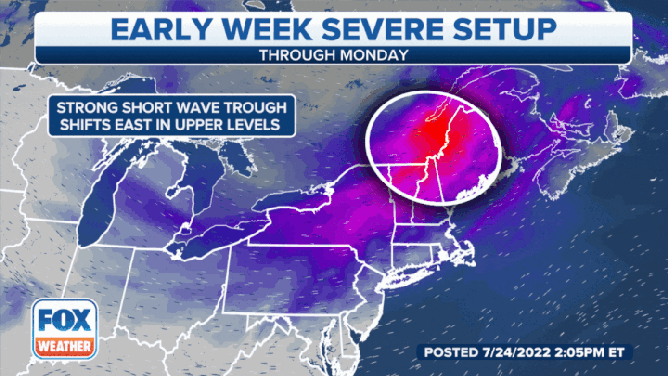 "We have a little kick in the jet stream that is moving across the Northeast, and it's moving into an atmosphere that's primed for severe weather," says FOX Weather Meteorologist Britta Merwin. "We've been pumping up the heat and humidity for the last five days… and that is fuel for these storms. All we need is a lifting mechanism. The cold front is going to slam into all this energy, send all that heat and humidity into the air and create these very strong thunderstorms."
Gusts could reach up to 70 mph inside storms. A few isolated tornadoes can't be ruled out in the region either.
The threat of severe weather extends down much of the I-95 corridor from coastal Maine and Boston through New York City and Philadelphia and into the Baltimore/Washington area. All told, over 50 million people are at risk of damaging winds Monday.
ADVICE FOR DEALING WITH STORM ANXIETY WHEN SEVERE WEATHER THREATENS
Severe Weather Threat Monday
(FOX Weather)
---
Severe Thunderstorm Watches have been issued from New York City to Maine until 8 p.m. Eastern and from Roanoke, Virginia, to New York City until 10 p.m. Eastern.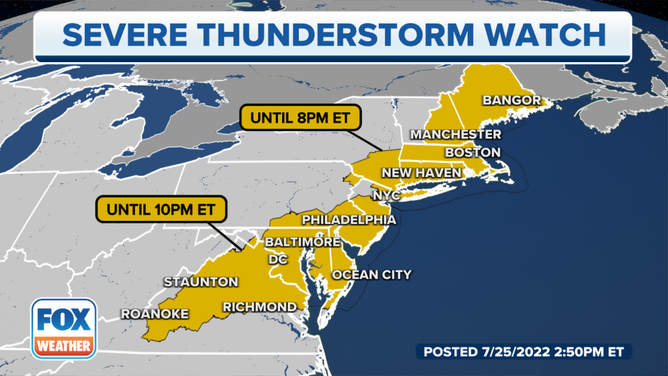 And a second Severe Thunderstorm Watch now extends south from Northern New Jersey through Philadelphia and the Baltimore/Washington area into northern Virginia until 10 p.m.
The storms are forecast to arrive in the I-95 corridor Monday afternoon, lasting into the evening commute before sliding offshore around 9 p.m.
"If you are waking up in places like Washington, D.C. (or) New York City where it is clear and beautiful and you're just dealing with the heat and humidity, make sure you take a look at what's on your front porch or even your front patio and maybe bring it inside," Merwin suggested. "Because these thunderstorms coming later today are going to pull off some pretty impressive winds."
Relief on the way as humidity drops in Northeast
Once the storms pass, relatively cooler air but more perhaps more importantly to comfort, drier air will move in behind the front, putting an end to the deadly heat wave that brought triple-digit heat to the region. Newark, New Jersey reached 100 degrees or more on five consecutive days, the first time that's happened in their recorded weather history, which stretches back to 1931.
WATCH: NATURE'S FIREWORKS - SOME OF OUR FAVORITE LIGHTNING VIDEOS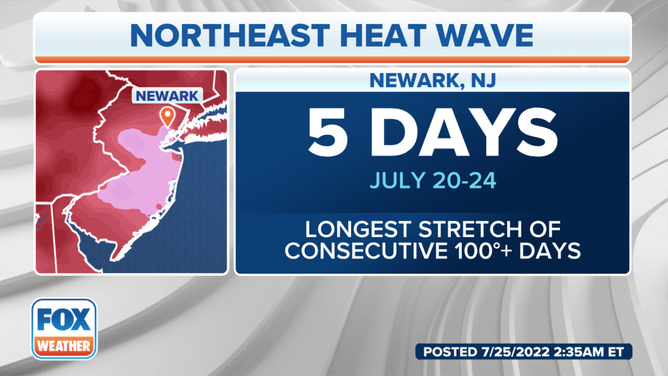 But highs in Newark are expected to drop to the low 90s Monday, then into the mid 80s on Tuesday.  Similar 10-15 degree drops in high temperatures from Sunday are expected around the Northeast by Tuesday with highs in Boston and New York in the mid 80s, and just near 80 in Washington and Pittsburgh.
Expected High Temperatures
(FOX Weather)
---
"It's not really that cold behind this front because it's the middle of summer, but at least we get a drop in humidity," Merwin said.
But it will be another hot day Monday in New Jersey and southeastern Pennsylvania as they await the cold front's arrival later in the day. 
HOW TO WATCH FOX WEATHER ON TV
Excessive Heat Warnings in effect for the Philadelphia area and Heat Advisories in effect for much of New Jersey through 6 p.m. ET for heat and humidity combining to feel like 100-105 degrees again.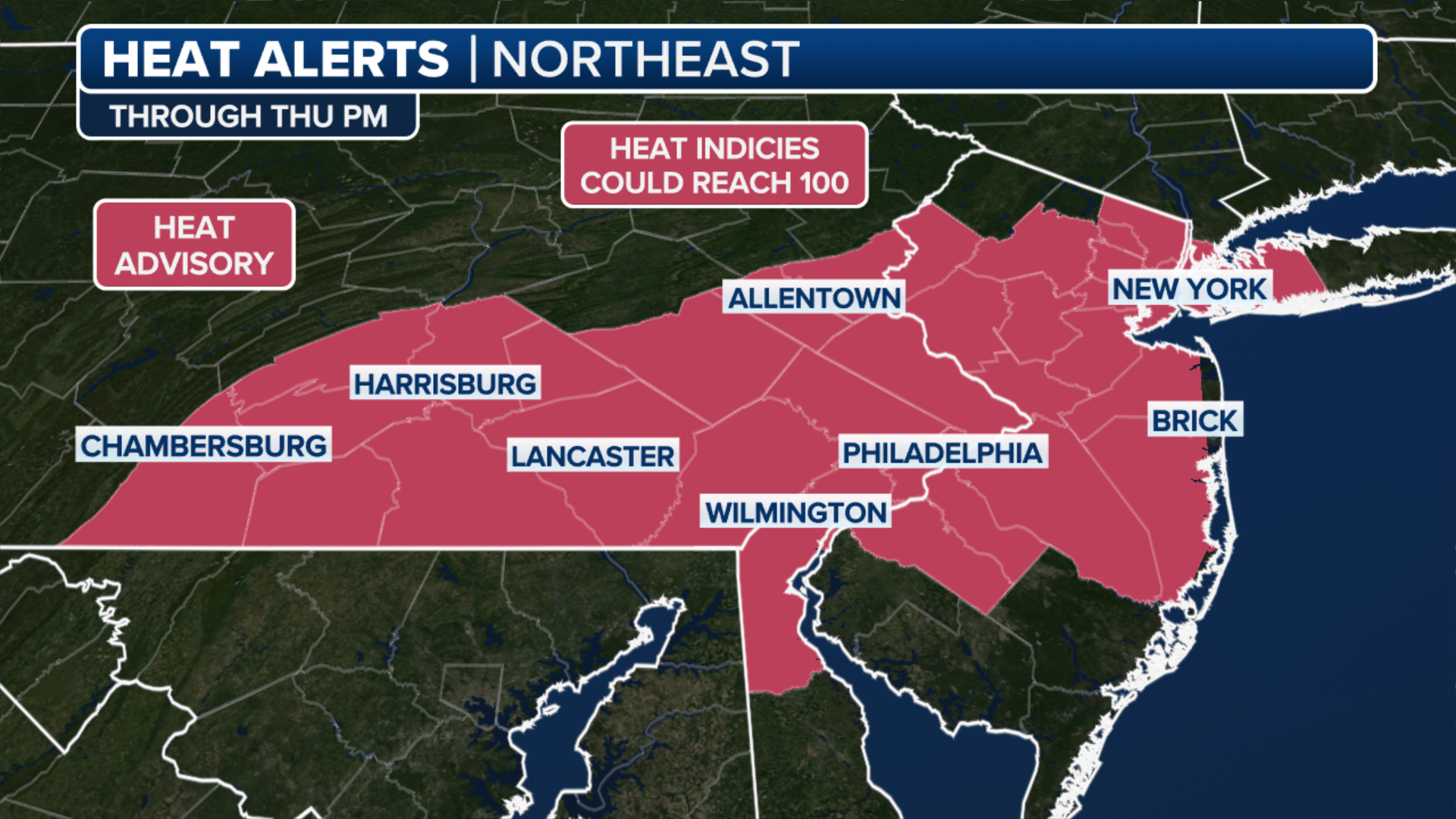 Monday Heat Alerts
(FOX Weather)
---
The relative cooling trend won't last long, however, with high temperatures creeping back up toward 90 as we head into the end of the week.
Tuesday Severe Weather Outlook
Meanwhile, the severe weather threat will abate in the northeast, but will slide south into the Mid-Atlantic and Tennessee Valley for Tuesday, though at a much lower risk.  
Tuesday Severe Weather Outlook
(FOX Weather)
---
A low risk of severe weather holds into Wednesday across the Mid-Atlantic, Ohio Valley and into southern Illinois and Missouri. Again, damaging wind gusts of 60 mph or more are the greatest threat from any of these severe storms.
Be sure to download the FOX Weather app to track any storms in your area and receive potentially life-saving weather alerts issued by the National Weather Service. The free FOX Weather livestream is also available 24/7 on the website and app and on your favorite streaming platform. The FOX Weather Update podcast also provides weather information for the entire country.